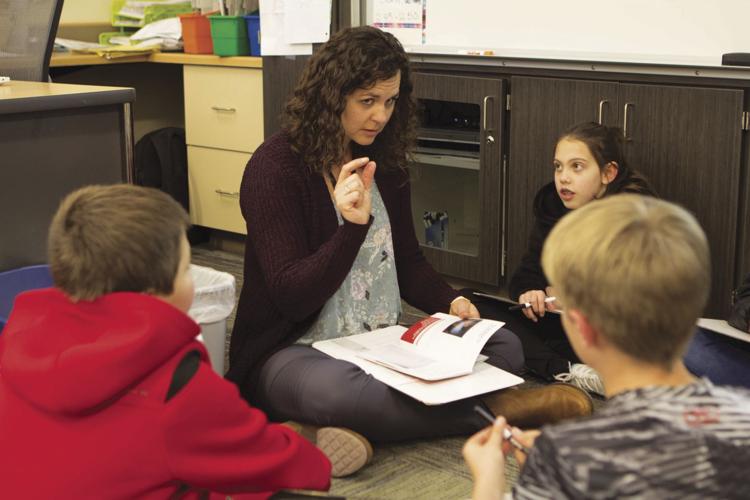 The subject of today's book discussion in Jamie Waters' fifth grade classroom: triathlons. The question on each student's mind as the discussion starts: "Why would anybody do this to themselves?"
Waters laughs before noting that participating in a triathlon – filled with miles upon miles of swimming, running and bicycling – is not for everyone. "Can you think of some qualities of a good triathlete?" she asks.
"Committed."
"Dedicated."
"Maybe a little crazy," another student adds.
These are all good words – not just for triathletes, but for teachers who choose to subject themselves to their profession's version of a riathlon: certification by the National Board for Teaching Standards.
The process can take as long as three years and involves numerous tests, essays and video recordings of classroom instruction, Waters said. Waters, a Cloud Peak Elementary School teacher and one of two Johnson County teachers certified by the board last month, admits that she didn't sleep as much as usual while working her way through the certification process. But both Waters and fellow certified teacher Patti Irwin will tell you that the certification was worth the exertion.
"It really was a time of incredible growth for me as a teacher and a person," Waters said. "We instruct our students to develop a growth mindset and to be lifelong learners, and that is just as important for us as adults and teachers."
Irwin, a special education teacher at Meadowlark Elementary, agreed.
"I'm certainly a better teacher than I was before this process – I do know that," Irwin said. "It's such a great feeling to have it finished."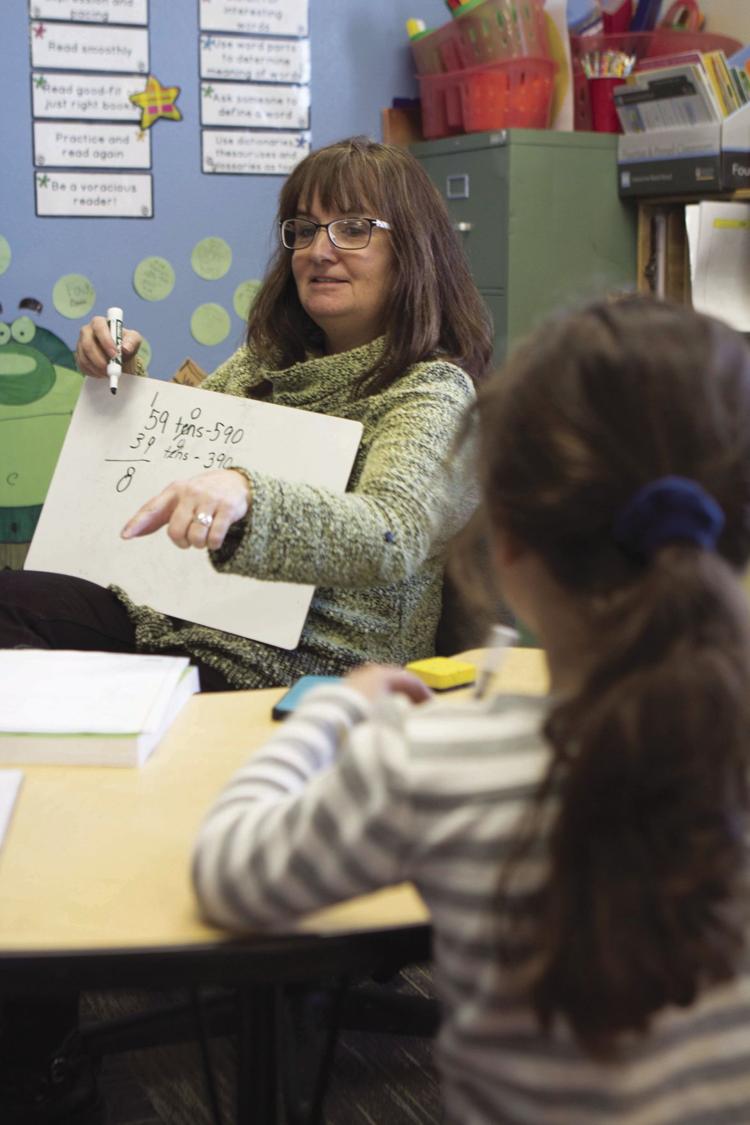 National Board Certification is the most respected professional certification available in education. While teacher licensure systems set the basic requirements to teach in each state, completion of the programs signifies that teachers have voluntarily gone above and beyond the requirements in order to become better at their jobs. Only 82,000 teachers in the country have achieved National Board Certification, according to the National Board website.
For Irwin, the journey to being certified has been three years in the making. From the start, the process has been driven by her love for children.
"When I first went to college, teaching was attractive because I had summers off, which I really liked since I came from a ranch and rodeo background," Irwin said. "But once I started teaching, I fell in love with it for other reasons – mainly just being able to work with kids every day. … This is my 20th year of teaching, and I want to improve every year that I'm doing this – for my students' sake. For me, pursuing certification was the best way to do that."
Irwin's certification process involved completing multiple 14-page papers on various subjects. For one paper, she had to watch videos of her teaching and both defend and criticize her work. Another paper addressed how she worked with her students' families. Yet another explained how she differentiated instruction between her students. After all that writing, she still had to complete a computerized test, Irwin said.
"The most challenging part of it is the time commitment," Irwin said. "It was huge, but I do feel that it was worth the effort."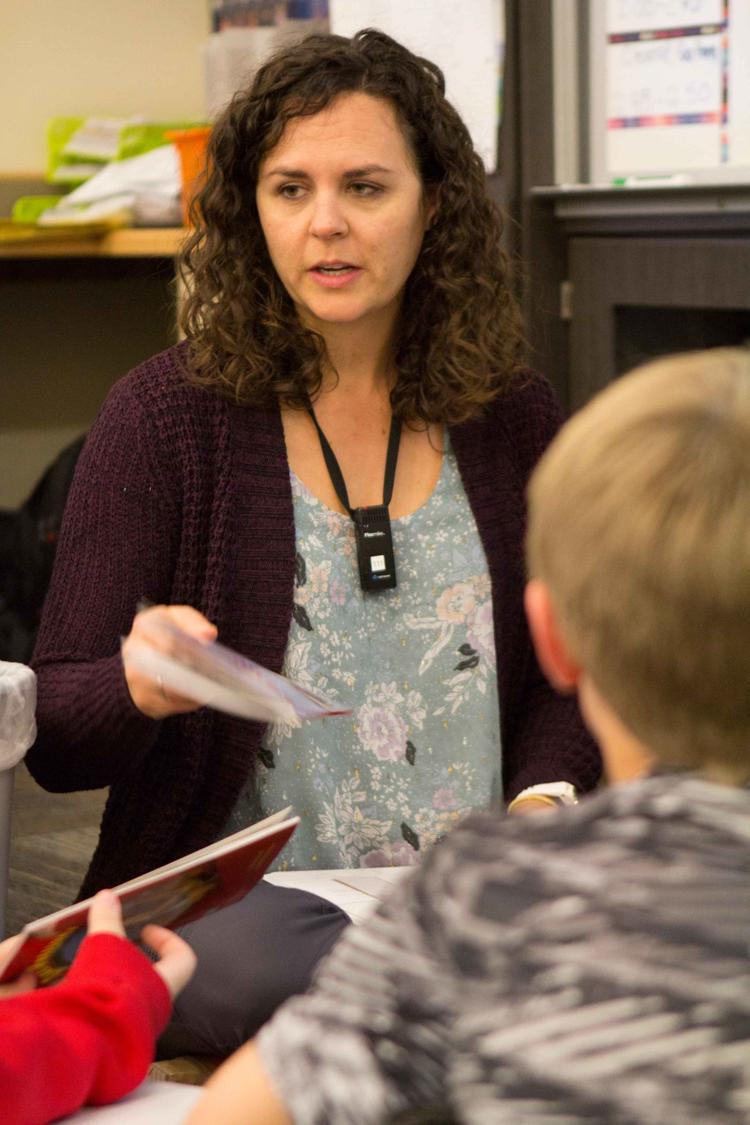 The time crunch was even greater for Waters, who resolved to complete the process in one-third of Irwin's time: just one year.
"I chose to do it in one year because I just wanted to get it done and get back to my normal routine," Waters said. "It was a lot, but then it was done."
Like Irwin, Waters wrote papers evaluating her recorded instruction and completed a computerized test. She also wrote papers evaluating her assessment techniques and explaining how she helped her students grow as writers.
Waters said she worked to 10 or 11 p.m. most nights after putting her daughters to bed at 8 p.m. She also dedicated one day each weekend to working on the certification process.
"I'm lucky that I have a really supportive husband who would take the girls for a day each weekend so I could go to the school or the library to work on certification," Waters said. "It wouldn't have been possible without him."
Both teachers spent countless hours working toward their goals. But when the time finally came to find out if they had been certified, they were more than a little nervous.
"The National Board tells you that only 49% of teachers pass on their first try, so I wasn't necessarily expecting to pass," Waters said. "But I was on the website when results were released at 11 p.m. on Dec. 6 to find out. When I found out I had passed, I just sat there in shock for a while. I think I almost passed out."
Irwin was at a surprise birthday party for her sister when the scores were released, but she was ecstatic when she finally had a chance to view her results on the National Board's website.
"I was thrilled because, last year, I was one point short, and I didn't make the cut," Irwin said. "So this year, I was kind of ecstatic."
Both Irwin and Waters are quick to point out that their hard work during the certification process made them better, and more reflective, teachers.
"It taught me to be reflective as a practice and to look for ways that I can improve," Waters said. "It taught me to look at my challenges as stepping stones for growth rather than disappointments."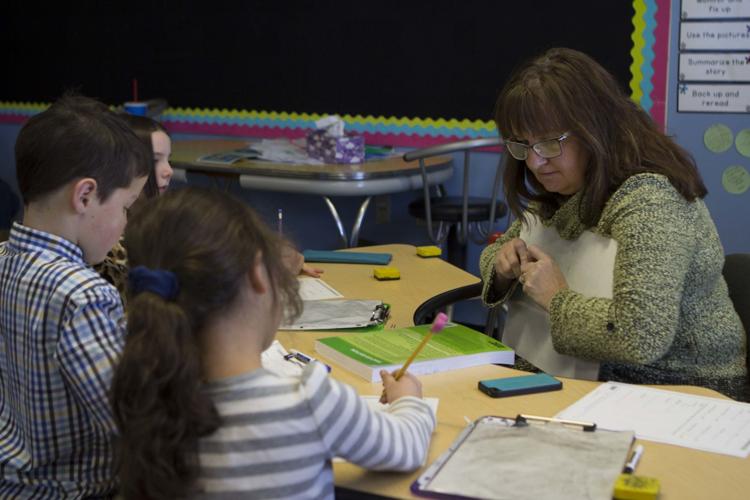 Irwin agreed.
"I think I'm more reflective now in my teaching," Irwin said. "I live 6 miles from town, and that drive time is now reflection time to focus on what I did well and how I can do things better. I'm also trying to be more purposeful in my teaching and to build stronger relationships with students and their families."
The Johnson County School District provides financial assistance that goes toward some of the $4,000  cost of National Board Certification, Waters said. The district now has 37 National Board Certified teachers, according to district administrative assistant Heidi Sanchez. These teachers make up roughly 29% of the district's professional teaching staff, and according to Waters, they are a sign of the quality of education found within the school district.
"Our district has one of the highest percentages of National Board Certified teachers in the state," Waters said. "Johnson County as a whole should be really proud of how many teachers are willing to go above and beyond to do this extra work. I think it speaks well of our district that so many teachers are willing to do this and that the district is willing to support them throughout the process."