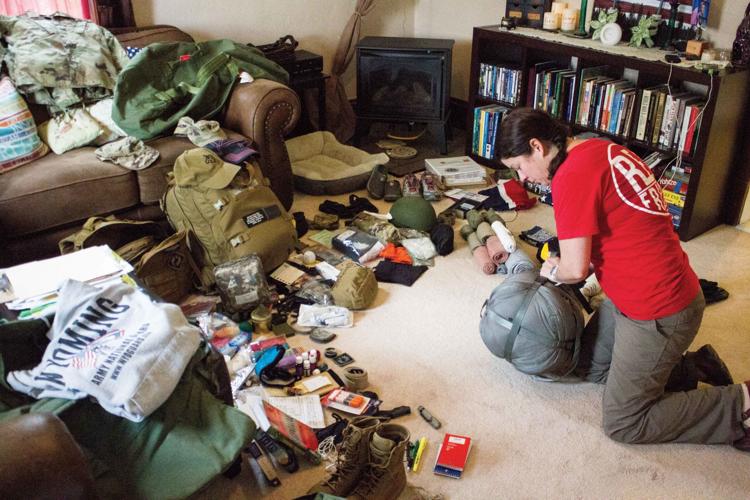 Spc. Leishaan Crane sits among her rolled-up uniforms and U.S. Army National Guard gear sprawled out in front of her on the living room floor. Soon she will embark on a journey across the ocean to the Middle East with her unit, HHB 2/300th Field Artillery of the Wyoming Army National Guard, leaving her life and daughter behind to fulfill her duty to her country.
Green and brown uniforms are set out on her couch. Army duffle bags lay empty and ready to pack, transforming her usually colorful home to a sea of camouflage.
She has each item that she must take sorted by category in front of her to ensure that it's packed – uniforms, medical gear, books, personal hygiene items, the U.S. Army sleeping bags – and stacks more. She wants to see it all. She doesn't want to forget anything.
She's excited to do her part and saddened to leave her life behind.
A new tattoo, a reminder of the life she loves at home, is on Crane's forearm. It bares the name of her daughter, Harper, encircled with lavender.   
"It kind of all hit me yesterday," Crane said. "My biggest worry? Not coming back. That's my biggest worry. The more I put it out there, then that fear fades. I'm not there to win awards; I'm not there to get badges. I'm there to do my job, bring my guys with me and come home to my daughter."
Crane is a single mother to 13-year-old Harper. She is also a certified massage therapist who has worked with HIV and AIDS patients in Cambodia. She is a former business owner, an emergency medical technician and a medic in the Wyoming Army National Guard.
Crane possesses a deep sense of duty to take care of people.
She has taken measures to learn how to stay connected with Harper while she's gone, planning to use phones and chat applications. But the connection they have is so deep, Crane feels she can focus on the mission she will be performing.
"We're connected here," Crane said. "I don't feel like I have to call and check in with her all the time, and she feels the same way." But Crane knows what she's leaving behind and what she'll miss while performing her duty.
"I will miss the rest of her seventh grade, her summer and the beginning of her eighth grade," Crane said. "So I will miss all of her track, cross-county and swim meets. I'll be missing her gain independence, as she becomes a teenager. Missing her smiles. Everything."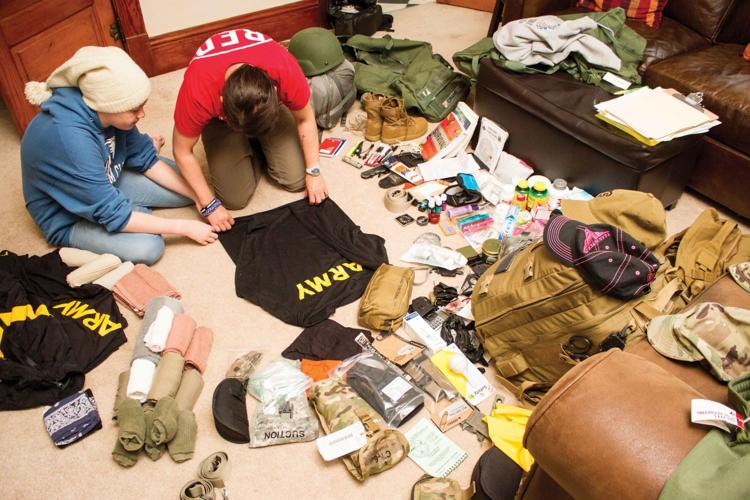 The mix of emotions Crane is experiencing doesn't slow her preparations. There have been tears. Her father wrote her a note, telling her how proud he is of her accomplishments and that he loves her, and then he read it aloud at a family dinner.
Harper will stay with her grandparents while Crane is deployed, and Crane wouldn't have it any other way. Knowing Harper is safe allows Crane to turn her attention to the duties at hand.
"I'm excited for the mission," Crane said. "Especially medically. Whatever I can do to take care of my guys, I'm all over it. And if I can get into the clinic over there, wherever we land, I'm going to find an opportunity. Keep me busy, what can I learn here?"  
Crane served in the WyARNG from 1994 to 2000. Back then, female soldiers were not allowed into combat units, so she had to be attached only to the HHB 2/300th Field Artillery based out of Sheridan.
After a tough divorce in 2014, Crane began to put her life back together. She took an EMT class and made a home for Harper and herself.
"After the divorce, I knew I needed to take care of Harper. I needed to prepare and take care of my family – just me and her," Crane said.
She rejoined the Guard in 2015 and entered as a specialist E-4, the rank she had earned before getting out. Times had changed; female soldiers are now permitted to be members of combat units.
"And I missed the camaraderie of the military," Crane said. "There's nothing like it. Coming back in after a 15-year break, it was pretty big."
She was placed in the communications sector, but her heart wasn't in it. For two years she worked toward her dream of being a medic. The unit sent her to school in Pennsylvania for an accelerated medic course in July 2017.
"I fell in love with it," Crane said. "I met the best friends I've ever had. I still talk to them today."
After returning home from training, Crane began working as an ER technician at the Johnson County Healthcare Center, to help where she could and become more accustomed to emergency trauma.
She was assigned as the medic for 2nd Platoon, HHB 2/300th, "The Saints Platoon."
She has confidence in her fellow soldiers and has developed trust through training and the simple act of getting to know each other; her duty is to care for them. She also has confidence in her leadership.  
"Our lieutenant is steadfast," Crane said. "And our sergeant first class is awesome."  
The HHB 2/300th Field Artillery is equipped with the High Mobility Artillery Rocket System or HIMARS, a multiple rocket launcher mounted on a standard Army M1140 truck frame developed in the late 1990s.
The 130 WYARNG soldiers and their equipment will deploy first to Fort Bliss, Texas, to complete pre-deployment training. The troops will complete weapons qualifications and cultural training to better prepare them for their mission in the Middle East.
Crane will be taking care of her platoon all along the way.
"I think we will be with the guys training," Crane said. "I think whatever big army has for us on the checkoff lists that we have, we'll finish before we go."  
The 2/300th will be deployed for approximately nine months. The specifics of their mission is a matter of operational security. Many of the soldiers will not even know until they arrive in the Middle East.
Crane does her best to not worry about the where and the what but instead focuses on her duty to her company as a medic.
"I'm learning to be flexible," Crane said. "I'll go from there; otherwise you'll just go crazy."
The HHB 2/300th Field Artillery was given a farewell in the Natrona County High School Auditorium on May 8.