Spring is usually full of anticipation and excitement for high school seniors. There are proms, senior skip days, senior picnics and commencement. But with local schools closed for the rest of the year, many traditions will be bypassed this year. 
Now, a group of community members are trying new ways to acknowledge the students' disappointments and recognize seniors who had their final year cut short. 
On Sunday, Main Street got a makeover as dozens of banners recognizing the Buffalo High School Class of 2020 were hung. 
The project was spearheaded by Lanna Wing and Martha Peters Bartlett. Both moms have a senior graduating this year, and both knew that their kids were missing out on milestones they'd been planning for years.
"It's been kind of interesting. It feels like we're sitting here in limbo," Peters Bartlett said. "Do we mail out announcements? I've talked to multiple parents, and none of us know what to do. It's not the graduation I expected."
Wing said the project came together rather quickly with Big Horn Mountain Radio and Tri-County Gas offering to sponsor the printing costs for the banners and other local businesses stepping up to help hang them. 
"We had a lot of help – it was great," Wing said. 
Wing and Bartlett have also been involved with an ad hoc "Adopt-A-Senior" Facebook group for Sheridan and Johnson County students. The group has over 1,300 members and over 200 seniors adopted, according to page administrator and Sheridan mom Paula Bowie. And there is still time to get involved and bless a student's life, Bowie said.
"Adopting a senior can mean different things to different people," Bowie said. "It can be anything from sending encouraging cards and prayers to gift cards or pizza or gear for college. Whatever you do, it's about showing them you care. They're missing out on a lot of things that are rites of passage for most seniors – prom and spring activities and maybe even graduation. This is just our small way of giving something back."
Peters Bartlett said she is involved as a mom of a senior and as an "adopter." 
"I have a senior, and then we did adopt a senior as well," she said. "Kirsten has enjoyed going out and buying some little gifts, and that's been fun. I think that's helped her deal a little with the disappointment."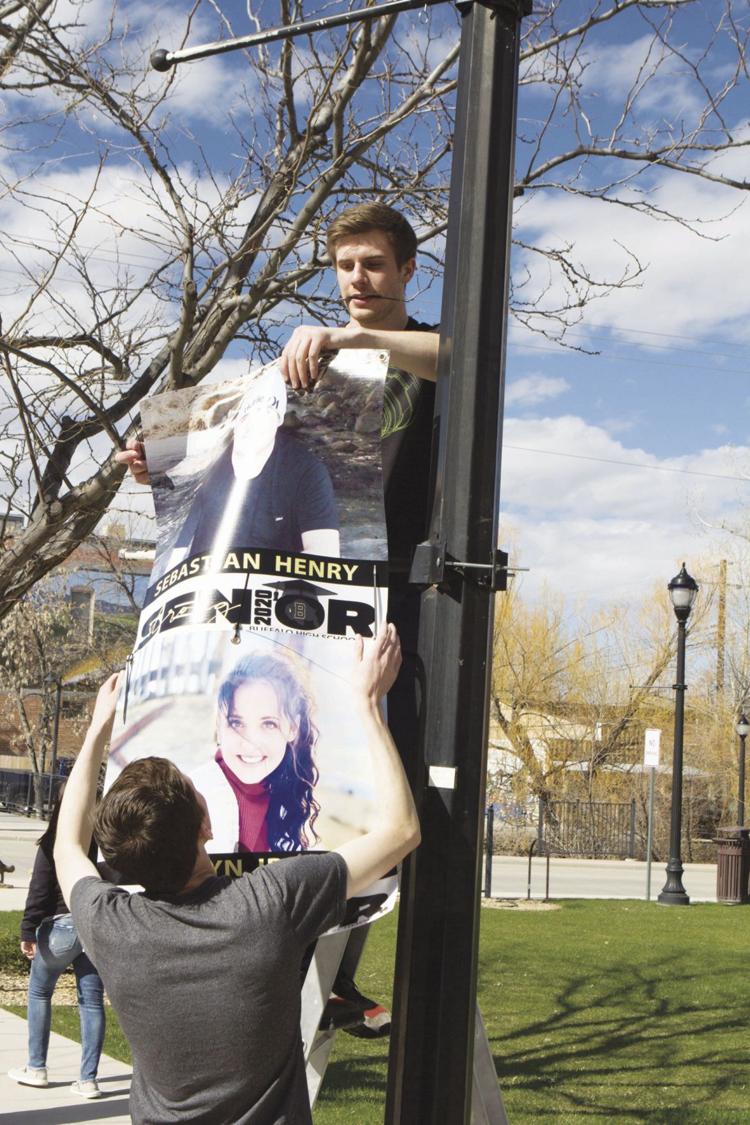 Wing said it was important to her to make sure that every BHS senior is adopted – even students whose parents are not on Facebook. 
"I've been really trying to make sure every kid has a home," she said. "I think it's awesome. It's cool to see the community come together for the kids who are not having the senior year they thought they were going to have."
Peters Bartlett is part of the parent group that was planning other senior activities – including the class picnic which may or may not happen. Participating in these other efforts has been a lot of work, but also rewarding she said. 
"It's been fun knowing that everyone wants to be a part and everyone is doing their best to make this as memorable as they can for these seniors," Peters Bartlett said. "It's cool that they're trying to help do that."
"It's great to see the kindness that has come out for these kids," Bowie said. "This is a great way to support them and give them something to look forward to during this time. Even a letter saying 'we support you and we're proud of your accomplishments' can make all the difference."