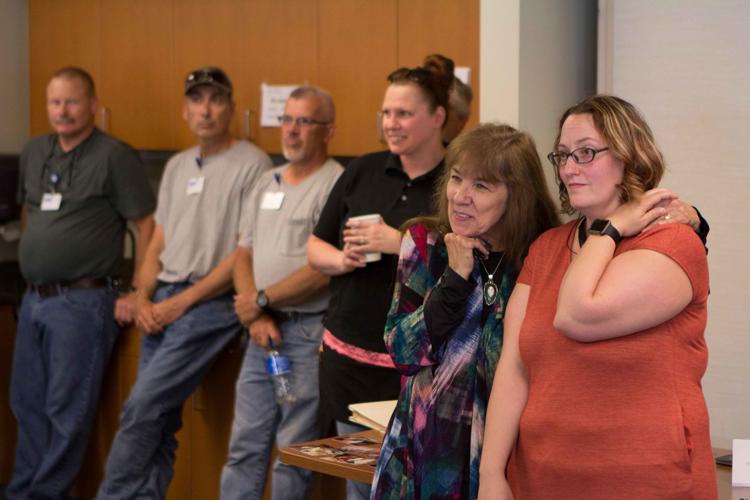 For almost four decades at the Johnson County Healthcare Center, Mindy Kendall has been driven by one goal: staying off the pages of the Buffalo Bulletin.
It's fine to do an article now that she's retired, Kendall said. But when other hospitals' central supply departments made national news over the years for spreading infections or failing to sterilize equipment property, she said, it drove her to work even harder to make sure that never happened at her hospital.
"Hearing about other hospitals in the news makes one work harder at not making national news and always focusing on doing the best job so no one will ever get infections from our work," Kendall said. "That was our goal every day in the CS department."
After 39 years at JCHC, 26 of them in the central supply department, Kendall celebrated her retirement on July 11 surrounded by friends and mentors. CEO Sean McCallister said that Kendall's commitment to excellence would be missed.
"As I've gotten to know Mindy, I've found her to be incredibly dedicated," McCallister said. "I'm not sure I've ever met anyone that takes this much pride in the work they do. ... The work Mindy has been in charge of is incredibly important to patient care and safety. So I'm thankful to her for taking so much pride in her work."
Kendall started work at the healthcare center as a certified nursing assistant, primarily on the night shift, in September 1980. While she took the job to earn money to buy a car, she quickly found that the Johnson County Healthcare Center was not just a workplace – it was a family.
"The people have made all the difference here," Kendall said. "They make this place special."
Kendall left CNA duties behind in 1987 to work in the center's purchasing department. In 1993, she was invited to apply for a job working in the central supply department. She got the job and became manager of the department in 1995.
In central supply, Kendall was in charge of taking apart, cleaning and sterilizing all medical devices, equipment and instruments. She estimates that she was in charge of cleaning and sterilizing millions of pieces of equipment.
"One of the biggest changes I've seen during my time here is how complex the instruments are now," Kendall said "They are much more complex to take apart and clean. Each instrument has its own soaking time and cleaning time and sterilization time and temperature. And you have to know all of that by heart."
Over time, Kendall's department has taken over more duties, including the cleaning of endoscopes, Kendall said.
"I once told (former CEO) Sandy Ward that if I ever have an endoscopy done, I want it done here," Kendall said. "I know how we clean them here, and I feel like we take the extra time here to do it right."
Proper cleaning and sterilization is critical, Kendall said, and in many cases could be a matter of life and death.
"In my department, one screw-up could lead to a major infection," Kendall said. "You could pass a myriad of diseases from one person to another."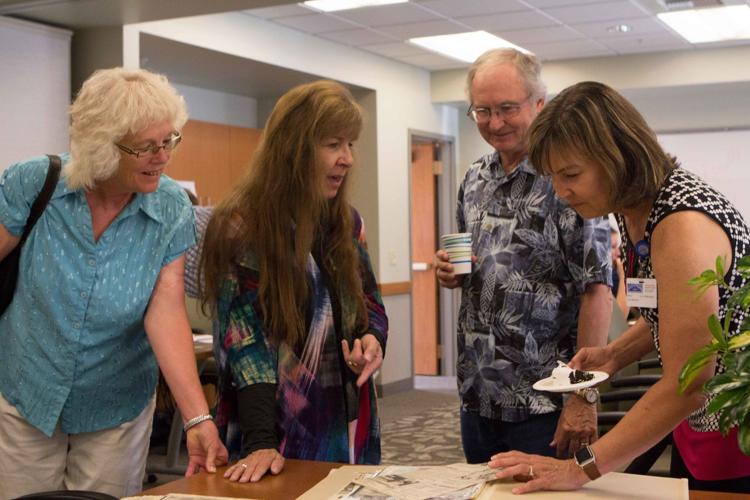 In addition to her main job, Kendall has adopted dozens of other duties at the healthcare center over the years – from helping organize the local health fair to teaching CPR classes. Kendall said she plans to continue doing the latter even after retirement.
"That is my passion – teaching people to save lives," Kendall said. "In one of my classes, I taught CPR to a police officer and he used it to save the life of a man on the interstate within a couple weeks. I always feel like a proud grandma when that happens."
Kendall said that if her friends at JCHC remember anything she taught them, she hopes that it is the ABC's of CPR.
"Everybody needs three things to survive – they need an open airway, they need to breathe and they need a heartbeat," Kendall said. "If you can keep somebody's airway open, breathe for them and do their heartbeat, you can save a life. It's that simple."
Kendall's love for CPR made her the perfect target for a prank during one of the healthcare center's Christmas parties, marketing director Marcy Schueler said. One of her favorite memories of Kendall is how she reacted when Dr. Mark Schueler re-enacted a famous CPR scene from the television show, "The Office," which starts with chest compressions made to the tune of "Staying Alive" and ends with a dummy's face being torn off.
"I'll always remember the look on Mindy's face," Schueler said. "Mindy did not know we were doing this, and she was just mad."
McCallister laughed.
"That sounds like it was sacrilegious to Mindy," she said.
"It was the perfect example of how not to do CPR," Kendall said. "I love CPR as long as Dr. Schueler stays out of it."
In addition to CPR, Kendall was also part of the healthcare center's hand hygiene program – and she enforced it so well that employees often scrambled off to handwashing stations when they saw her coming. But Kendall said there was a reason she took the program so seriously.
"I will share this with you so you will remember," Kendall said. "Forty-some years ago, (Kendall's husband) Richard and I had a baby. She was beautiful. She got scratched on her belly by a nurse's fingernail. That baby died from an infection three weeks later. That is my reason for pushing the hand hygiene program so much – so that never happens again. … I can't stress it enough – no other baby should have to die due to negligence by a hospital."
With Kendall's departure, her duties in the central supply department will be passed to Julie Hook and Amanda Christianson.
"Due to those two girls, I can walk out today and not look back," Kendall said at her retirement party. "I know that every patient in Johnson County is going to be in good hands."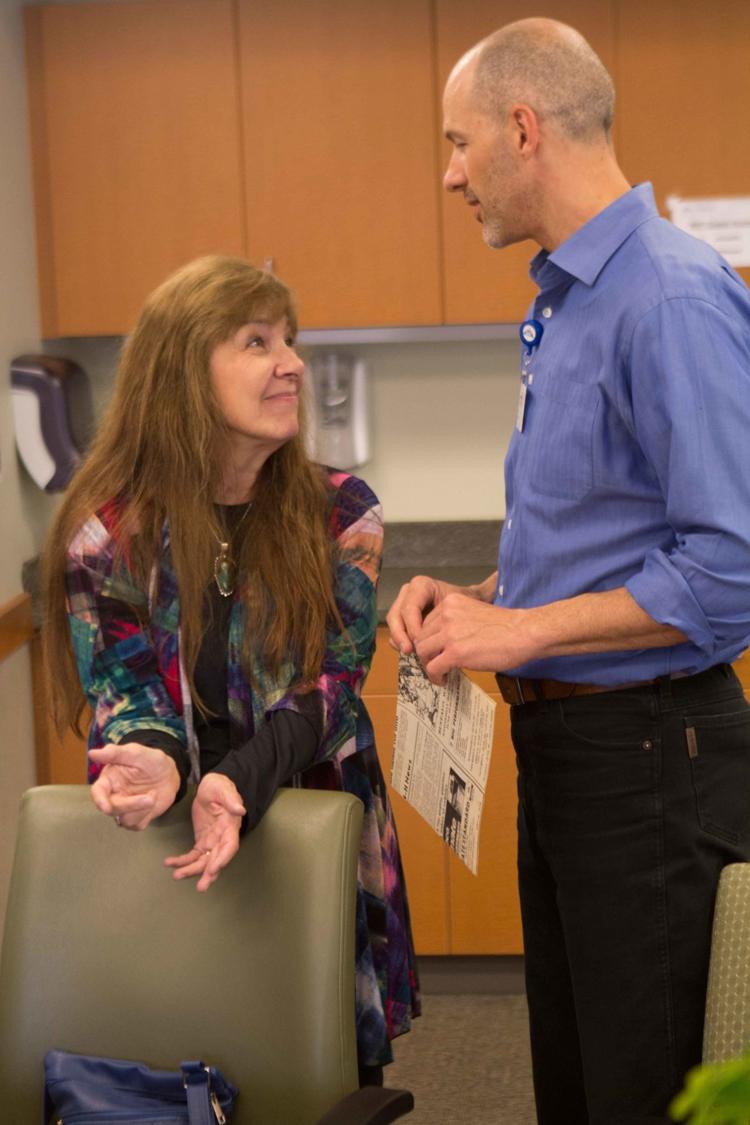 Kendall said she planned to enjoy retirement by building her collection of collectible dolls, enjoying time with her grandkids and exploring the backroads of Wyoming.
As he reflects on his wife's nearly four-decade career, Richard said he was proud and amazed at all she had accomplished. Kendall was born deaf and did not hear the birds sing until she received her first hearing aids at age 18. She relied on lipreading all through her school years and told her teachers to look at her when they spoke to her. The director at the University of Wyoming's audiology department called her a "master of lipreading."
"I'm so proud of her and what she's accomplished in her life in such a way that has been such a benefit to the whole community," Richard said. "Look at how far she's come."
Kendall said she was thankful to everyone at the healthcare center who pushed her to do more than she once thought possible. She believes anyone can overcome difficulties they face and make a difference in their community.
"Whenever I was challenged to do something, I always thought, 'I'm going to prove to them that I can do this," Kendall said. "I'm pleased that they gave me a whole department to run for that long. It goes to show that having a handicap does not mean you can't do something. You just have to look beyond that and reach for what you want regardless of what has happened to you in your life."