President Donald Trump proposed $150 million for the creation of a U.S. uranium reserve in his 2021 budget, released Feb. 9 – a potential windfall for Johnson County's Nichols Ranch.
Nichols Ranch is one of just four uranium mines nationwide still in operation after low-priced imports from countries such as Kazakhstan, China and Russia flooded the market in recent years. All four mines are located in Wyoming.
"Our Nichols Ranch operation is probably ideal to address the government demand," said Paul Goranson, chief operating officer of Energy Fuels, which owns the mine. "We have everything fully licensed, so there's no waiting and the infrastructure is already in place. We have staff. We'd have to staff up some more, which would be good for Johnson County."
Congress must approve the budget allocation before any spending could occur.
At its peak, Goranson said, Nichols Ranch, located in extreme southeast Johnson County, employed 55 workers, plus an additional 16 full-time contractors. Now, just 17 employees remain.
A fact sheet from the Office of Nuclear Energy states that "the reserve is expected to support the operation of at least two U.S. uranium mines."
Gov. Mark Gordon hinted at the allocation ahead of the budget announcement during a Jan. 31 speech in Lander.
"This is a real boon for our uranium industry, for the miners and the mills that are in Wyoming," Gordon said.
In January 2018, Energy Fuels, along with Ur-Energy, which owns the Lost Creek mine north of Rawlins, as well as several other undeveloped mineral interests in the state, sent a petition to the White House requesting a domestic trade quota for uranium as a way to protect the industry.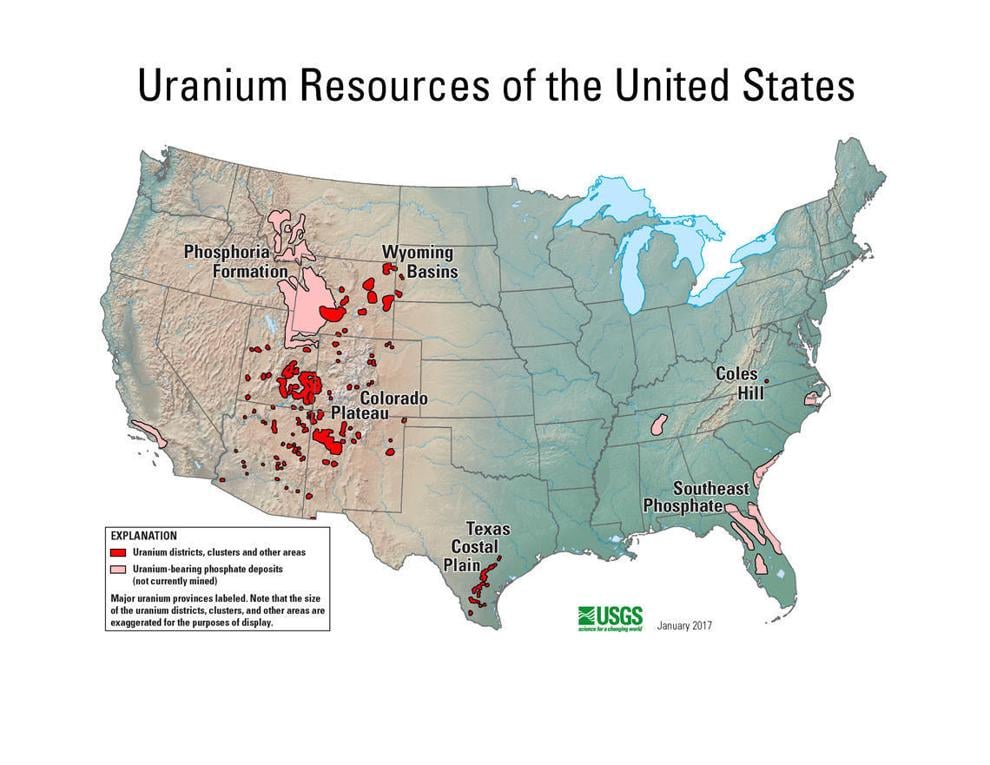 The petition was filed under Section 232 of the Trade Expansion Act of 1962, a legal provision that gives the president the power to create trade barriers on imports he believes could threaten national security.
Without trade protection, the companies claimed, the domestic uranium industry could disappear altogether – and without continued investments in expertise and infrastructure, it would be difficult to resurrect.
Although Trump rejected the companies' 232 petition last July, he did announce the creation of a U.S. Nuclear Fuel Working Group to develop recommendations for supporting domestic nuclear fuel production. Although that group delivered its recommendations to the president last fall, they were never made public.
At an October 2019 meeting of the State Legislature's Select Committee on Natural Resource Management, Goranson told the lawmakers that the level of domestic uranium production was the "lowest on record since the Manhattan project."
"Our company is on the cusp of making tough decisions," he told the committee then. "We are waiting for the administration's decision."
Sen. John Barrasso issued a statement, after last week's budget announcement, recommending quick action on developing the reserve.
"America's uranium producers need immediate action from Washington," Barrasso said. "I urge the Nuclear Fuel Working Group to finish their job. This nuclear fuel is essential to both America's energy and national security."
"It would be helpful if they moved faster," Goranson said. "Reprogram money this year, so we could get things going now. If there's a long wait, we won't be able to sustain the people that we have."