Maggi Lambert, fourth grade teacher at Cloud Peak Elementary School, spent March 16 and 17 in the same place she spent every previous school day this year.
But the halls of Cloud Peak, normally filled with conversations and laughter, were eerily quiet – a reminder that education in March 2020 is considerably different from anything Lambert or any other teacher in the Johnson County School District has ever experienced.
"The building was too quiet on Monday and Tuesday without kids," said Lambert, who like other teachers in the district is now instructing students from the comfort of her own home. "It made us all pretty sad, and we worried about our students and how they were feeling about all this. We did our best to connect with every student as quickly as possible."
As social distancing measures were mandated across the state in response to the spread of COVID-19, Lambert and her fellow JCSD teachers are finding themselves in a brave new world – one where education and personal connection continues online.
"Although many teachers in Johnson County have training and experience in delivering content online, to say this is a unique situation is certainly an understatement," said Mike Hanson, teacher with the district's New West Alternative Program.
In the evening hours of March 15, teachers were notified that the school district would be closed through April 3, requiring teachers to think on their feet and find unique, imaginative ways to meet their students' needs.
"Sunday night (March 15), I was ready to head in to work to support my student teacher, prepare for student-led parent-teacher conferences and organize fourth-quarter projects," Lambert said. "Then, bam! It was 'report to school tomorrow morning to plan for how we will provide learning opportunities for students at home.'"
There is no "normal" school day anymore, and every teacher's routine is different. As teachers are getting into the unique rhythm of helping their students digitally, some shared what a school day is looking like for them these days.
The new frontier
Walter Farwell, instructor of computer-aided design and drafting at Buffalo High School, is no stranger to teaching online classes. He taught them at a previous high school in Massachusetts and has also provided online instruction as part of his work for Sheridan College in Johnson County.
Still, even for Farwell, the suddenness of the district's transition online has brought some unique challenges.
"This is quite a challenge as students entering an online training program normally get to take some sort of 'how to be an online student' class prior to beginning their formal coursework," Farwell said. "In addition, schools are often set up with specific rules on how classes will be unpacked, how work is processed and how online courses are visually set up. With all of this happening so soon, and with no opportunity for a preload of online training and online training development, there may be some frustrations on part of both the teachers and the students."
That's why communication is more important than ever, Farwell said. 
"In my classes, I will strive for very clear communication of assigned work, (provide) examples where needed and will seek to overexplain as much as it is reasonable so that there are fewer miscues and misunderstandings," Farwell said.
Farwell said he also plans to intermittently check his computer between 9 a.m. and midnight each day in order to best respond to student needs.
"I have established office hours for immediate feedback and assisting of students, but often in an online environment, students and teachers are working at different times," Farwell said. "This is actually a strength of the online teaching environment. Typically, I will answer any emails received within 24 hours."
Farwell said that he is currently juggling various projects with students, including helping students access and install free software they can use for their design and engineering assignments, starting the preparation for an Federal Aviation Administration license for drone operators, and assisting students in designing a home that utilizes a used grain silo. Some students are designing a room that could be used for a movie set while others are creating 3D puzzles. In addition, Farwell will teach freshman students how to use AutoCAD for architectural drawings through the use of Zoom online conferencing. 
"It is going to be challenging, but a great opportunity where students are going to be able to learn how to navigate an online learning environment, " Farwell said.
A digital science fair
Wyoming's first case of COVID-19 was announced in the evening hours of March 11 – less than 24 hours before the start of Cloud Peak's science fair.
For social distancing reasons, the fair was canceled, but Cloud Peak's science teacher Becky Qualm still wanted to give her students a chance to showcase their weeks of research.
"My students are recording and posting videos of themselves presenting their science fair projects to my Google Classroom in a virtual science fair format," Qualm said.
In addition, Qualm is brainstorming other fun digital learning opportunities for kids while fielding questions from concerned students about the well-being of classroom pets and plants.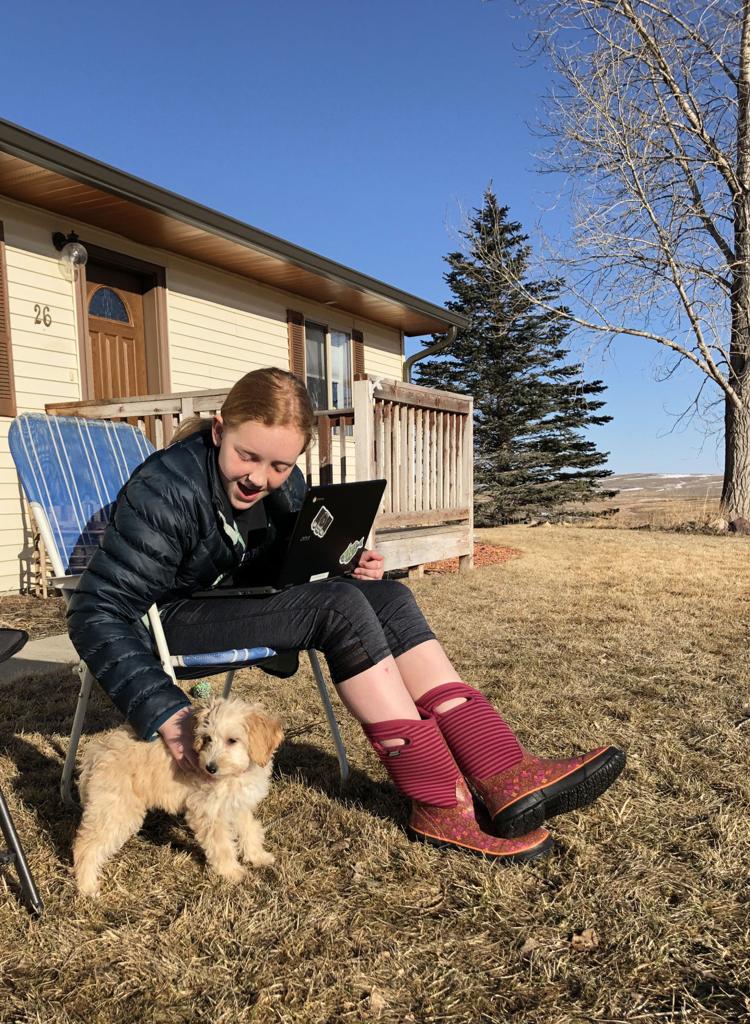 A house can be a classroom
Lambert is making the most of her new teaching situation and finding ways to incorporate her home environment into instruction.
"Wednesday I worked from home," Lambert said. "I taught a poetry lesson from the library area in my basement, and a fractions lesson with a recipe in my kitchen. My daughter helped me film it."
Lambert is keeping in touch with her students through email, phone calls and Google Classroom, where she is posting videos, links and assignments. She said she is looking forward to seeing her students' smiling faces again soon.
"It's really hard not to see the kids," Lambert said. "They are why we do what we do."
You can't stop the beat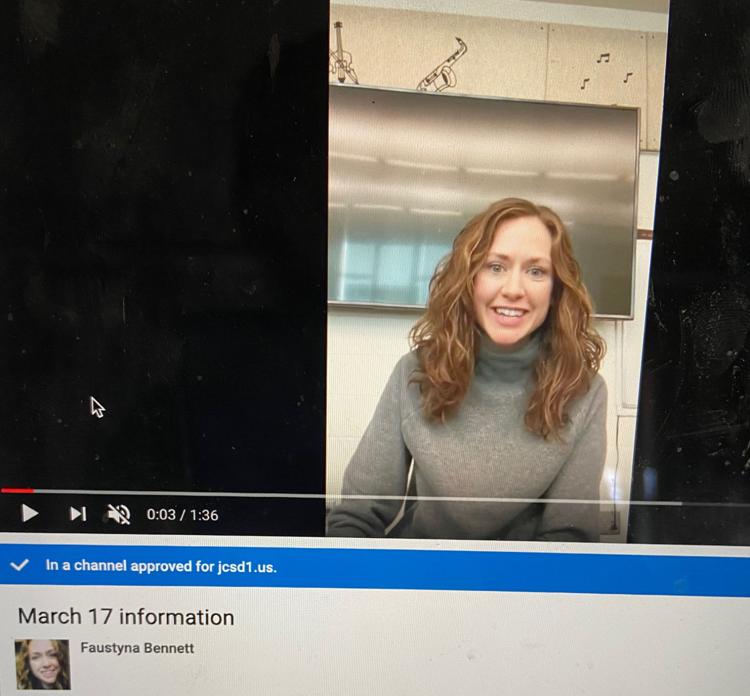 Band may seem like a hard class to translate to the digital world, but Faustyna Bennett, band director at Clear Creek Middle School, is taking the transition in stride.
Google Classroom, which Bennett had used to post assignments, videos of performances and reminders for concerts, has become the go-to platform for music instruction.
"Luckily, my students were loaded into Google Classroom and ready to go on that platform," Bennett said. "Every morning this week, I have posted a YouTube video of myself explaining the lesson for the day. I also include a 'code word' that students listen for and take a quiz on. The 'code word' is simply a tool to see if they are watching the videos. I like to make it something ridiculous like 'lucky charms' on St. Patty's Day because I am crazy like that."
SmartMusic, a music education software, is offering free licensing to all music teachers around the country, Bennett said. Students use SmartMusic to share their performances of concert music and exercises.
There are even more big ideas currently in development, Bennett said.
"A large group of music teachers in Wyoming have created a Facebook group for helping, encouraging and building online teaching," Bennett said. "There is talk of teachers doing online videos of us playing our instruments, a virtual choir has been created, and everyone is helping to bring music to our kids. It has been amazing to see music teachers come together for our students. Playing and singing has (continued) and will continue, even if it is not in our classroom."
Continuing the conversation
Especially in English classes, classroom discussion is important, according to Natalie Maxwell, English language arts teacher at Kaycee School. And that discussion is continuing digitally.
"I'm looking at Google Hangouts or some other platform that's similar, because in ELA discussion is so important," Maxwell said. "I have had kiddos send videos of themselves discussing questions relevant to the text, and that's fun!"
Maxwell said she sends one assignment per day per class and is grading projects within 24 hours to keep students on track in their learning. Students have reading assignments and work due via Google Classroom.
Sandy Moon, English teacher at Buffalo High School, is taking a similar approach.
"We are doing online discussions this week, along with Zoom meetings," Moon said. "Next week I think I will do small-group Zoom meetings so that we can discuss the book we are reading together. I really think the kids still need a personal connection with their teachers. That is why I am trying the Zoom platform so that we can talk and connect with one another from afar."
Even when the discussion briefly turns away from schoolwork, conversations and community matter now more than ever, Moon said.
"I hosted a Zoom meeting for my students at 11 a.m. (on March 18) for about 30 minutes," Moon said. "I answered questions that the kids had about their online work and talked with them about concerns of the future. It was really nice to see them during this time."
Community when they need it most
Many of the students at the New West Alternative Program had their own personal challenges long before COVID-19 arrived in the state, Hanson said. So flexibility, as always at New West, is the name of the game when it comes to continuing education during this time.
"We've recommended that the students in the New West program focus on working 10 a.m. to 2 p.m.," Hanson said. "We know that our students have a lot on their minds and may be taking on additional responsibilities during this time, so we are hoping to strike a balance of not adding to families' stress levels while trying to maintain some structure and continuity where we can."
While Hanson and fellow New West teacher Tara Hall are dedicated to meeting their students' educational needs, they are equally committed to providing a strong support system when students need it most.
"Simply moving our content online isn't going to cut it. If that was the case, we would have moved school online a long time ago," Hanson said. "The important thing for students, and I think all of us actually, is to maintain our relationships with our kids. We're all going to have to take the time to call them, video chat, text – whatever we can do, to keep kids tethered to our school community."