2010: Ski lodge reopens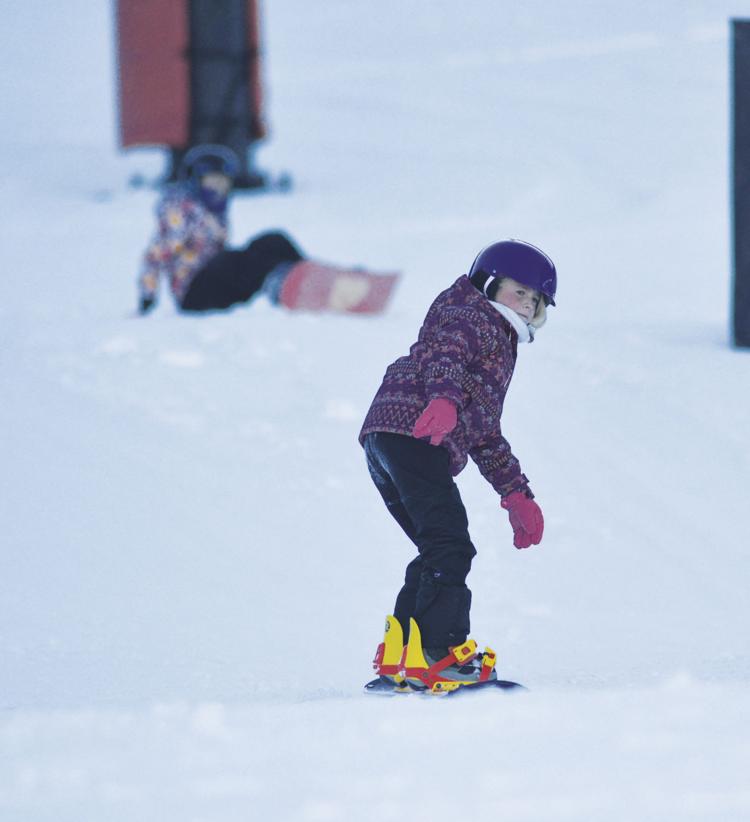 Voiding the long road trips necessary for ski and snowboard enthusiasts, Meadowlark Ski Lodge reopened in January 2010 under new local management after being closed in 2008 by the U.S. Forest Service due to health and safety violations by former owner Jim McCotter. 
"We just want to instill that sense of dependability and reliability back to the lodge," said lodge owner Holli Jones. "We want people to know that when we say the lodge is going to be open, that it will be open."
Wayne and Holli Jones bought Meadowlark Ski Lodge, in addition to Deer Haven Lodge, in a sheriff's auction in 2009.
According to Lucas Todd of The Sports Lure, the reopening was one of the most anticipated and exciting events for winter outdoor enthusiasts.
"I think it's wonderful. I think it's a real asset to our community and our region to give people another outlet for winter recreation," Todd said. "There's just a lot of positive buzz about it."
2011: Chris Prosinski's NFL dreams come true
During April's National Football League draft, a dream came true for Buffalo native Chris Prosinski. The University of Wyoming star was taken by the Jacksonville Jaguars in the forth round of the draft – and earned the distinction of being the first Buffalo High School alumni to make it to the NFL.
In the days leading up the draft, Prosinski was expecting to be taken in the sixth or seventh round. Being a fourth-round selection caught him by surprise, because he wasn't watching ESPN's coverage of the draft.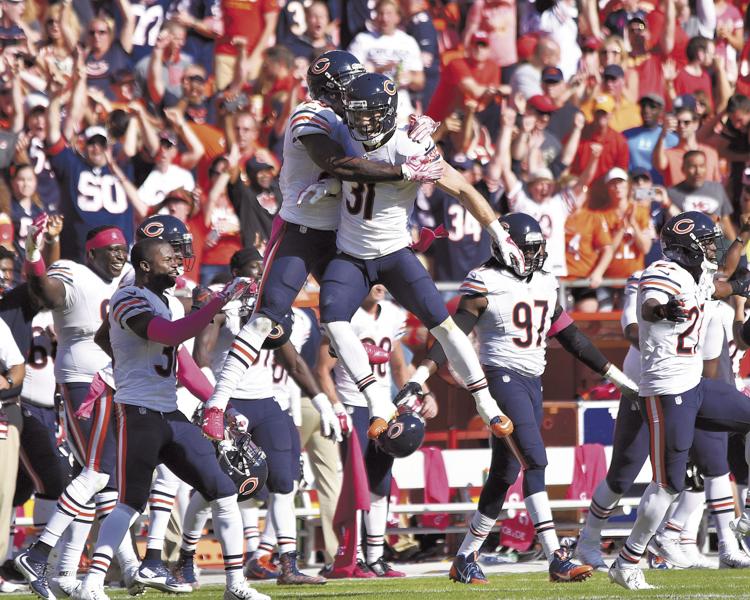 "To be honest, I didn't even really watch it that closely," he said. "I didn't sit down and just watch the TV. I kept an eye on it, but I knew I probably wouldn't show up, so I didn't even see a reason to really watch it. I knew coming into today that there had only been three safeties picked in the first three rounds, so I was kind of just waiting for safeties."
Prosinski made his first start against the Tampa Bay Buccaneers during Week 14 this season, but it looks like that will be his only start. According to bigcatcountry.com, a Jaguars fan website, Prosinki was moved to the injured reserve list for the remainder of the season with a thumb injury. Prosinski recorded 19 tackles this season, appeared in 13 games and started one.
2012: The Cato fire burns 27,000 acres
Tinder-dry rangeland, 100-degree heat, low humidity, gusty winds and a bolt of lightning combined to create the Cato fire on June 25, scorching over 27,680 acres northeast of Buffalo and requiring 1,120 person hours to contain. The fire cost $877,000 to suppress.
The fire burned for a week before officials announced on July 3 that the blaze had been fully suppressed.
For ranchers in the area, the fire dealt an almost unbelievable blow: During a summer that was already dry with hay commanding nearly double the price it had the previous summer, they watched as their haying and grazing lands went up in smoke.
For some, it was a matter of changing grazing patterns. For others, the fire meant changing their entire operation.
Gary Grubb, a rancher who operates the C Bar C Ranch, said selling off herds would be a devastating price for ranchers, because they would have to begin their herds once again – possibly with different genetics.
Grubb said he's been building his genetic base for the past 13 years.
"It is hard to replace that," he said. "The best thing you can do is find grass, but there is no grass." That's also problematic for ranchers as they go forward.
"It is not feasible to pay that much money for beef cattle because you are going to put more in her than you are going to be getting out," he said. "This is something you don't figure on. Burning up all of your summer range."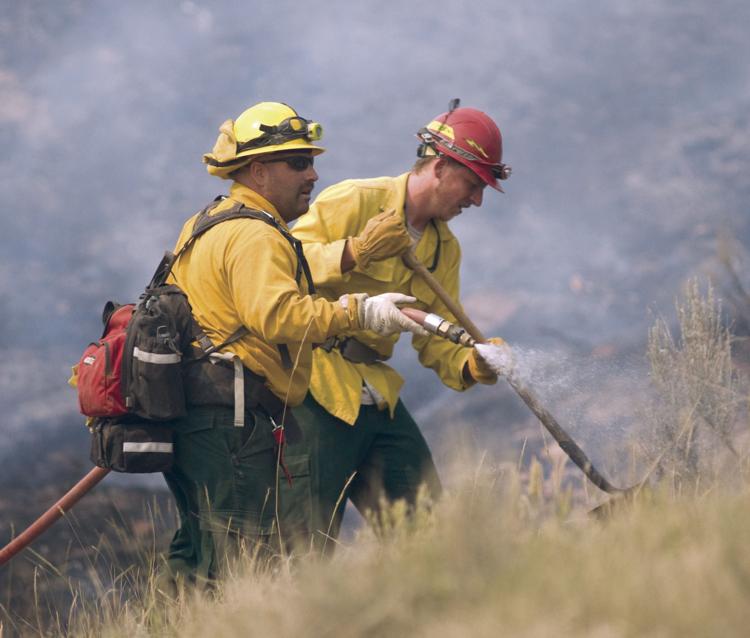 While many ranching operations lost valuable hay ground and thousands of dollars of fencing, the Adami ranch was the only operation to sustain a loss of structures.
"We lost a lot of fencing, grass, the ranch house, a tack barn, a machine shed, our shop, two storage sheds, two tractors, a mobile home and our outhouse," Steve Adami said. "It was kind of a complete loss. That was our ranch headquarters." 
In October, the Johnson County Fire District held a meeting to address the concerns of ranchers and others who felt that the fire district had acted too slowly and without proper coordination and communication in putting out the blaze.
In an attempt to eliminate future communication issues in the upcoming fire season, landowners and fire district board members plan to hold workshops this winter. Those workshops are intended to establish a line of communication if a similar fire happens again.
Plans are in place to collect maps of properties in the area, so all known structures, roads and water sources are mapped. There is also the potential to select a public information officer to communicate between landowners, the fire department and the media.
2013: Longmire Days debut brings throngs of fans to Buffalo
On Aug. 17, more than 5,000 people filled Crazy Woman Square to meet the cast of A& E's "Longmire," as part of the second annual Longmire Days.
The show is based on local author Craig Johnson's series of the same name and is based in Absaroka County, a fictitious county largely based on Johnson County. The residents are proud of that, and that pride was evident during Longmire Days. This was the first year the cast of the hit show came to town.
Despite the unrelenting sun and temperatures that reached into the 90s, fans waited for hours to get autographs. At one point, the line stretched from the square to the post office.
At times, it didn't seem like the line would stop growing, much less end. It got to be so long that some people wondered whether they would even get to see the actors and the author.
But the six people they were there to see wouldn't let that happen.
"I wasn't going to leave," said Robert Taylor, the actor who portrays Walt Longmire. "I couldn't leave. Could you imagine leaving with people in line? Some of them had been waiting for hours in the sun." Along with Taylor and Johnson, actors Bailey Chase, Adam Bartley, Katee Sackhoff and Cassidy Freeman, who plays Cady Longmire, stayed in the square for hours signing and taking pictures with fans. The autograph session was only one of the events in which the actors took part that weekend.
They also participated in a softball game, a poker run, a golf outing, skeet shooting and karaoke. Sackhoff, Taylor, Bartley, Chase and Johnson even made an appearance at the Saturday night street dance to drink some Rainier beer and mingle with fans.
According to Taylor, it was nice for the stars of the show to meet the people who support it. Without the fans, there wouldn't be a show, and he said it was nice to be able to give something back to the fans.
"It's pretty amazing," he said. "I don't know how many people were there today, maybe five or six million people. But seriously, there had to be a few thousand people turn up. We signed a lot of autographs and we were out there for a long time, and everybody got something signed and took photographs. These people are our fans, so we're happy to come here and give a little back. We're happy to be here."
"It was a smashing success," said Rachel McCaughey, Buffalo Chamber of Commerce assistant director.
2014: Johnson County voters approve sixth-penny tax for library expansion
On Nov. 4, Johnson County voters approved a sixth-penny ballot initiative to expand the Johnson County Public Library - marking the first time voters have approved such a tax in the county.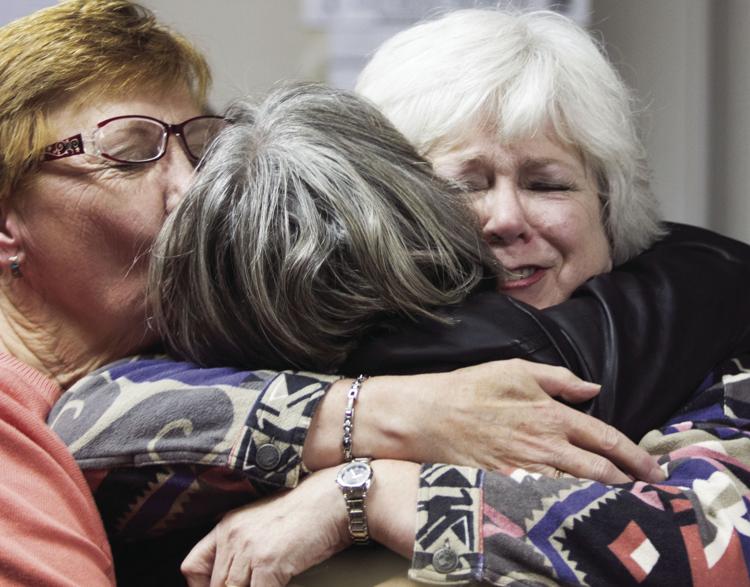 On the general election ballot, voters were asked whether they supported a 1% specific purpose tax, which would increase the sales tax rate from 5% to 6% to fund $3.7 million of a $4.7 million library expansion.
It was a razor-thin victory. The historic measure passed by fewer than 200 votes, with 48 "undervotes," which counted as "no" votes. Roughly 53%, or 1,758 voters, voted for the expansion, while 47%, or 1,525 voters, voted against the specific purpose tax.
"I was surprised until the absentee ballots kicked in, and then it was all relief," Cynthia Twing, library director, said on election night. "The success of this is all about the hard work of a lot of people over a long period of time. It's been a labor of love, a large team working together."
Voters have been asked twice in the past decade to tax themselves for capital improvement projects, but both times, votes fell far short of the majority needed to pass.
The expansion will nearly double the size of the library and will allow for additional meeting space, dedicated children's and young adult areas, a quiet area and more seating.
The tax increase goes into effect April 1, 2015.
2015: And the floodgates opened
It was a crazy, freak storm. Within 45 minutes after 8 p.m. on June 3, a deluge pounded the area, damaging 400 homes and numerous roads across northern Johnson County. It wasn't expected, but it came nonetheless. According to the National Weather Service in Riverton, 1.25 inches of rain fell in the city.
In the days that followed, residents pumped water from their basements, mopped up puddles in their homes and dodged potholes in the streets.
"This is one of those storms that no matter what, it just did it.
There was no way you could've done anything," Sheriff Steve Kozisek said.
Six feet of water flooded the basement of Sheridan Pierson's home in Buffalo, and it kept coming through the night.
"We started to panic. We didn't know when it was going to stop. We didn't know if we should have left," she said.
Pierson lives on North Adams Avenue. When the rain subsided, it was apparent the area was one of the hardest hit in town.
A third of the county's 600 roads were damaged in some way from the flood, and Dead Horse Creek at exit 91 on Interstate 90 was destroyed, causing a road closure. A private road washed away at the Emerald Park subdivision.
Crews traveled through town the morning after the flood, marking potholes, dumping sand for sandbagging and removing debris from city streets.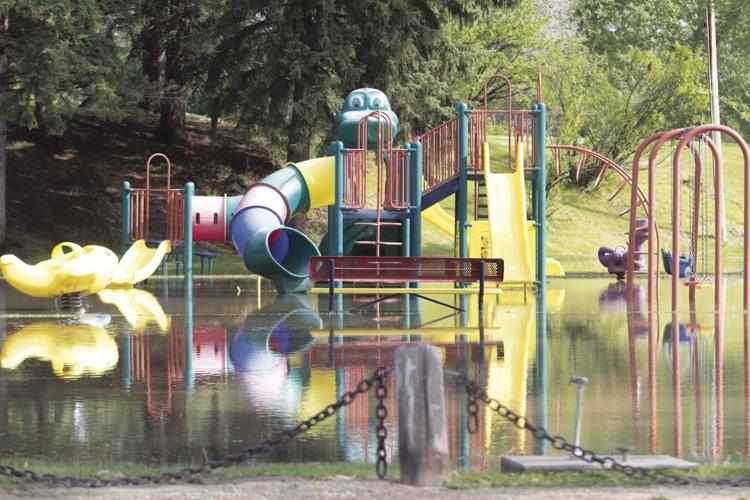 The flood happened on a Wednesday, and by Thursday night, Buffalo was declared a disaster area. The Red Cross, Department of Homeland Security, police and sheriff's departments, Natural Resources Conservation Services, emergency management and search and rescue came together Thursday to provide resources for suffering families and businesses. The Buffalo Ministerial Association gathered more than 50 volunteers to help residents remove water and debris from their homes and yards through the weekend, as well as help elderly or disabled residents who weren't able to do cleanup themselves.
2016: Valuation drops 42%
County officials said it was coming – a dramatic drop in the county's valuation. This year proved them right.
This year's valuation dropped by nearly half, falling from last year's valuation of $879 million. Less than a decade ago the county's valuation hit a high of $1.8 billion.
The precipitous drop in valuation can largely be attributed to the decline in natural gas production due to market price, as well as a steep decline in oil prices in 2015.
At one point, energy production – specifically oil and gas – accounted for 75% to 80% of the county's overall valuation. If the latest estimate holds true, that figure will drop to 55%.
"Therein lies the problem of a boom-and-bust economy," County Assessor Cindy Barlow told the Bulletin in June.
As of June, gas production over the past year was down 20% and the value of what was sold in 2015 had dropped by about 50%. Oil production was up 4%, but the total value of what was sold in 2015 was down 47% from the 2014.
2017: PMO funding cut
It was a tumultuous year for the Prevention Management Organization of Wyoming. The organization, based in Buffalo, saw a 49% funding decline for fiscal year 2018, but that's nothing compared with what is on the horizon in fiscal 2019.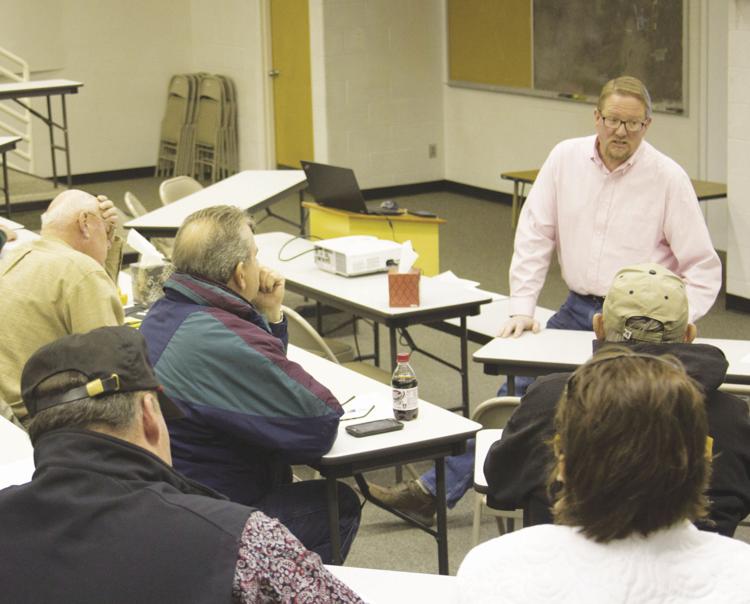 "The Department of Health's transition to a new prevention services delivery model will effectively move all funding for community prevention from the Prevention Management Organization," PMO CEO Keith Hotle wrote in an email to the Buffalo Bulletin. "This will result in the termination of all community prevention staff currently employed by the PMO at the conclusion of our contract."
In fiscal 2017, the PMO employed 40 people across the state and four full-time people in Buffalo. After the fiscal 2018 budget cut, the organization had to lay off 30% of its staff and some employees moved to part time.
The organization now employees 29 people across the state, including two full-time and two part-time people in Buffalo.
The PMO contracted with the Department of Health to provide prevention services to all 23 counties in the state in 2012.
Starting with the new fiscal year, the Department of Health will return to its original funding model, which means that funds will be directly allocated to counties to then operate prevention services.
Kim Deti with the Wyoming Department of Health said the change was motivated by the department's desire to make do with dwindling resources. In March 2017, the Wyoming Legislature approved a $2 million cut to prevention programs throughout the state.
2018: Johnson County's Gordon elected governor
In March 2018, Wyoming Treasurer and Johnson County rancher Mark Gordon announced that he would seek the Republican nomination for governor. 
It was a hard-fought race for the Republican nomination. Gordon faced five challengers in the primary, but he secured the win in August with roughly 33% of the vote. 
"I'm somewhat overwhelmed, a bit amazed and very humbled," Gordon said after his primary win. "We worked very hard and felt we had the right people and the right message, but you just don't know if it's going to come true and then it does, and that's a wonderful feeling." 
After clinching the nomination, Gordon earned 67.4% of the vote in the general election. 
Gordon had served as treasurer since October 2012 when he was chosen by the Wyoming Republican Party State Central Committee to fill the seat of Joe Meyer, who had died. Gordon then won election in 2014, earning 88% of the vote in the contested Republican primary. 
Gordon grew up on his family ranch in Johnson County and returned to the area after graduating from college in 1979. In addition to ranching, Gordon ran several successful businesses in Buffalo and Sheridan before working in oil and gas.
He and his wife, Jennie, work together, with Jennie handling day-to-day ranch management. They have a cow-calf operation, breeding Angus/Hereford cross cattle and using no-till methods to produce hay. 
The challenges for the state, Gordon said, are identifying ways to diversify the state's economy while, at the same time, making that diversification work for the state. 
"Frankly, we have been blessed with extraordinary revenue streams from coal, oil and gas. Three years ago, my office was pointing out that those may not continue, and we needed to get our fiscal spending in line with revenue streams, particularly with school funding and other things that are obligatory. We need to figure out how to do more with less," Gordon said. 
Gordon said in March that as governor, he would be committed to leading those conversations in a fiscally conservative way. 
Gordon was sworn in as Wyoming's 33rd governor on Jan. 7, 2019. 
2019: Buffalo will be site of skilled nursing facility
After months of legislative debate, the Wyoming State Building Commission has given the final word on the location of the state's first skilled
nursing facility for veterans. That word? Buffalo.
"This is a big sigh of relief for me and for everyone who has lobbied to locate this facility in Buffalo," Johnson County Commissioner Bill Novotny said. "I want to thank the five elected officials on the building commission for realizing that Buffalo is the best place for this facility. This facility will get built, and it will be built here in Buffalo."
The building commission – composed of Gov. Mark Gordon, Secretary of State Edward Buchanan, State Auditor Kristi Racines, State Treasurer Curt Meier and Superintendent of Public Instruction Jillian Balow – voted unanimously on Oct. 9 to locate the skilled nursing home in Buffalo. Skilled nursing facilities are residential communities that provide long-term care to individuals with chronic health problems.
Novotny said that the building commission meeting would have been the
last place to attempt "any last-minute maneuvers" to move the facility out of Buffalo.
"At this point, construction in Buffalo is a done deal," Novotny said. "We still have to finish the design work and secure funding for the project, but unless some legislation comes forward this spring to cancel the project entirely, it will be located in Buffalo."
Novotny said that design work on the project is ongoing and scheduled to be completed by March 2020, with construction bids going out in April. Groundbreaking is set for Aug. 15, 2020, with construction expected to be complete in 2022.
The state is also pursuing funding from the U.S. Department of Veterans Affairs for the project, Novotny said. The VA will pay for 65% of the project costs, while 35% will be funded by the state. The state will maintain ownership and operation of the facility. In Enrolled Act 104, which approved the construction of the 36-bed skilled nursing facility, the state allocated up to $9 million for the project.
"At this point, both the funding and the design phase are going smoothly and everything is on target for the Aug. 15 start date," Novotny said.
The U.S. Department of Veterans Affairs skilled nursing facility will provide long-term care to veterans, their spouses and Gold Star families.
The Wyoming Legislature voted to locate the facility in Buffalo in February after the town was chosen over Casper and Sheridan. The facility will be built on the campus of the 117-bed Veterans' Home of Wyoming.