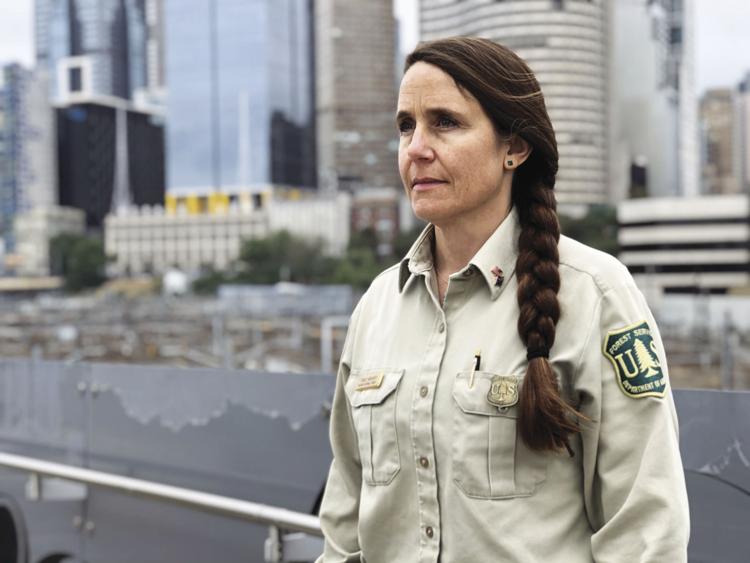 As the world watched the fires spread over Australia, U.S. Forest Service Powder River District Ranger Traci Weaver was waiting and hoping for a call – her name was on a list of volunteers ready to help.
Weaver was sent to Australia on a 35-day temporary duty assignment. Her primary function was assisting in the coordination of U.S. and Australian media covering firefighting efforts in the Australian state of South Australia.
By February 2020, the wildfires in Australia had burned an area equivalent to 15 Bighorn National Forests. The Associated Press reported that the Australian wildfires killed at least 34 people and destroyed more than 3,000 homes in an unprecedented fire season that began late in a record-dry 2019.
When Weaver received word in November from a colleague at the Bureau of Land Management that the federal government was requesting volunteers, she put her name on the list.
Coordinators requested federal volunteers with wildfire fighting experience and the leadership and coordination positions associated with those duties. But Weaver didn't see a request for public information officers.
"They ordered planning section chiefs, operations section chiefs and several aviation specialists, but they weren't ordering what I'm qualified to do."
As months went by, Weaver believed she wouldn't be asked to go to Australia. But on Jan. 8 at noon, Weaver received a message from her former incident commander, Beth Lund.
Lund, now the deputy director of Fire and Aviation Management for the U.S. Forest Service, informed Weaver that as U.S. volunteers arrived in Australia, media outlets hurried to welcome them and report their stories. They needed a public information officer to help manage the situation.
"And there was also media coming in from the U.S. wanting to talk to people over there, and it was a burden to the Australians," Weaver said. "They were already operating at capacity; they didn't need one extra thing to deal with."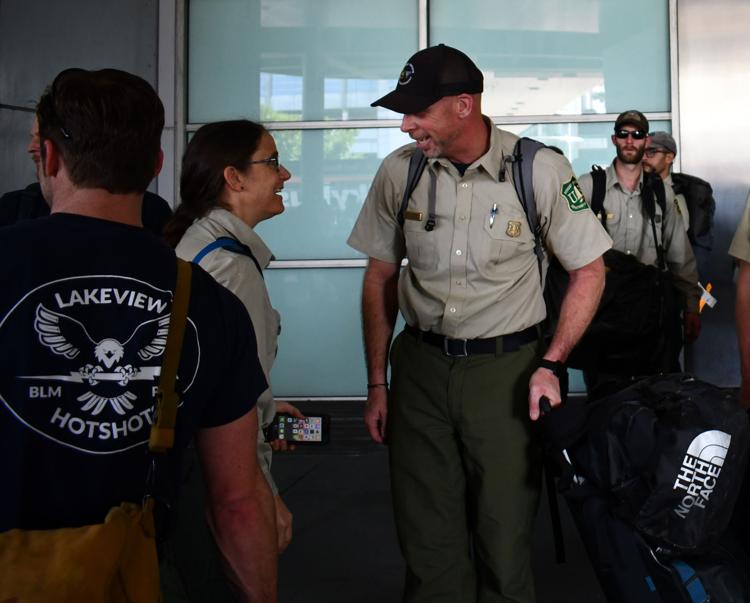 Weaver received clearance from then-acting Bighorn National Forest Supervisor Thad Beret and received her travel information. She was to depart from Billings on Jan. 10, giving her only two days to prepare.
"Then it's all a scramble, but the cool thing is that it all came together," Weaver said.
Although she never saw a smoke column, Weaver took her wildfire fighting gear.
"I just didn't know," Weaver said. "I felt like I had packed wrong for what I did, but it didn't matter. I had uniforms."
There was no standard operating procedure for Weaver to follow. She was the first information officer that had been requested. Weaver had to navigate through the various media outlets and duties, looking for gaps that she could potentially fill.
Weaver worked with the international liaison, another volunteer from the U.S. – Brook Chadwick, Deputy Forest Fire Management Officer for the Uinta-Wasatch-Cache National Forest, someone she had met professionally in the past.
In addition to adapting to new and changing conditions, Weaver learned that Australia and the U.S. coordinate battling large wildfires very differently.
While the U.S. contains large amounts of federal land, Australia's land is controlled mostly by the states, Weaver said.
"And there is no overarching federal agency that handles firefighting reasonability," Weaver said.
During large wildfires that require state and international coordination, Australia creates resource-sharing centers that take on the leadership and coordination roles.
Although it was a bit of a learning curve, Weaver said, the people of Australia were a big help in teaching her.
"It was amazing to see how much a small staff at the Natural Resource Sharing Center, that's only stood up when they've got these deployments, could do with one, two or three people," Weaver said.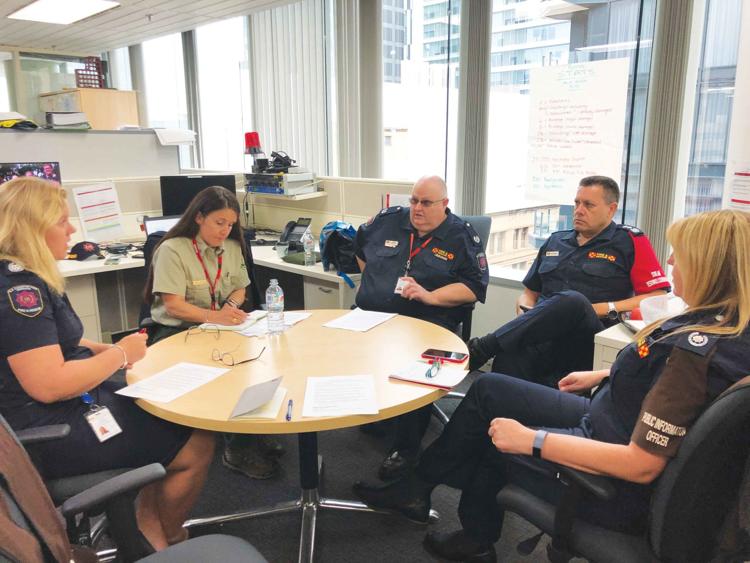 With Chadwick as the international liaison, U.S. agencies had one representative at the state control center in Victoria and one in New South Wales, while Weaver and Jason Steinmetz from the U.S. Department of the Interior coordinated in South Australia.
"Below that, we would have American field reps that would be out as a liaison with the Australians, making sure that our crews and our folks out there were both doing the job that they were brought over to do and that their needs were met," Weaver said. "More importantly, that the Australians' needs were being met."
Weaver gave interviews and also wrote "talking points" filled with the facts of the day for officials to use during interviews.
Media law differs in Australia, and American reporters and photographers have to undergo training when they arrive to be issued a card that identifies the holder as a journalist trained to cover wildland fires, Weaver said.
Weaver coordinated that training and then helped journalists connect with critical personnel for interviews and photographs.   
It was that coordination, training and briefing that Weaver performed for over 30 days.
"Even right before I left, National Public Radio had just sent someone over," Weaver said.
As a personal way to pass the time and learn local culture, Weaver kept a list of Australian words and phrases that she found fascinating or light hearted.
"They'll say 'how you going' instead of 'how are you doing,'" Weaver said. "They shorten words and add an 'ie' onto everything; it's 'breakie' instead of 'breakfast,' 'umbie' instead of umbrella."
 According to Weaver, many Australians refer to pieces of heavy equipment as "plants," causing the U.S. counterparts to spend a few minutes attempting to figure out why a "plant manager" was a job listing on a request list. Australians also refer to lowboy heavy equipment trailers as "floats," Weaver said.
"So they would say things like, 'float the plant to the petrol' or something like that," Weaver said.
Since her return, Weaver said, what has stuck with her were her experiences with some of the most resilient people she has had the pleasure to meet.
"The people," Weaver said. "They're amazing and resilient. They have been going since October on fires; going and going, nonstop. … They were so gracious."