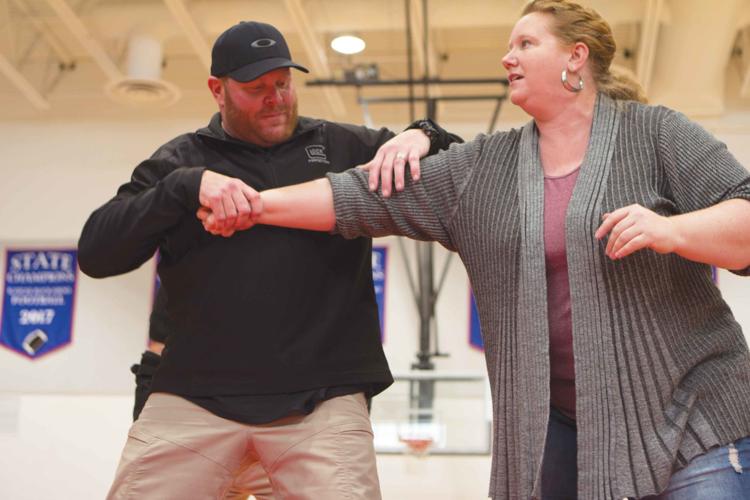 Six months before Joe Deedon gave his Beyond the Lockdown training to Kaycee School students on Nov. 14, one student was killed during a school shooting in Highlands Ranch, Colorado.
A month before Deedon gave his training, a 17-year-old gunman shot a schoolmate twice in Santa Rosa, California. As Deedon was instructing Kaycee kindergartners on how to evacuate the school building during a shooting on Thursday morning, two casualties and three injuries were reported after a shooting at Saugus High School in Santa Clarita, California.
CNN has reported that 356 students and teachers have been killed or injured in 180 school shootings in the past decade. And the trend isn't slowing, which makes Deedon's trainings on how to implement a "run, hide, fight" action plan all the more important. If the worst comes to Kaycee, students will have the tools to survive, Deedon said.
"Whether you're an athlete, a musician or a dancer, you will fail if you don't practice," Deedon told Kaycee School middle schoolers. "We prepare for these events so we're successful doing them. That's what our training does today. It gives you the fundamentals to prepare and practice, so that when you are in a situation with 100 times more stress than the big game or the big band concert, you will be able to survive. If you just hide in the corner all the time, you don't have a lot of options. So we're going to give you guys some more options."
Deedon predicts that trainings like the ones he and co-instructor Brian "B.P." Pollard offered in Kaycee on Nov. 14 and 15 will become the new normal within a matter of years. The lockdown method – in which classrooms are locked and students hide inside – is practiced in schools across the country, including the schools in the Johnson County School District, but it isn't always the best way to keep students safe, Deedon said.
"The lockdown method can be useful, and it can save lives," Deedon said. "But there are situations where it doesn't work, and we owe it to these kids and their teachers to provide them with some other options."
That's why Deedon travels the country with Beyond the Lockdown. Deedon, a Denver-based law enforcement officer and former SWAT team member, is the founder and president of TAC*ONE, which has provided active shooter trainings to law enforcement, military and school faculty across the country since 2007. Beyond the Lockdown is an onsite two-day program that teaches staff and students various skills that could be useful in a shooting situation.
Not every option works in every situation, Deedon told the middle schoolers, but they are valuable tools to have in your arsenal.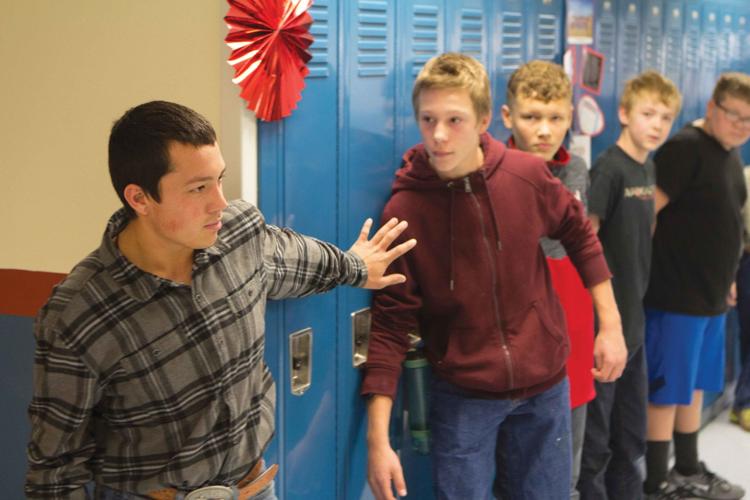 The first tool is barricading, Pollard said. Although a barricade won't disarm an intruder, it will hopefully slow him or her down long enough that students can consider other options.
"The longer you can hold them off, the better your chances are," Pollard said.
The second tool is evacuation – something that the middle schoolers practiced both by themselves and as a group. This isn't a standard fire drill evacuation, Pollard said, and students should always keep an eye out for what is ahead of and behind them.
"Your head should always be on a swivel," Pollard said.
Lastly, teachers and students have the ability to tackle the gunman to the ground, Pollard said. Pollard instructed several middle school teachers to grab the arm of Deedon, who was portraying a shooter, and to fall to the ground pulling him with them. After that, the students rushed in to help pin down Deedon's arms and legs.
After being tackled roughly a dozen times, Deedon was breathless and sweaty. He explained that the fighting-back skills are usually taught exclusively to high schoolers and faculty. But he was impressed with the Kaycee middle school students' maturity and their desire to participate.
"Usually with the middle schoolers, we don't get that in depth," Deedon said. "But I felt these kids were a little more mature. They were answering our questions really well. … These guys were really mature and really seemed to 'get it.' I find that a lot in rural areas. They're a couple years ahead of city kids because they have responsibility at a young age and are more self-reliant. They realize just how important self-defense is."
Indeed, self-reliance is something that the 126 K-12 students of Kaycee School have to learn at an early age. The town is roughly 46 miles from Buffalo and 67 miles from Casper. It is a cowboy's paradise – wild and free and surrounded as far as the eyes can see by grass, hills, livestock and not much else.
But the town of Kaycee is also isolated. Everyone who lives there knows that if something truly terrible were to happen unexpectedly, they might be on their own because law enforcement could be many miles away. They have to hope that, if a crisis arises, they will be enough.
"Law enforcement is never going to be there in time even in the best situations," Pollard instructed the middle school students. "You guys are always going to have to do something useful for yourselves. You're going to have to survive for – in these more rural areas  – 15, 20, 45 minutes before law enforcement can get here. So you've got to know strategies of how to survive in the meantime."
Beyond the Lockdown was offered to every age group of students at the school, as well as parents and faculty, Deedon said. Elementary students mainly learned the basics of evacuating and hiding, Deedon said, while the middle and high schoolers learned more about barricading and fighting back. On Nov. 15, school staff went through an actual drill of a shooting in which Deputy Adrian Keeler shot blanks and the teachers had to work together to escape the building safely.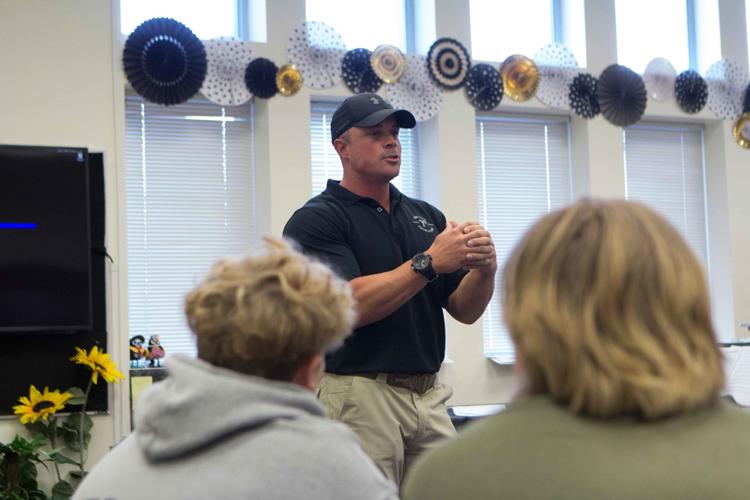 During the drill, Principal Jason Moss sat in his office watching the "shooter" via the school's security cameras and giving instructions to teachers via the school's intercom. Even though he was a bit removed from the drill, the sound of the shots and the presence of the shooter unnerved him, Moss said.
"It was still pretty stressful," Moss said. "I knew the violence was going to happen, but I still froze a little bit at first. Adrian (Keeler) looked pretty intimidating as he walked through the halls shooting blanks. The teachers and I all knew that this was not real and that it was just a drill. But it was not like any drill that we had before."
The drill did reveal several areas with room for improvement, Moss said. Several teachers were "casualties" of the drill, even though most teachers evacuated the building safely. The drill also revealed that Moss was not necessarily safe during a shooting.
"One thing we realized was that my office door did not shut when we pushed the lockdown button," Moss said. "I hadn't known that before, so that was really valuable."
Moss said he had received positive feedback from staff, students and parents about the training and hoped to bring it back to Kaycee, if possible.
"I would love to bring it back at some point, funding-pending," Moss said. "We were fortunate enough to fund this with Title IV grant funding this year and, if we could do something like that again down the line, it would be great. … We don't necessarily have an officer in Kaycee every day and if our deputies happen to be gone, this training gives our staff and students different options to make it out safe."
Deedon said he hoped that every student and teacher came away from the training knowing that they are enough in a crisis situation.
"The kids really get into it because they don't feel helpless and they feel like they're part of the team," Deedon said. "Safety is a team effort, and if kids don't feel like they're part of the team, they feel like teachers will take care of it, and it's not their responsibility. We're including them here today because we think they have something valuable to contribute. In other schools, we have done this training at, the students will come up to the faculty afterwards and mention safety concerns in their building because they feel like they're part of the team. Empowering people – no matter the age – to work together for safety has a profound effect. It might even save a life."
Moss said that the Buffalo Police Department has expressed interest in bringing the program to Buffalo schools in the near future.