Healthcare worker vaccine rate 'fairly unfortunate'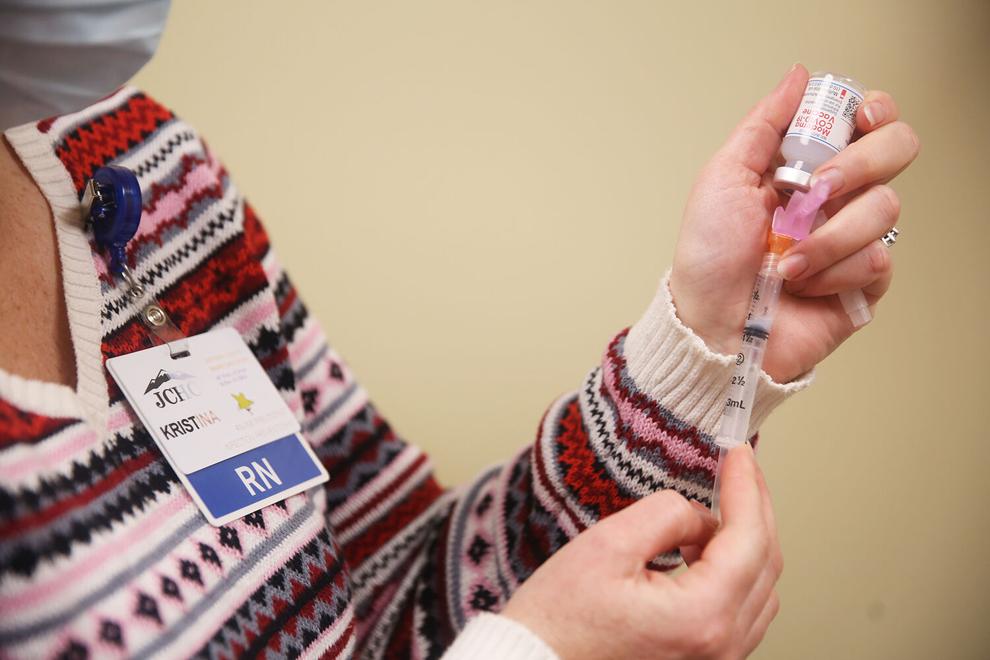 Johnson County Public Health was overwhelmed by phone calls following an announcement on Jan. 5 that public health would begin administering the coronavirus vaccine to people over age 70. With demand far outstripping supply, by Jan. 7, the agency said that all available doses had been allocated and that public health was not creating a waiting list for the doses the agency expects to receive in February. 
In a Facebook statement, public health wrote that all 400 doses to be administered from Jan. 6 - Feb. 11 are accounted for. 
"We are currently at Phase 1b3, so that is a population 70 and older," said Trisha Thompson, Johnson County Public Health nurse manager in a press briefing Tuesday. In attempting to set expectations, Thompson said that the public should be mindful that Johnson County's population skews older. 
"And so, when you look at the statistics, over 2,000 people in Johnson County are 65 and older. So it may take some time to get through those vaccinations for that 70-plus population, due to the allotments that we are receiving."
Thompson said the county is receiving about 100 doses per week. If the county continues to receive about 400 doses of the vaccine per month, it would take five months to administer a first dose to all those aged 65 and older. 
Thompson said that once the county is notified when to expect more doses and how many, public will again accept appointments for those aged 70 and over. Public health is being very intentional in scheduling those appointments, she said, because once a vial of the vaccine is opened, all 10 doses in the vial must be used within six hours. 
Vaccinating those 70 and older is phase 1b3 of the statewide vaccination plan. In Johnson County, healthcare workers, long-term care facility residents and emergency personnel have already received their first dose of the vaccine. 
About 50% of healthcare workers at Johnson County Healthcare Center who were eligible to receive the vaccine in Phase 1A did so, according to healthcare center CEO Sean McCallister. 
"I certainly had hoped that more of our health care team members would elect to get the vaccine," McCallister said. "That may change in the future and we might have more folks that decide to do that."
That 50% employee vaccination rate is roughly in line with what hospitals and clinics around the country are reporting. 
"You've heard from the national media as well that 50% is fairly typical and average for hospitals and health care providers. I actually think that number is fairly unfortunate," McCallister said, adding that the hospital has held employee forums and question and answer sessions to address employee concerns. 
Johnson County Public Health Officer Dr. Mark Schueler, who has overseen the county's response to the coronavirus, said that having seen the potential effects of the virus, not taking the vaccination is "not taking advantage of an opportunity."
"I think, for those of us that understand illness and medicine, the choice should be easier, and I don't understand all of the sociology," said Schueler. "From my perspective, it's a very clear and very straightforward decision. I look at the risks of the vaccine as very small compared to the damage I've seen caused by the virus — and not just the immediate illness but the lasting effects."
To date, Thompson said that among those vaccinated locally, the most common side effect has been a sore arm, similar to what happens after receiving the flu shot. Others have reported headaches or a generally feeling unwell. Thompson said those side effects have been "pretty limited in time."
For those who receive a first dose during January, the county is a planning a mass vaccination event on Feb. 27 to administer second doses. Those second doses have already been set aside by the state and do not affect the number of first doses the county may receive in February. 
'From a community vaccination standpoint, the biggest limiting factor right now is waiting for more vaccine to arrive," said Robin King, public health response coordinator. "We're also asking healthcare staff and community members to continue to adhere to all standard COVID precautions, given the time it will take to vaccinate the majority of people."