Dean States knows every inch of the landscape even though he has never traveled it.
States knows every rock spire, every bush, every inch of the barely traveled dirt road. But States knows the colors most of all – the deep reds and oranges of the rocks, the greens that add color to a dry dusty landscape, the wisps of pure bright blue in the sky.
The landscape he is drawing was once the area near Duck Creek, States said. But visitors would not recognize that landscape in States' piece, which is part reality, part memory, part dreamscape. It is a Wyoming that only exists in States' imagination. And our own.
"I have never been a mainstream Western artist," States said "I've never been a fan of cowboys or Indians or bucking horses. But I grew up on a ranch here in Wyoming and used to run the hills hunting. Because of that, I've had a deep love of nature from day one. When I got into art, it just followed that landscape would be my main forte. But I also try to make them my own. There is just as much fantasy as reality, but it also has the character and flavor of the area."
States has been traveling this particular landscape – size of 8 feet by 4 feet – for nearly 365 days now and brought it to life pencil stroke by pencil stroke. He has explored dozens of other landscapes in his nearly 60 years as an artist and he enjoys luxuriating in every one as he slowly brings blank paper to life with his colored pencils.
 "I used to like singing, but I couldn't carry a tune," States said. "I tried musical instruments and acted in one play once. Over the years, I've weeded out all the rest, but I keep coming back to art. Visual images on a surface seem to be my forte. It is exciting to come up with new ideas and new images and that won't change. The creative spirit is what keeps me going down the road, even at age 83."
Sixty-five years after he graduated from Johnson County High School, States isn't slowing down one bit. He may not draw until one or two in the morning anymore, but he is still creating every day in his studio at the Dean States Gallery in Sheridan. States currently lives in Sheridan.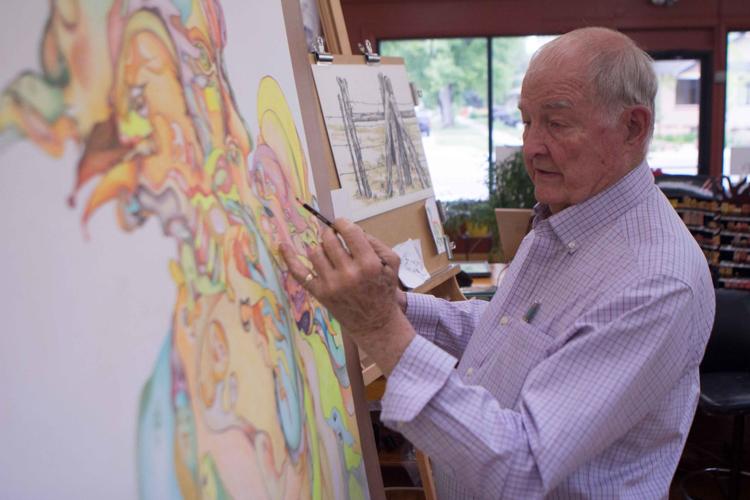 In his years at Johnson County High School, States never would have been mistaken for an artistic type. He was a son of a rancher, a hard worker at the Iberlin Ranch and a prospective forestry student. But States' true passion revealed itself as he was studying forestry at the University of Wyoming.
"I had no background in art at all," States said. "I started out wanting to be a forest ranger, and I needed a filler course. I took a drawing course, and I really fell in love with creating imagery and using color."
States said he spent no less than seven years in college before finally graduating. After switching from forestry and graduating with an art degree, he also earned a master's degree in education so he could teach art. He taught for several years at middle schools and high schools in Worland.
Throughout it all, art has been a constant in States' life – whether he was working in the classroom or helping his father on his ranch. Although States has experimented with various media, he has settled on colored pencils in recent years.
"I've done pretty much nothing but pencil for the past 10 to 12 years," States said. "It seems to agree with me. I like the control I have over the intensity of color and the size of the marks. I'm also able to erase if I decide the picture is becoming something other than what I started with. Everyone has a technique they like, but I keep coming back to the pencil. And I think there's a good tradition that I'm following in. Making marks with that sort of implement goes back to the caveman who did the first cave drawing with a charred stick. It's a very natural thing for us to do as humans."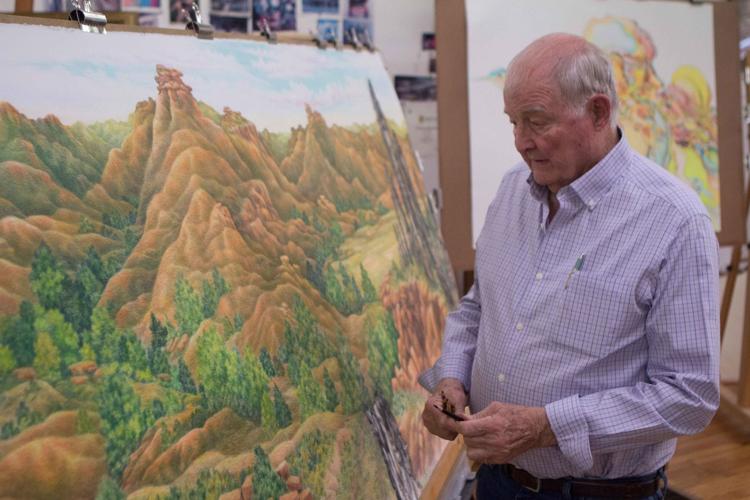 Creating artwork with colored pencils is a lengthy and painstaking process – especially when creating artwork on the size and scale that States does. States said that one picture can take anywhere from six months to a year but that he has come to appreciate every minute he spends on his art.
"I used to just wish that I could finish a piece in a week," States said. "But there is something more special about this, I think."
States has grown in other ways during his six decades as an artist.
"I think the detail I put in has increased, and I've become more experimental and abstract," States said. "My sense of color is becoming more refined, I think. The more I've done over the years, the more I've grown. That's just the way it is with everything – not just art. I am growing with each piece I do."
States works on multiple pieces at a time and has four in various stages of progress in his studio right now. He still comes into his studio every day – including weekends – to bring his pieces to life.
"I still come in every day – Sundays and all, " States said. "By and large, it's an everyday endeavor for me. It's the most fun I've ever had. I don't even worry about selling my art anymore. I don't care about being famous. It's not about that. My goal is to create pieces that satisfy my inner vision. As long as I do that, I will always be excited to come to work."
The artwork of Dean States is available for sale at the Dean States Gallery at 637 W. Loucks St. in Sheridan.