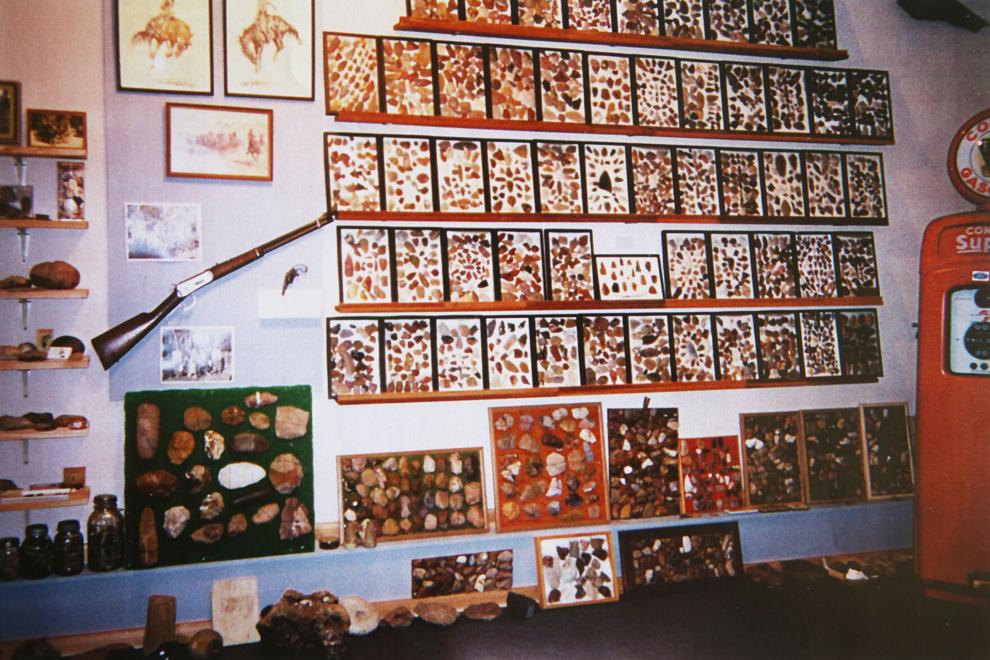 Scores of future University of Wyoming researchers will now have the opportunity to study the details of Native American life in the southern Bighorn Mountains thanks to a recent artifact donation by the Madsen family of Buffalo. 
"This collection is both exceptional in its size and also the degree to which it was documented," said Spencer Pelton, the state archaeologist. "It's the perfect mix of the things we're looking for: Something that's a really rich assemblage with interesting artifacts but also pretty well documented as to where that stuff came from." 
Housed in the Madsen family museum for decades, the collection features roughly 3,600 pieces, of which 3,200 are Native American artifacts, including arrowheads, scrapers and spear points found in the southern Bighorn Mountains by Harold Madsen in the 1970s and '80s. The other pieces include military projectile points, shells and cartridges found primarily west of Buffalo. 
The artifacts were organized using mounts, or wooden boxes with glass fronts, that housed 30 to 50 artifacts each. 
According to Carl Madsen, Harold's son, and Carl's wife, Lois Madsen, Harold's interest in history and recording events led to his passion for artifact hunting and his meticulous record-keeping. 
But Harold mostly loved spending time with his family, Carl and Lois said, and artifact hunting provided an opportunity for the family to go to the mountains together with artifact sticks — or sticks with a nail on the end to flip over rocks — and search. 
And, in Buffalo, Harold also met famed Wyoming archaeologist George Frison, which undoubtedly strengthened his passion for artifact hunting, Carl said.
Most crucially, Harold's love of recording events led to him recording the location of every artifact he discovered, which Pelton said is what makes the collection so scientifically valuable today. 
It's also valuable, Pelton said, because it comes from an area that archaeologists have not studied much because it's mostly private land. 
"So, it's a nice window into an archaeological record that really hasn't been documented all that well yet," he said. 
Carl and Lois said they started looking into donating the collection because they plan to downsize soon and wanted the collection to go somewhere that all the artifacts could remain together. 
They first reached out to the Jim Gatchell Memorial Museum and the Hoofprints of the Past Museum, but because the collection is so large, neither was able to take it. So, they turned to the University of Wyoming and the state archaeologist. 
"They (Carl and Lois) were kind enough to walk us through it," Pelton said. "And over a couple days, we boxed it all up and took it back down to the university, and there it will live." 
Pelton said that when his team is on-site to intake a collection, they inventory every artifact they are taking with them by counting, making copies of associated paperwork and conducting interviews with the collection owners to understand more about who collected it and why. 
"So, we boxed everything up — just carefully put foam in between all of these mounts that they had — and as we go, we count everything and photograph it so that we have a good record of what it looked like when it left the owners' hands and went into our hands," he said.
Carl and Lois said they "clicked" with the team that came to inventory the collection and were even able to learn more details about some of their artifacts, several of which are stone tools and ceramics that are about 12,500 years old. 
Once the collection reaches the university, Pelton said, every item will be entered into a database, which could take a couple of years, and given a unique number so researchers can find it in the future. 
And while Carl and Lois were disappointed that the collection was not able to remain local, Pelton said he hopes to use some of the artifacts to build an exhibit, and didn't rule out the possibility of partnering with one of the local museums.
Most importantly, however, Carl and Lois say they are glad the collection will remain intact, and they plan to head down to Laramie in a year or two to see what's become of it. 
"He'd (Harold) spend a lot of time in the mountains artifacting, and then it became a family thing," Lois said. "We'd all go on a Sunday afternoon, and he loved to share it — what he found with other people and his passion with others — that's why it's exciting for me that it's going to the university where it can be shared with other people, too."