It's spring in the Bighorns – storm clouds gather, fog enshrouds the mountains' peaks and the water coursing down Clear Creek is cold. Very cold.
After spending a few minutes in a section of Clear Creek near the Mosier Gulch Recreation Area, Emily Kane estimates that the water temperature is anywhere from the high 30s to the low 40s – frigid with ice and snow melt from higher in the mountains.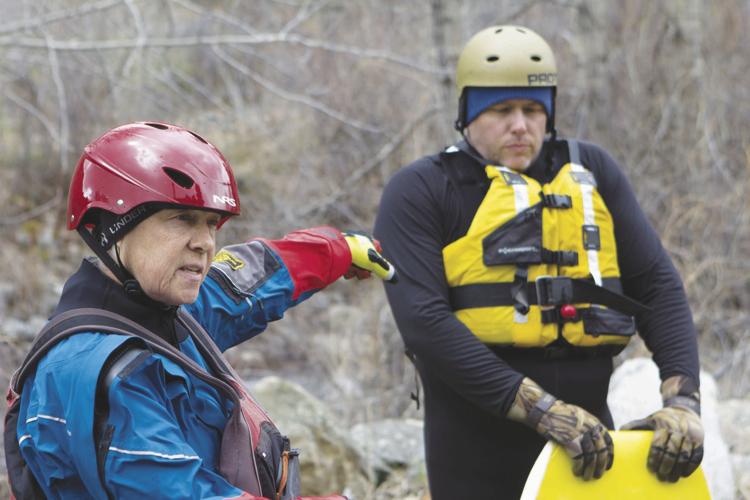 It's not a great day for a swim, in other words. Despite this, a group of nine intrepid search and rescue personnel from across the state – including five from Johnson County – plunged into the waters of Clear Creek on Saturday to learn the basics of rescuing those trapped in one of the Bighorn Mountains' most unpredictably dangerous natural features.
As Kane led  trainees through rescue drills using throw bags and ropes and from the creek using boogie boards, hikers on the William J. Mentock Trail stopped to watch for a minute or two. But although the training seems fun from a distance, it is also deadly serious and incredibly important, according to Kane, a Dive Rescue International corporate trainer.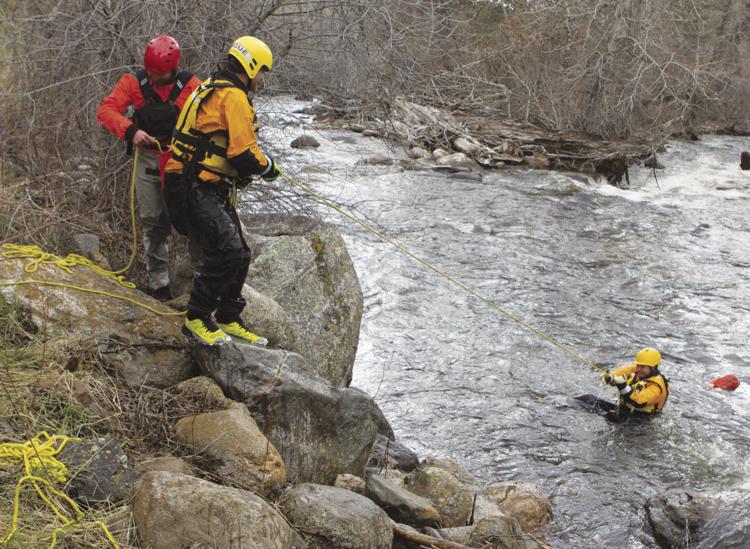 "If you send somebody into this environment without the proper training and equipment, the statistics show us that these individuals (search and rescue personnel) are very likely to risk too much, and we might lose one of them, and that would be absolutely terrible," Kane said. "So we really want to avoid that with the proper training. A lot of what they're going to learn today is what their limits are – even with the proper equipment – so they don't make poor decisions down the line."
Drowning is the third-leading cause of unintentional injury and death worldwide with 320,000 drowning deaths recorded each year, according to the World Health Organization. Without proper training, search and rescue volunteers risk not only the lives of those they are trying to save but their own as well.
Randy Cleveland has served with the Johnson County Search and Rescue team for over a dozen years but has never experienced anything quite like swift water rescue. The training marked his first time wearing a wetsuit, his first time using a boogie board and his first time floating down the creek so he could be rescued by the other trainees. It was an experience like no other, Cleveland said.
"Getting in there and having that water run down my neck, that was plum exciting," Cleveland said.
But there was more to the training than just getting wet, Cleveland said.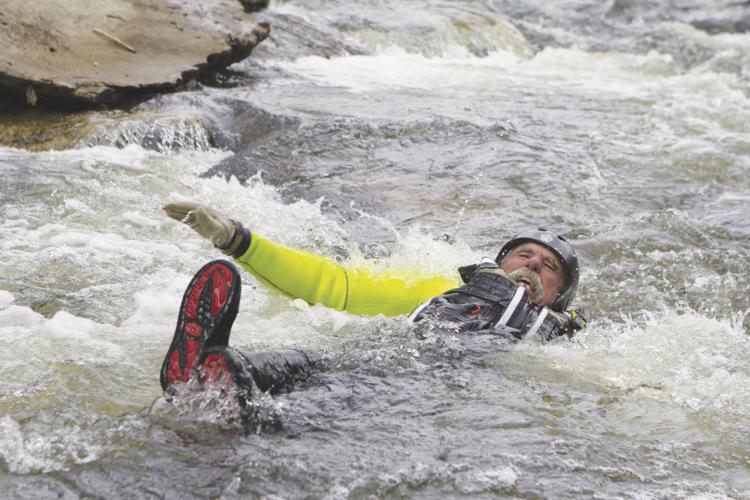 "What I really enjoy about this is the mechanical aspect – figuring out how to use all the ropes and pulleys and things," Cleveland said. "It's great knowledge to have just in case."
In addition to equipment training, the search and rescue team also learned about river hydrology – things like eddies (a horizontal reversal of water flow behind a stationary object) and helical flows (a corkscrew flow of water). Swift water is unpredictable, and you never know what is coming around the next bend, Kane said. But having a knowledge of basic hydrology allows search and rescue teams to adapt to their situation quickly.
"It happens quickly, and that's what they're going to learn today," Kane said. "In a matter of seconds, things can go awry. We're just giving them the knowledge they need to react when things do go awry."
Having knowledge of the equipment and techniques needed to traverse swift water allows teams to perform rescues in flooding situations or when a river rafter goes overboard, Kane said. It also allows search and rescue teams to cross a river safely in order to continue searching on the other side.
Cleveland said that he hopes he will never need to use the information he learned, but he knows the time will come when he will, and that's why these sorts of training opportunities are so important.
"I've never had a situation where training wasn't useful, you know?" Cleveland said. "No matter how much you think, 'Wow, we'll never use this,' you gain something out of it. There's always something to gain – if nothing else it's the confidence that you can do this if you have to. It's better to be exposed to it before it happens and you risk killing yourself and somebody else. When we go on a search, it's never guaranteed that we'll come back. But proper training makes it much more likely – both for us and those we're rescuing."