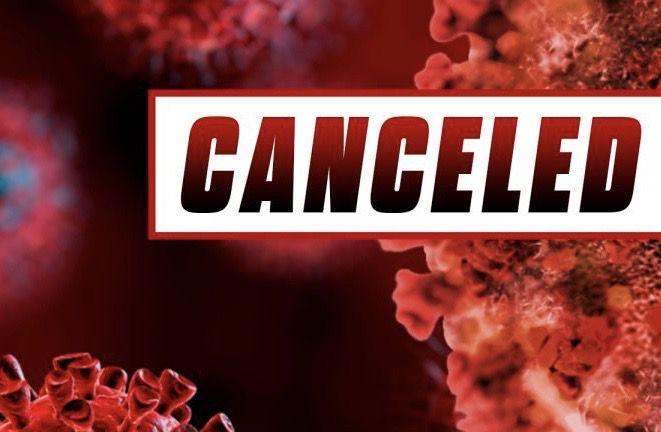 Last updated Saturday
We continue to update cancellations and closures as things are changing very quickly.
Buffalo-Johnson County Recycling Center
The recycling center is NOT accepting materials at this time. Please save your recyclable materials until the center reopens.
St. Luke's Lutheran Church
St. Luke's Lutheran Church has suspended public worship gatherings, events and meetings until further notice at the recommendation of our Synod Bishop.  Call the Church office at 684-7872 to request how to follow worship services on Facebook and YouTube. 
Johnson County Library
Due to a directive from the Johnson County Public Health officer, the library is now closed.
We can still get you books you need! Use our catalog at www.jclwyo.org, search up titles, and we can not only check them out, but if you call us we'll set aside a time for you to do a curb-side pickup.
You can also use your library card to access e-Books and e-Audibooks through https://gowyld.libguides.com/econtent. If you don't have your card number or 4-digit PIN, call us and we'll get you those.
Staff are working from 9 to 5 Monday through Friday during this closure. Thank you for your patience and stay healthy!
St. Francis Animal Shelter
As of March 18, St. Francis Animal Shelter will be closed to the public except by appointment.
Our veterinarian will still be taking appointments, but our "drop off" procedure for your pets will be a bit different. All drop-offs will be scheduled for a specific window of time. If you have an appointment, please call our office for details.
Johnson County Family YMCA
Effective at 5:00 p.m. March 18, 2020, the Y will suspend all operations at our main facility at 101 Klondike Drive and our Y in the Park facility at 419 West Angus Street. This includes the weight room, cardio room, aquatics center, and all other fitness areas. This closure is temporary with a planned reopening on April 6, 2020.
We understand this is a very concerning situation. The Y has been the hub of recreation for many in our community for more than 40 years. The decision to close our facilities was made to best ensure the safety of everyone in the community. Although there are still no confirmed cases of COVID-19 in Johnson County, we believe that continuing to operate our facility as we have in the past would be counterproductive to the prescribed social distancing measures.
The Jim Gatchell Memorial Museum
The Jim Gatchell Memorial Museum is closed to visitors, tentatively through April 6. Limited research and other services may be available by email request at educator@jimgatchell.com.
"Not an easy decision to make," wrote museum director Sylvia Bruner in a Facebook post sharing the closure. "We are trying to do our best for everybody's safety. Buffalo is such a small town that paths cross even unintentionally, and those paths belong to people we know. We cannot just pretend that we are somehow exempt, or that it will only affect people we don't know."
Buffalo Senior Center
On Monday, the Buffalo Senior Center announced that the building is CLOSED until further notice. No activities or meals will be offered at the center. 
BATs busses will continue to operate, as will home-delivered meals. In-home care will continue as well. Patrons who usually eat lunch at the center may request a home-delivered meal. To request a home-delivered meal, call the center by 10:30 a.m. 
Call 684-9551 for more information.
Head Start – Buffalo
Buffalo Head Start will be closed beginning March 16.
Bread of Life Food Pantry
Beginning Wednesday, March 18, the Bread of Life Food Pantry will be open from 5-7 p.m. During this time, patrons may pick up pre-bagged essentials. Bread of Life Food Pantry board members said this is a temporary change to protect their volunteers, many of whom are older. 
Learning Tree Preschool
Closed.
Diocese of Cheyenne & St. John the Baptist Church
After consulting with Gov. Gordon, the Wyoming Department of Health and other leaders of faith-based organizations in Wyoming, all masses will be temporarily suspended in the Diocese of Cheyenne beginning Tuesday, March 17.
Religious education classes at St. John the Baptist Church are cancelled until further notice. 
Amie Holt Care Center
Effective March 13, 2020, Amie Holt Care Center (AHCC) transitioned from screened visitation to fully restricted visitation. Visitors, including family members, are not allowed into AHCC
Boys & Girls Club of Central Wyoming
Due to Johnson County Schools closing, the Boys & Girls Club of the Bighorns will also be closed. 
Health Fair
The Johnson County Health Fair scheduled for March 21 has been canceled. 
Northern Wyoming Community College extends spring break
Northern Wyoming Community College District's regularly scheduled spring break is Monday, March 16 through March 19, 2020. That break has been extended through Sunday, April 5. 
Gillette College, Sheridan College and Sheridan College in Johnson County campuses will be closed to all classes and activities through Sunday, April 5.
First United Method Church
First United Methodist Church of Buffalo has suspended worship services, meetings and all other functions through the end of March at the request of our Bishop.
Northern Wyoming Mental Health Center will close for one week  for COVID-19 preparation 
In preparation for the expected COVID-19 outbreak, Northern Wyoming Mental Health Center, Inc. will be temporarily closed for one week starting Monday, March 16 to develop and implement an ongoing contingency plan for the provision of services through this pandemic. All Northern Wyoming Mental Health Center Inc. offices in Sheridan, Johnson, Crook, and Weston counties will be closed during this time. Northern Wyoming Mental Health Center will continue to provide crisis services and anyone requiring those services. Crisis phone number in Johnson County, 684-5531.
Buffalo Business Expo
The Business Expo slated for March 20 ant 21 at the Bomber Mountain Civic Center is postponed. 
Central Wyoming College extends spring break due to COVID-19
In conjunction with the University of Wyoming and the other Wyoming community colleges, Central Wyoming College will extend spring break by one week due to COVID-19. CWC's spring break was originally scheduled for March 16-20 with classes resuming on Monday, March 23. The extension will now last until March 27 with classes resuming on March 30. 
Boy Scouts Food Drive
Postponed.
Buffalo City Hall

Buffalo City Hall lobby has been closed until further notice. Staff is still available to assist visitors by phone: 307-684-5566.