The needs of the people of Choluteca, Honduras, are as varied as the people who serve them. In the poorest province of Honduras, permanent housing is a luxury many cannot afford. For many elderly people without children to care for them, malnutrition and food scarcity are a constant worry. And families with children are forced to choose which of their children can continue their education and which must go to work. 
These are the people members of the Clearmont Community Church have been called to serve.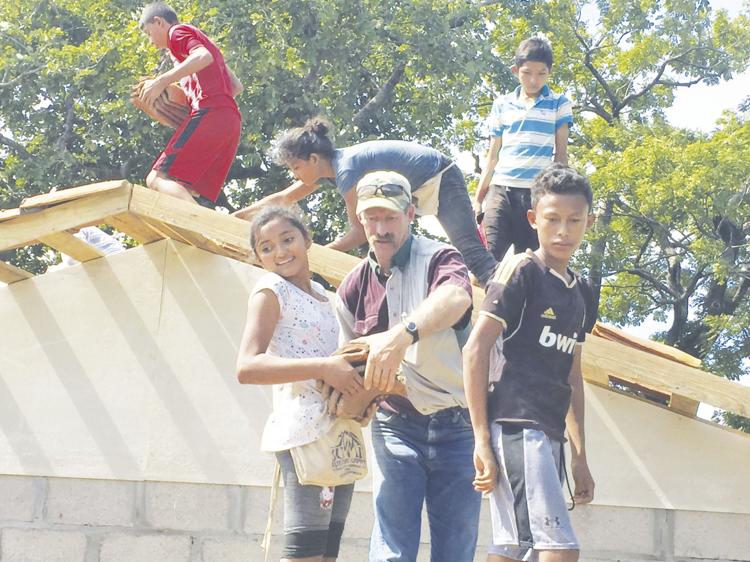 In November, a mission team from the church made its fourth trip to Choluteca in southern Honduras near the Pacific Coast. Working in cooperation with a permanent missionary in the area who rotates church mission teams through, the group of 11 built a home, led vacation bible school classes, distributed food staples such as beans and rice and ministered to people. This year's mission team included Shane and Christine Hampshire and their children, Tavin, Faryn, Royce and Benaiah; Jerry Hampshire; Joe Clingan; Shelley and Jimmy Baumgartner; Wade Dunkin and Rebecca Foster. 
"Everybody has different talents and gifts," said Christine Hampshire of the group's work. 
Working with a permanent missionary means their time on the ground is well spent. The missionary knows the needs of the local people and has projects planned and work crews hired when the team arrives. 
"We figured if we were going to do this trip, we need to have a purpose," said Shane Hampshire. "While we were doing the building projects, others could be doing VBS and meeting with people. Everybody wants you to pray with them. We did a lot of work projects, but also a lot of ministry." 
The church has had a close connection to the Honduran mission for years, and actively supports the mission work. The church donated the money for the building materials the team used to build a new home. 
 "It takes three mornings to build a house," said Wade Dunkin, who made his second trip with the group. "Each house is about 20 feet by 16 feet, made of cinder block with two doors and three windows."
Because the church has made multiple trips to the same area, they have forged bonds with local residents and have come to understand their needs. 
One woman is a seamstress who has been teaching local young women her craft. The mission team was aware of her work and took sewing supplies and fabric to deliver to the woman. They also built an awning on the woman's home so that there is more workspace for the woman and her apprentices. 
"We've been blessed to return so many times," said Christine. "We've built special relationships over time. This is where God has had us serve, and I think our care leaves the biggest impact."
The church also raised money for the team to purchase and distribute food staples – 500 pounds each of beans, rice and corn. Prior to their departure, they also collected supplies that they could distribute; shoes are particularly prized as are bibles. 
"There were 24 duffle bags that each weighed 49.999 pounds," said Rebecca Foster. 
The trip was Foster's first, and she was deeply affected by the ministry.
"It is just so powerful that they give all the glory to God," she said. "They know that God sends us. We spent a lot of time holding hands or holding children."
Shelley Baumgartner and her husband Jim made the journey to Honduras for the third time.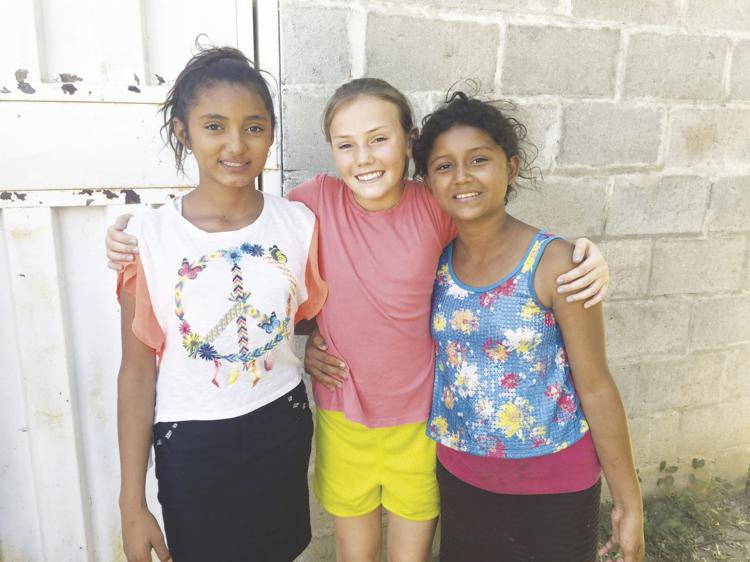 Like many members of the Clearmont Community Church, Shelley and Jim sponsor local children's education. Children need uniforms, books and backpacks; and beginning in seventh grade, students also need to fund their transportation to school. The expense means that some families cannot afford to send their children to school.
"When you sponsor kids, you are basically paying for their education," Shelley said. 
Through their sponsorships and trips to Honduras, Shelley and Jim have cultivated strong ties with their sponsored children.
"My favorite part is going to see our sponsored children," she said. "Just spending time with the family and getting to know their families. They are my Honduran family." 
The mission to Honduras is unique in that children are allowed to participate. 
"I think the kids really bless our ministry," Christine said. "The kids are excited to see and interact with kids."
"All those kids want to be your friend," said Tavin Hampshire, 14. 
The Hampshire kids have been especially active in the VBS ministry. 
"I like helping kids do all the crafts," said 12-year-old Faryn. 
For 10-year-old Royce, the highlight of the trip is hiking to a village at the top of the mountain.
"Once you get to the top, they always have chicken, rice, mashed beans and tortillas."
Even 4-year-old Benaiah gets involved with the VBS ministry. The spritely blond broke down barriers everywhere he went. His hair made him part celebrity, and everyone wanted to talk him.
"I really liked doing the VBS," he said. "And the tacos."