Beginning Wednesday, Oct. 9, and continuing through Oct. 12, Worlds of Music will present a series of free workshops, performances and talks, as well as a community dance in Buffalo, with Lone Piñon, a Latin music trio from northern New Mexico.
Lone Piñon's members—Noah Martinez on bajo quinto (a Mexican 12-string guitar)and quinta huapanguera (an 8-nylon-string guitar), Tanya Nuñez on upright bass and Jordan Wax on violin, piano and button-accordions, mandolin, guitar and vocals honor the landscape and history of New Mexico and the American Southwest with their music, according to organizer David Romtvedt.
The trio will visit each school to talk about the cultural impacts and importance of the tradition of music.
"What they really talk about is how we keep alive traditions that have come down to us while making them new for ourselves," Romtvedt said. "I think that's a big part of their deal. What does it mean when people have a different kind of life than their grandparents and great-grandparents? They've heard different things, seen different things. They're probably going to change the music a little, but then they also have a love and admiration for those old musics and want to keep them alive somehow too."
Along with visiting schools, the band will also take time to visit and play with residents.
"We've looked at a lot of music cultures in this program," Worlds of Music board member Suzi Black said. "We know how important it is that music be passed from one generation to the next through face-to-face contact. We're really pleased to have Lone Piñon come to Wyoming, especially pleased that in addition to their public events, they'll meet and perform for students in all the schools of Buffalo and Kaycee."
Public events will begin on Oct. 9, with a stop at the Buffalo Senior Center from 12:45 to 2 p.m. The members of Lone Piñon will perform and talk about their music.
On Thursday, Oct. 10, from 6:30 to 8 p.m., Lone Piñon will lead a "crowd plunge," a musical excursion that will start at Up in Smoke and play on to Un'Wine'd and the Occidental Saloon along Buffalo's Main Street. This is a chance to see, listen and chat with the musicians, Romtvedt said.
On Saturday, Oct. 12, the group will offer a workshop from 10:30 a.m. to 12:30 p.m. in the Buffalo High School band room. The workshop is open to players of all instruments and backgrounds, as well as to singers and dancers. Both beginners and more experienced players are welcome.
Saturday night from 7:30 to 10 p.m., Lone Piñon will play for a community dance at Buffalo's American Legion Hall on Veterans Avenue. The dance will feature the music of El Norte, the border region of Mexico and the United States that has been known to be a meeting place where people have developed the cross-cultural values that are necessary for musical traditions to thrive and adapt across generations, according to a press release.
"Lone Piñon plays a wild mix of musics that have been in northern New Mexico," Romtvedt said. "It has elements of really old American Indian crossed with the first Spanish settlers' music."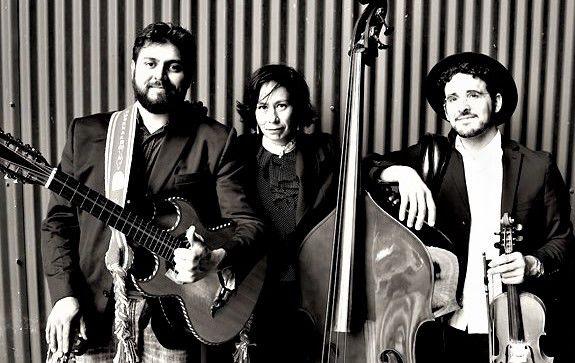 The various styles of music that will be featured include early Tejano conjunto duets, Hispanic Texan fiddle styles, New Mexican swing, contemporary Southwestern rancheras (Mexican country music) and several Mexican styles, including huapangos (Mexican folk and dance music) from the Huasteca region and songs from Michoacán.
The diversity of the music comes from the experiences of each member and the traditions each member has learned through years of study, Romtvedt said.  
"They play Colombian and South American music," he said. "It's kind of a mix of everything that came to people there. Noah (Martinez), he grew up in Albuquerque. … He played in rock bands. It's quite a mixture."
Martinez grew up in Los Ranchos de Albuquerque, immersed in the music of his community – Onda Chicana, New Mexican ranchera, punk rock, norteño, and country, according to the press release.
Along with his fellow Lone Piñon players, he is the recipient of the Festival of American Fiddle Tunes Banjo Medal.
Nuñez was born in southern New Mexico and grew up in a military family. Though she has performed in many styles – classical, tango, Persian, Arabic, country, rock, funk and soul – the music of the Southwest U.S. and Mexico feels like home to her, she said.
"It's a beautiful and diverse music that holds a special place in my heart," Nunez said. "I'm honored to study it and share it with others."
Wax grew up in Missouri and was trained by Ozark fiddler Fred Stoneking. He worked as bandleader and accordionist for a Jewish dance band before traveling to Mexico to study huapango fiddling in the Huasteca region of San Luis Potosí to continue his immersion in traditional Mexican and New Mexican dance.
Lone Piñon's visit to Wyoming is made possible by Worlds of Music, a nonprofit program that seeks to understand what music means to people, according to the press release.
Worlds of Music performances, lectures, school programs and workshops look at the role music plays in people's lives and how music changes over time and across cultures. According to the release, Worlds of Music also examines the ways that music is unique to particular communities while remaining a universal human phenomenon. For more information, call David Romtvedt at 217-2812 or Margo Brown at 217-0028.