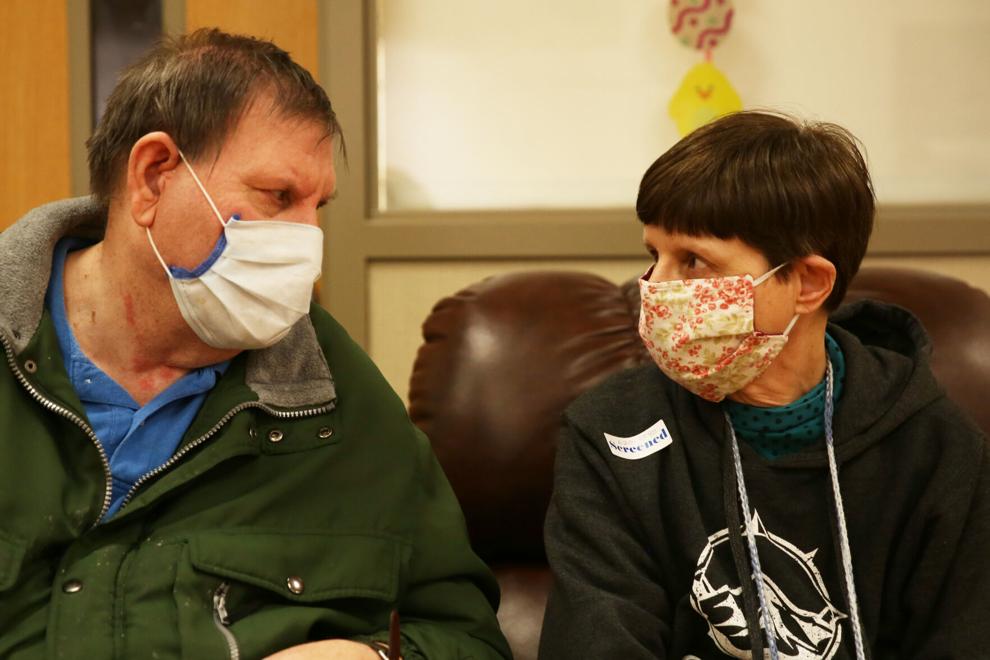 For the first time in more than a year, Doris McCune and Shirley Shelton saw each other clearly. 
Since March 13, 2020, McCune's image was distorted by the window in her room at Amie Holt Care Center that separated the two after the facility closed to visitors amid the coronavirus pandemic. 
"When you look through the window, it's cloudy," Shelton said. "And if the lights are out in here, she's dark. You can't see her."
Last Thursday, days after the care center eased its visitation restrictions, the two sat in the same room, McCune on the side of her bed and Shelton in a chair a few feet away. No window to separate them, no telephones needed to share gossip and life updates. 
The pandemic broke a rhythm for the sisters who had seen each other every Thursday for the past six years. Shelton said she's missed few, if any, chances to swap stories and share a hug. 
Just 16 minutes into their visit, Shelton and McCune felt sure enough to say nothing had changed — neither the 12 months without physical contact nor the pandemic that turned the world upside down.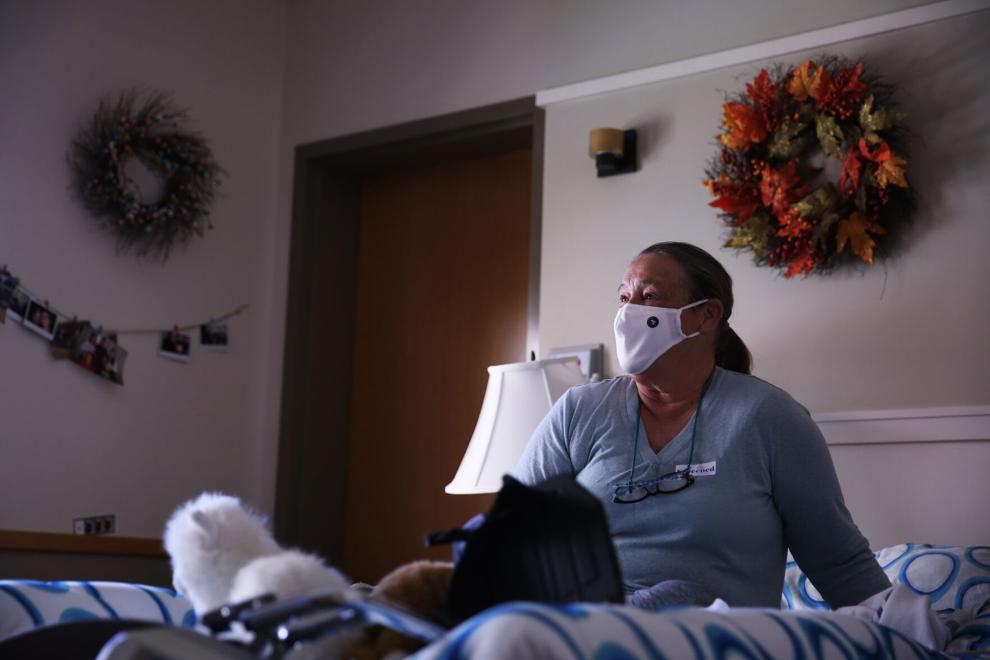 Peering through the window
Amie Holt Care Center was largely spared by the virus that ravaged nursing homes across the United States, recording zero cases among its 38 residents. Still, there were some positive tests among staff, so there were periods where residents had to isolate in their rooms to avoid a potential outbreak. 
Visitation was also limited to avoid potential exposure to the facility's vulnerable population. Residents and up to two family members could visit in designated areas, sitting at least 6 feet apart, for 20 minutes at a time. 
So families got creative, holding parties outside their loved one's windows to mark birthdays and other special occasions. Peering in on them through windows, decorating them to fit the seasons and put smiles on their faces.
That's what Marcia Gaines did for her mother, Bobbie Gaines, on March 15, 2020.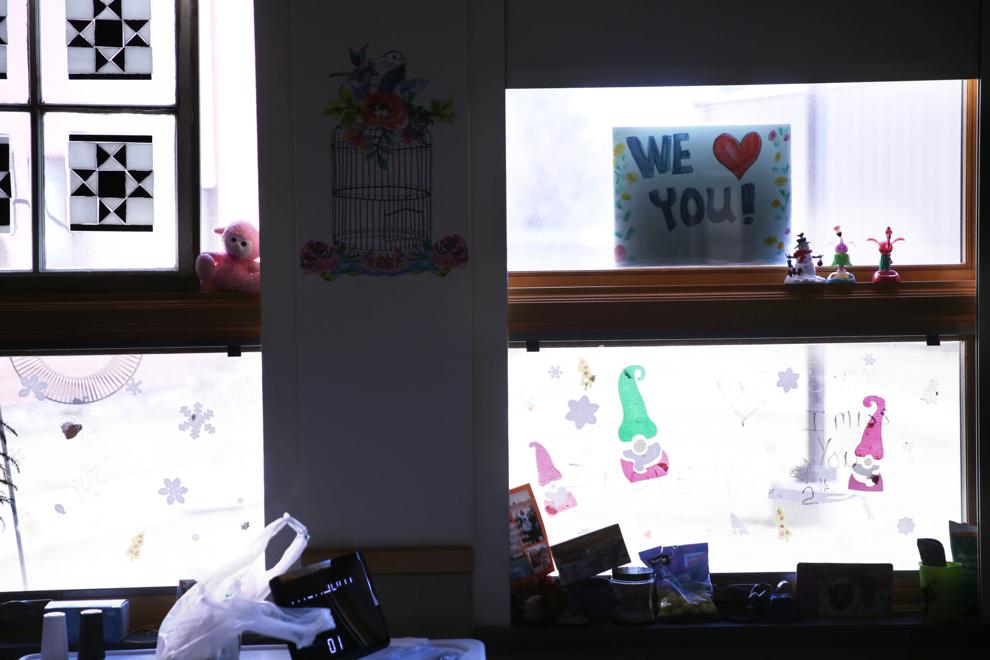 Marcia and her family were returning from her aunt's funeral in Arkansas, hearing and reading news of toilet paper and hand sanitizer shortages. She brought St. Patrick's Day window clings and learned quickly how to write "I love you" backwards so her mom could read it.
"We all assumed that it would be over sooner and that it wouldn't take too long," Marcia said. 
Throughout the pandemic, the family sent Bobbie emails and letters and continued to visit the window to keep in touch. Marcia kept the bird feeders just outside the window filled so her mom could see the birds landing and snacking from where she laid on her bed. 
Bobbie is deaf, so she was confused at the beginning of the pandemic. She wondered why Marcia wasn't there like she was supposed to be every day at 4 p.m. to watch "Bonanza" or "Little House on the Prairie." She didn't understand why Marcia wasn't there to take her to the dining hall for dinner. 
It's difficult to explain COVID-19 in a few lines on a white board.
"It was heart wrenching," Marcia said. 
A year later, Marcia again sits on the side of Bobbie's bed. Santa Claus and Christmas tree clings linger in the window, much to Bobbie's chagrin. 
"It's not Christmas anymore," she tells her daughter.
Though the two now enjoy the luxury of being able to sit a few feet away, face to face, thanks to COVID-19 vaccinations and a decline in cases in the community, Marcia agrees to swap them out for Easter decorations. 
The "I love you" will stay. 
Hand in hand 
Amie Holt Care Center closed its doors to visitors on Barb Wohlbrandt's 66th birthday, with her husband, Duane Wohlbrandt, on the inside. 
Before COVID-19, Barb visited her husband of 17 years every day that she was off from her job as a CNA at Agape Manor, an assisted living facility across town. She could spend all day there, from 6 a.m. to 6 p.m., bringing a crock pot to the kitchen where she'd make chicken and vegetables for the two of them. 
When it became clear to Barb that the routine she started eight years ago when Duane moved into the facility would change, she was heartbroken. 
"I left here that day they told me, on my birthday. I cried, bawled the whole way home knowing I couldn't come back," Barb said.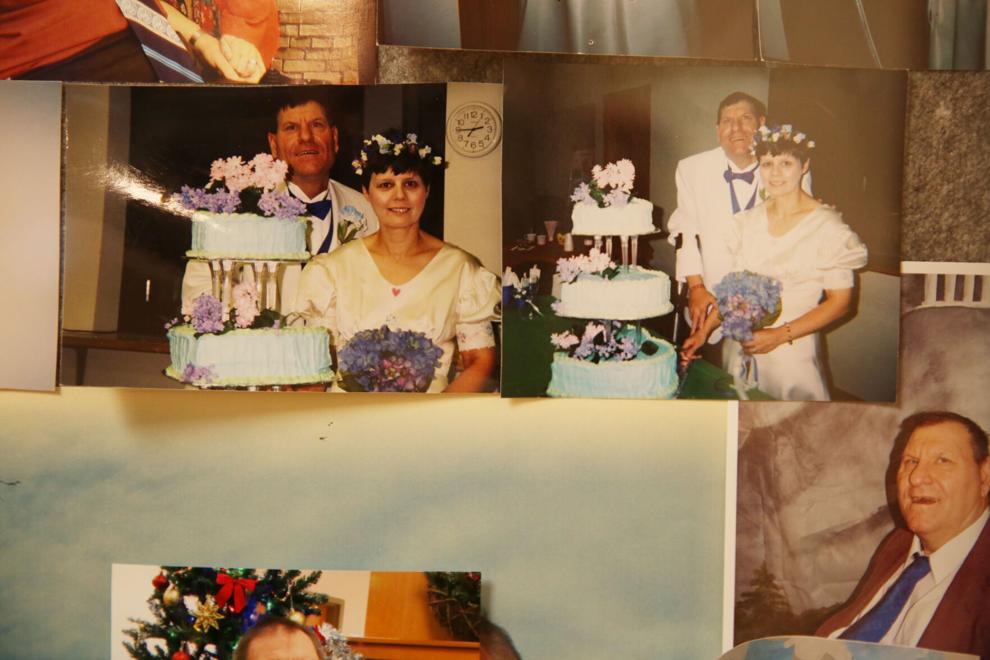 Barb took advantage of the modified visitation – 20 minutes, outside, 6 feet apart with absolutely no physical contact – and also talked with Duane on the phone. 
They talked about politics and the weather, but most of all, they said, they talked about how much they loved and missed each other. 
The couple no longer has to miss each other. Sitting side by side, hand in hand, Duane and Barb can touch again. Leading up to their first meeting, Barb couldn't wait to get inside. She stopped and allowed a staff member to put the thermometer to her forehead, smoothed the "screened" sticker onto her jacket and walked down the hallway to drape an arm across her husband's shoulders. 
Barb said the physical touch felt like a breath of fresh air. For Duane, it felt "natural."
"That's the right word for it," he said.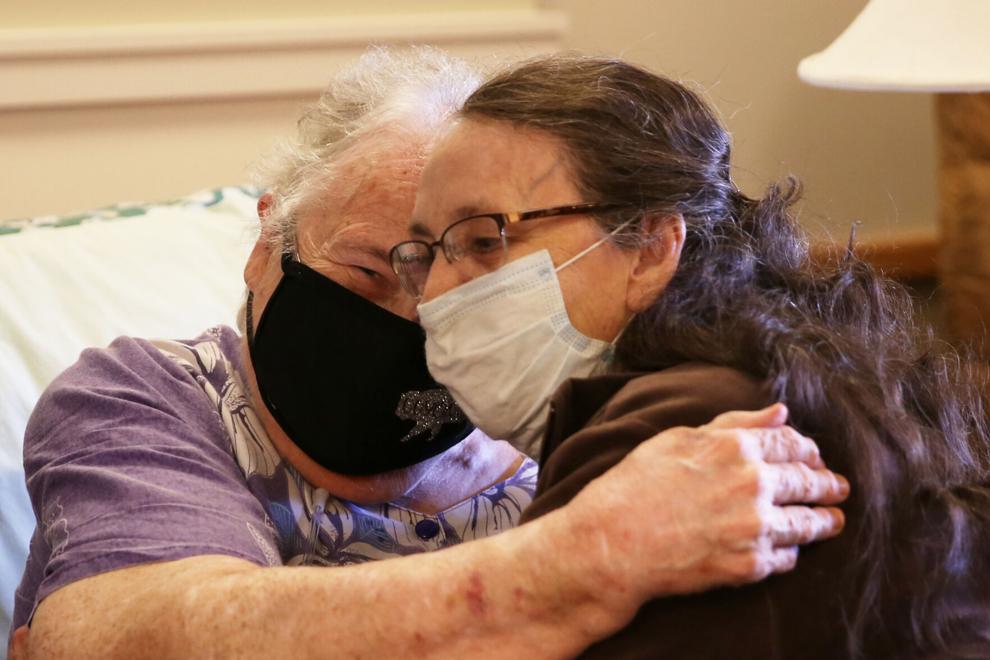 Nothing like a hug
Shelton has to remember not to hug residents other than her sister, McCune. 
When she walks down the hallway to and from McCune's room, she always waves and says hello to other residents. She wishes she could grab a hand or steal a quick hug.
"They need to be acknowledged. They're people with feelings," she said. "That human touch is so important."
Brenda Gorm, director of Amie Holt Care Center, knows the importance of physical contact. 
That's why families are allowed back inside the facility. 
"It feels fantastic honestly," she said. "Things we took for granted before, we no longer do."
The Wyoming Department of Health issued guidance advising long-term care facilities to allow indoor visitation for all residents. Fully vaccinated residents, according to the updated guidelines, can have "close contact" with their visitor while wearing a face mask. 
Gorm said that just one resident declined the vaccine and that another opted not to get a second dose.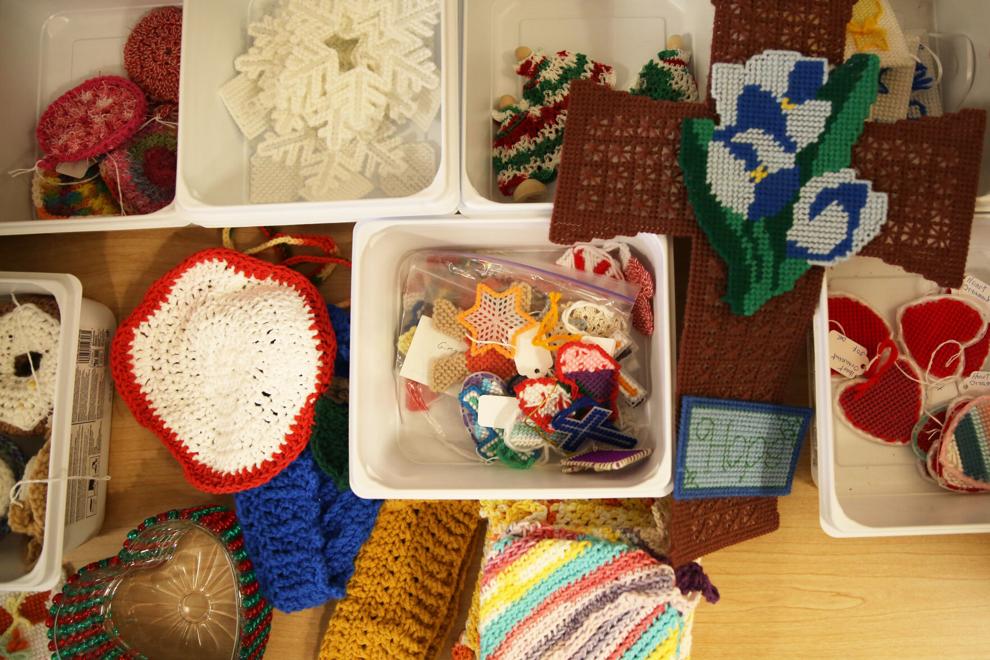 When Shelton arrived in McCune's room, her arms were full of groceries. Once the sisters put them away, they took their respective seats.  
After chatting for a while, they realized they hadn't hugged yet. It's usually such a natural greeting, but it's one they haven't indulged in since last February. 
McCune reached for her mask, and Shelton made her way over to her side. Sitting next to each other on the bed, Shelton threw her arms around her sister, their eyes crinkling, suggestive of smiles beneath their masks. 
They lingered a bit and then unraveled. Shelton patted her sister's hand. Like any other Thursday, but this one a bit more special.
"It's good to see her," McCune said. 
Editor's note: This story has been updated to correct the spelling of Doris McCune's name, previously spelled incorrectly.