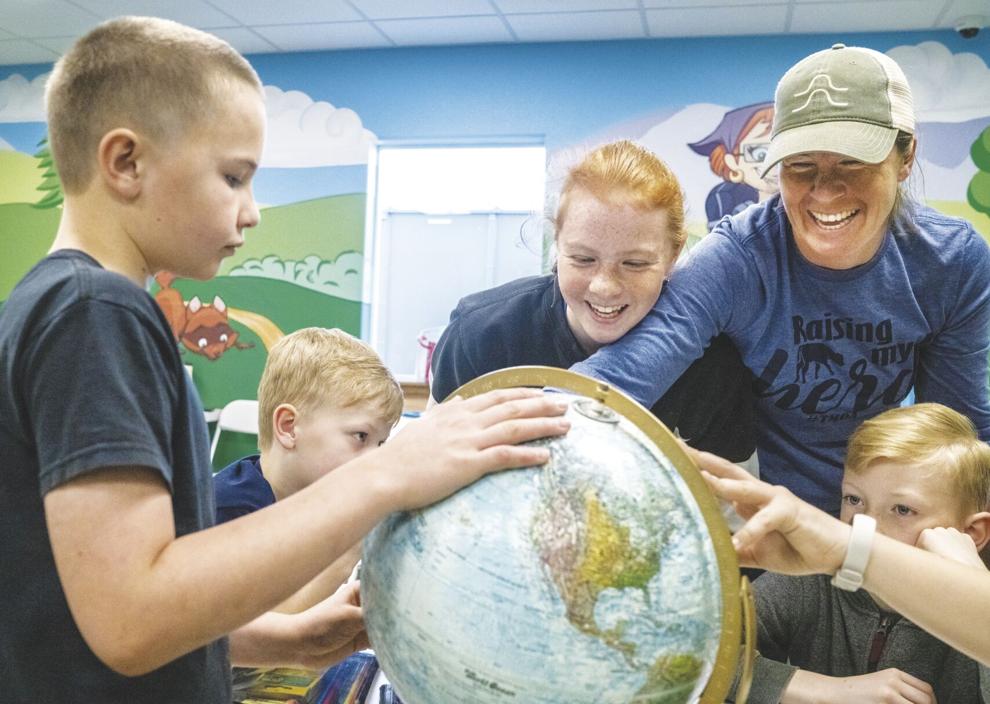 Sabina Damone has taught her children since they were in the womb. When she read books, she read aloud to them. Sometimes she just talked to them. It's something many mothers do, she said. 
But unlike many mothers, Damone continued teaching them, not just life skills, but math and science and history and even music. The Damone family is one of the 12% of Wyoming households with school-age children that choose homeschooling, according to the U.S. Census Bureau. For her, and for mothers like her, it's a mix of extra pressure and work, but also of extra connection that you she wouldn't have if her children were in a traditional school setting.
"​​They grow up so fast," said Desira Light, another mother and teacher. "And when they're at the classroom for so long, I miss out on so much." 
At first, Damone handled her children's education like most parents, sending them to daycare and to preschool at Learning Tree. She never quite liked the idea of sending her kids away, though, and when it came time to send her son Darton to kindergarten at 5 years old, it just didn't feel right. 
"He's just a little guy. And his birthday is in June. And the thought of him being gone for eight hours a day — I was like, 'No, that's not right.' At 5 years old, that's a long time away from Mama," Damone said. "And vice versa."
The Damones waited another year, and by that time Darton had progressed beyond his grade level. So, they decided to begin homeschooling. In some ways, that was the easier decision, Damone said — not to send Darton (now 13) away for eight hours a day to learn who knows what. She did the same for her daughter Jorgie, who is now 11. And, for her, it's been the right decision. 
It's been the right decision for Light as well, who began homeschooling her two children almost three years ago. 
Light was homeschooled by her mother, who was a teacher, and she said that experience gave her the extra freedom and personalized education that she needed as a child, though that realization only came later.
"​​I was a little horror, I'm sure," Light said. "But she stuck with it. And I am so glad that she did."
Now, Light said, she and her mother are very good friends, and she's grateful for the time and energy spent ensuring she got the education she needed. That's a large part of the reason she chose to begin homeschooling her own children, Garret, 9, and Kayden, 11. 
Damone had experience teaching special education classes for kindergarten through sixth graders for 13 years before taking up homeschooling, but that didn't mean the transition was easy. She was trained in direct instruction, a remedial style that is strict and structured and designed to manage behavior. That wasn't how she wanted to parent, so it wasn't how she wanted to teach, she said. 
"As a mom-teacher, it's much more relaxed, much more of a home environment," Damone said. "That comes first, of course, our relationships together. Relationships with the children matter more than anything else." 
Light said she finds that teaching her kids math and science is just an extension of the other life lessons she's teaching them every day, like how to manage their time and be responsible. She doesn't think of herself as a mother and a teacher separately. It's one and the same.
"It's not really, I'm teacher now and then Mom now. It's kind of all the same," Light said. "And I get to hug my students all the time. It's awesome."
Damone said her concerns are the same as any parents. She wants what's best for her kids. But the pressure Damone feels as a mother, hoping for the best for her kids, is magnified by the pressure she feels as a teacher, pushing them to be the best. That can be hard, Damone said, thinking that it's all on her. It was especially hard early on. 
"That was a huge weight on my shoulders, that — oh my gosh — this is all my fault. If this all goes south, I'm the only one to blame. There's no one else," Damone said.
But over the years, that weight dissipated as she watched her children learn and realized that — given the right opportunities — they're going to learn one way or the other. 
Through teaching their kids at home, Damone and Light say they have a connection they might not have otherwise. That connection has its drawbacks, though. Being away from her kids can feel a little weird, Light said. Away for a weekend, Light said she kept feeling like something was missing, like there should be someone there, next to her. 
"They're like my shadows," she said.
Damone's son Darton started attending Clear Creek Middle School in the afternoons this year, learning some of the things that Damone isn't equipped to teach. And does Damone miss Darton when he's at school?
"Oh — yes — no — yes," she said, pausing, trying to decide. "It's only for like an hour and a half."
Right now, Damone is laser focused on her kids' goals, but she's starting to think about her goals once she's no longer their teacher. She'd like to travel and explore adult education. That will be nice, she said. But she's not really looking forward to it. 
"No, I'm not looking forward to them being gone," she said. "Because they're so much fun. We have a lot of fun together. No, I don't want them to leave. But I know it's going to happen."