A cat is made for sleeping and eating and occasional snuggling. A cat is not for showing. Ask any cat you know and they will tell you. Loudly.
The three cats on display at the Johnson County Fair's cat show on July 29 will tell you this. As you look over the array as they are being judged for Best in Show, the felines' emotions seem to range from apathy to anger to, "You better sleep with your eyes open for a while, owner."
The cats moan and hiss – and occasionally just jump off the table in an attempt to end the whole thing. The cat show used to be held outside, but that rarely ended well, according to Bryce McKenzie with the University of Wyoming's Johnson County Extension Service.
"A few years back, we had a cat run away," McKenzie said. "She made it all the way to the interstate before we caught her. So we hold the show inside now."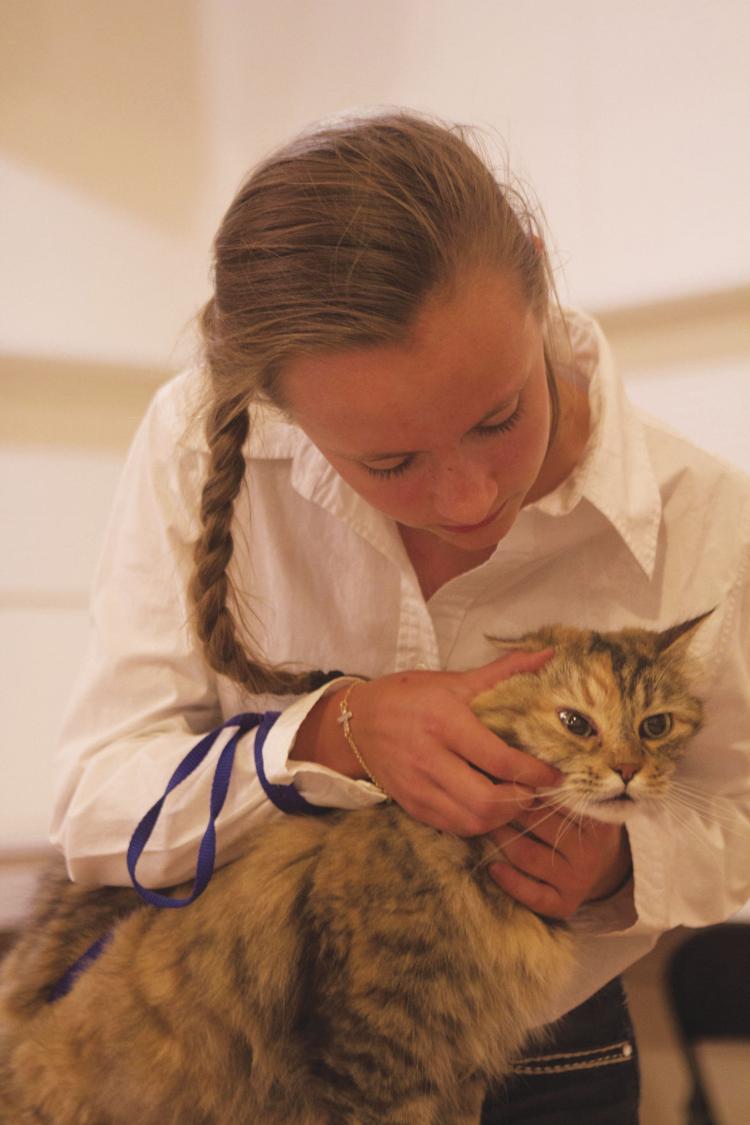 Perhaps no one knows the perils of cat showing more than the Rozema sisters, – Laurel, 16, and Heather, 11.
Laurel has shown cats for seven years, while Heather has joined her for the past four. This year, Laurel showed 4-year-old June; Heather showed 6-year-old Wren. Both girls were named grand champions in their respective divisions this year.
The Rozemas also show rabbits and chickens at the fair, but nothing is quite as challenging as the cat competition, Heather said.
"It's hard keeping the cat calm and keeping it from biting and scratching you," Heather said. "You have to know a lot of knowledge about cats too, but the hardest part is just keeping the cat calm and making sure it doesn't run off anywhere."
During the cat show, competitors point out the different parts of a cat and answer general knowledge questions about their animals, Laurel said. The animals are also judged on proper grooming. There is also a costume contest, but no competitor wanted to go through the terrifying ordeal of stuffing their cats into a costume this year.
Laurel has shown multiple cats over the years. She showed Wren before Heather did. Before that was Mittens, who was the least cooperative competitor of them all.
"Mittens retired really fast," Laurel said. "We couldn't even get her out of her cage. I like June because she behaves a lot better than some of our previous cats. But the more June does it, the more she dislikes it. "
Laurel said she did the best she could to make June comfortable during the competition.
"Cats are very social creatures, so you can make them feel a little better just by petting them and showing them you care about them," Laurel said. "You just have to let them know that you are there for them."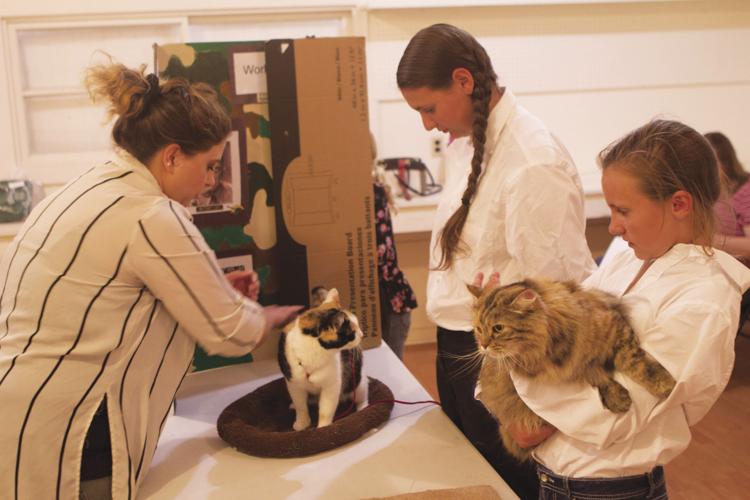 The cat show is among the least competitive shows at the fair. The Rozemas said they would love more competition next year. They insist that showing cats is actually a lot of fun, but they admit that they breathe a little sigh of relief when their cats are headed back home to a bowl full of treats.
"It's quite fun, but it's a relief at the end when you can put the cat back in the cage and not get bit anymore," Heather said.