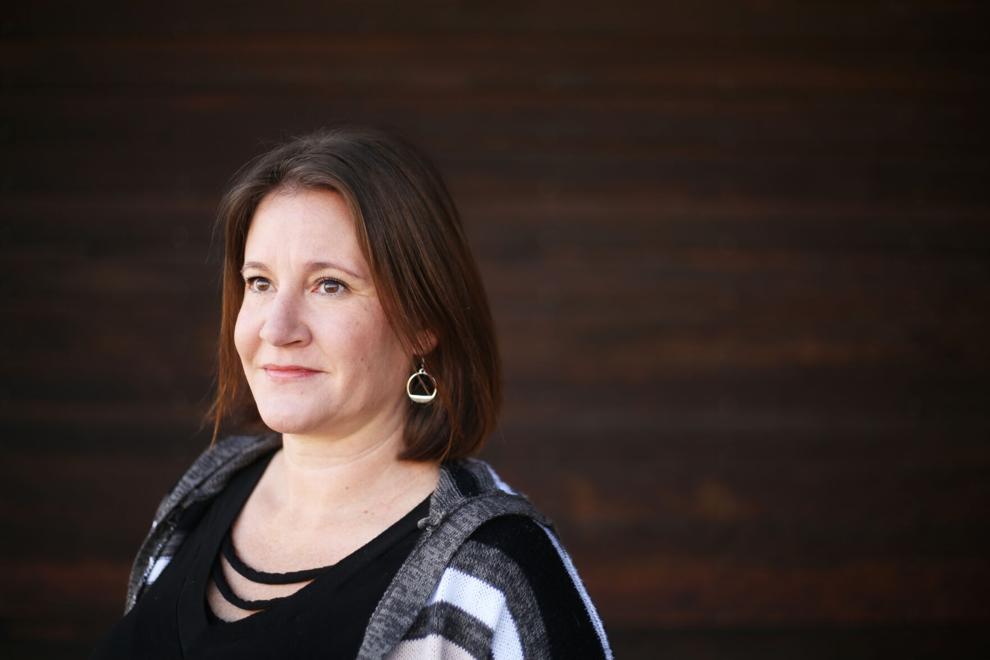 Since the end of the military draft, the percentage of women serving in the armed forces has steadily increased — from just 2% of the enlisted forces in 1973 to roughly 16% of the enlisted forces by 2018. 
The number of women serving in each branch varies widely, with women making up 25% of the U.S. Navy — the highest percentage of any branch — but just 10% of the U.S. Marine Corps — the lowest percentage of any branch.
Buffalo veteran Melissa Ulven, who served from 1998 to 2007 and reached the rank of sergeant, is part of that elite group of women who served in the Marines. 
"This area — they appreciate their veterans, and it's great," Ulven said. "(But) know that there's women veterans, too. There's a lot of us here in Buffalo. There's a lot of women veterans in this town; you just don't see them very often." 
When Ulven enlisted in the Marines in 1998, women comprised just 7% of the U.S. military branch. 
"Women veterans — we're built different," Ulven said. "In combat, especially, the things you see affect us women differently than men in a lot of ways."
Throughout her time in the military, Ulven was stationed in numerous locations both at home and abroad — including North Carolina, Florida, Japan and Iraq — as a logistics and embarkation specialist. This means she was tasked with the logistics of preparing supplies, equipment and even troops to head overseas.
While stationed at Marine Corps Air Station Cherry Point in North Carolina, her job put her in the center of logistics work when the United States invaded Iraq in 2003. 
"We all got pulled into a late-night meeting — it was about seven, eight o'clock at night — because the deployment order for Iraq was approved, and we were getting ready to invade Iraq," she said. "So I spent the next six months, seven months, working 18-to-19-hour days, deploying people and bringing them back and getting everything ready." 
Ulven said she was in charge of the mobility center, which was the highest level of command at her base, monitoring and inspecting the equipment and the people coming and going. 
Unlike the service of many younger military veterans in the United States, Ulven's service wasn't spurred by the events of 9/11. She was already serving and was actually between bases awaiting her next assignment when the attack occurred.  
"I flew out about a week after 9/11, and it was scary," she said. "There's dogs and, you know, that threat was still very much alive. Even being an active person in the military, they still made you dump all your stuff — and you're taking your whole life with you. So, you've got two giant bags, and that's all you're bringing with you and they make you dump it out. You carefully packed it. So no special considerations for military at the time." 
Adding to the stress, Ulven said, was the uncertainty over not knowing whether she would be part of the impending invasion of Afghanistan. 
In addition, at her base in Okinawa, Japan, she said new rules were implemented — like curfews and searches of every vehicle before it entered the base — after the events of 9/11. 
And the attitude among the soldiers at the base was different, too. 
"A lot of us were watching, you know, our friends back home going over there," she said. "Obviously, you're excited for them, because that's what you train for. But you're worried about them because you know what's going on. And, you know, you're kind of taking a backseat to it too, which was really annoying at first, but you were also very proud that, you know, your brothers and sisters are out there taking care of business after the 9/11 attacks." 
While Ulven would eventually reach the rank of sergeant in the Marines, she ended up there somewhat by chance. 
She said she joined "kind of on a whim" after being out of high school for two years. She didn't know what she wanted to do with her life, she said, but knew she wanted to get out of her hometown of Traverse City, Michigan. 
"So, I walked into the recruiter's office after seeing a table set up somewhere, I don't remember where, and the Marine recruiter was the only guy that was there," she said. "So, I talked to him, and he snatched me right up." 
After enlisting, Ulven was sent to boot camp at Parris Island, South Carolina, which, at the time, was the only location that women enlisting in the Marine Corps were sent for boot camp.
Ulven said she was in South Carolina for 13 weeks — which is a few weeks longer than boot camp for the other military branches. 
"They just spent a little more time on your discipline," Ulven said. "The Marines are expected to be very disciplined, and we go through a little bit more training." 
The training included shooting, which is a requirement to graduate boot camp, learning to swim and learning things such as combat first aid — but the most grueling part of boot camp comes at the end in a test known as "the Crucible." 
The Crucible is a 54-hour, nearly 50-mile hiking test. During the exercise, Marine candidates are sleep deprived, food deprived and made to face a number of physical and mental obstacles. 
But it's all worth it in the end, Ulven said, because after returning from the Crucible, the Marine candidates are put in formation and presented with their Eagle, Globe and Anchor pin — officially marking them as United States Marines.
"Your drill instructors come through, and they hand each one of you your own Eagle, Globe and Anchor (pin), and it's yours and you're now a Marine," she said. "And everybody's bawling, man or woman, you're all bawling."
Ulven served in the Marine Corps until 2007, leaving active duty when she had her first daughter. But leaving the military has its fair share of difficulties — many of which are social — that Ulven said require a strong support system to work through .
The first few months out of the military, Ulven said, are almost like "figuring out what you want to be when you grow up" and learning how to build relationships with people outside of a military setting. 
"A lot of people are really intimidated by your personality, your self-confidence, your ability to be more of, like in a leadership position," she said. "That's where I found the most difficulty. It took me about five years to adjust to civilian life to be honest with you." 
Now nearly 15 years removed from her time in the military, Ulven has had a second daughter and has even gone to school to secure her bachelor's degree. Since moving to Buffalo, Ulven said, both she and her husband — also a Marine Corps veteran — have had the chance to be further removed from the military and reintegrate back into civilian life. 
While she said that her family probably won't do anything special for Veterans Day, they'll grab a beer or two, or maybe invite some friends over to celebrate the Marine Corps birthday the day before.