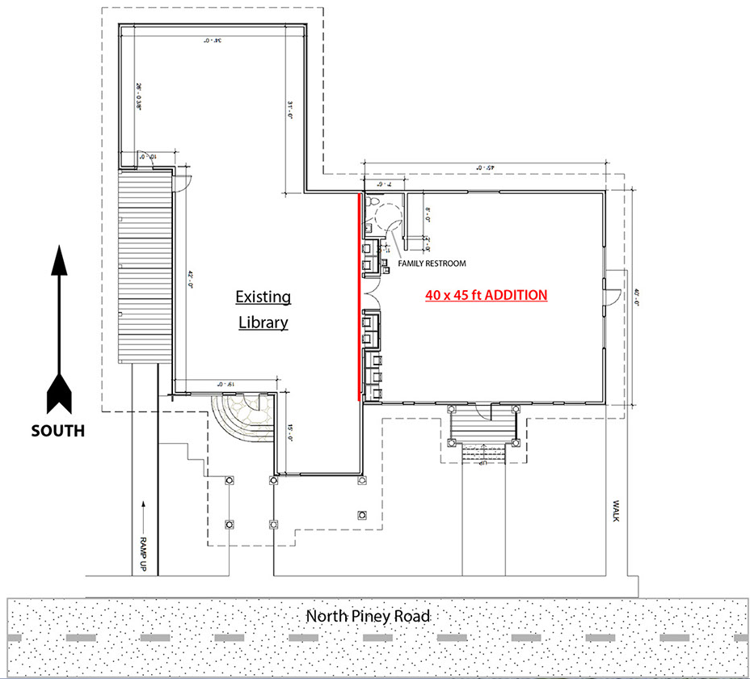 In a town of just over 800 people, a library becomes more than a library.
"Our library really is a central meeting place for our community," Story resident Marc Strahn said. "Our elementary school uses the library as its school library. It hosts community meetings. For many of our town's residents, the library is the only place they have internet access. The library fills a lot of different niches, but as our town grows, it is starting to bust at the seams."
Strahn, along with nearly 50 other Story residents, is spearheading a local effort to preserve and expand a building that has become the heart of their community. Fundraising is underway for a new 40-by-45-foot resource center addition on the west side of the property on North Piney Road.
In August, Gary and Christine Roberts donated their property next to the library to Story Community Library Inc., Story's 501(c)(3) holding company for the library. Strahn, who is a library board member and chair of the fundraising committee for the new expansion, said that the board immediately saw the possibilities in the property.
"The new resource room will be three times the size of our existing public meeting room," Strahn said. "The possibilities are endless for that space. We've had discussions with the museums in Buffalo and Sheridan about bringing in temporary exhibits, and we've talked with Sheridan College about bringing in guest lecturers. We've talked to the senior centers in Buffalo and Sheridan about bringing some of their programs out to the library. Those are the sorts of things that larger communities take for granted, but we just don't have a dedicated space for them here in Story."
The expansion will also allow for an expanded children's area and more space for the library's collections, Strahn said.
"The ultimate end uses of this are unlimited," Strahn said. "We just have to get it built."
Strahn said the library is working with Acker Delton Construction of Sheridan on plans for the new addition. The expansion is expected to cost $600,000, Strahn said.
"In Sheridan or Buffalo, the costs might be a little less because there are already construction companies in town," Strahn said. "But, in Story, all of the materials and workers will have to be brought into town, which means some added expenses."

The library is pursuing various fundraising avenues, including grant dollars and funds from community foundations, Strahn said. A private fundraising effort launched in November has brought in roughly $80,000 for the project, Strahn said.
"We have raised a lot of money, which speaks a lot to the library's importance to the community," Strahn said. "But we still have a long way to go."
Strahn said the start date for construction will depend on when funds are raised. He hopes to break ground within the next two years or so.
"We know this is going to be an uphill climb because of the size and cost of the project," Strahn said. "But it is a labor of love for all the people working on it, and with community support it will get done. The only question is how long it will take."
Donations to the Story Community Library project can be sent to P.O. Box 188, Story, WY 82842, Strahn said. All checks should be made payable to Story Community Library Inc. All donations are tax deductible.