Local oil and gas operators currently owe Johnson County $17 million in unpaid mineral and industrial property taxes, and according to Commissioner Bill Novotny, the county has no effective tools to recover the money – and no real protection against future debt.
Novotny urged the Legislature's Select Committee for Coal and Mineral Bankruptcies at an Oct. 14 meeting to adopt regulations that will help Wyoming's counties collect the money they are owed. 
"If (those companies) declare bankruptcy tomorrow, none of those funds will be recoverable," Novotny said.
The county already canceled more than $500,000 from the rolls due between 2004 and 2008 and considered uncollectable after over a decade of delinquency.
"(Bankruptcy's) the worst case," Novotny later told the Bulletin, noting that while he wants more tax-collection leverage, he doesn't want to see companies go under. "Then the county and the state are on the hook for revenue we're never going to collect."
County impacts
More than two-thirds of Wyoming's mineral production taxes fund education, and delinquencies cause budget deficits that impact school districts across the state. Locally,the balance goes into the county general fund and pays for entities such as the hospital, the museum or the fire district.
Local budgets are already squeezed: The county's valuation shrunk to less than one-third of its 2012 self in the past seven years.
Unpaid taxes mean the county can't even distribute the shrinking revenues promised to county organizations and special districts, because the treasurer never receives those funds. The $7.7 million owed by Carbon Creek for 2018 amounts to more than one-quarter of the money that should have gone to fund mill levy services that year, as well as 13% of the county's total anticipated tax base. 
"It's caused us to take a very serious look at budgeting," said Marilyn Connolly, board president of the Johnson County Rural Health Care District. Connolly noted that residents will not see a change in ambulance and EMT services. 
"We had to cut from the salary line in last year's budget," she said.
In 2017, Carbon Creek, along with Powder River Midstream, appealed the county's valuation of property assets purchased in a 2015 deal from Anadarko, WPX Energy and Western Gas Resources. 
The case specifically concerns $3.2 million currently laid up in an escrow account awaiting a court determination. If the court rules in the county's favor, that bill could grow larger: According to Johnson County treasurer records, the companies owe an additional combined $4.3 million in personal property taxes on the same assets from 2017 and 2018. 
The unpaid personal property taxes are a separate bill from the company's $11.7 in delinquent production taxes, which are not disputed, according to Crago. Representatives from Carbon Creek did not reply to multiple requests for comment.
Citing the Carbon Creek case, Crago recommended that legislators require companies to pay their bills into an escrow account before they can have a board of equalization hearing – and before the lengthy legal proceedings that can ensue.
"By (the time the case is resolved)," Crago said. "(Companies are) paying what they feel like paying, and if they file bankruptcy …, we are never going to get that money back."
Effectively, operators can grab possession of the ball and run down the clock, blocking the county's next potential play. Game-ending buzzers sound each time a filing hits the U.S. Bankruptcy Court.
A change in schedule
Although Carbon Creek currently carries about 75% of Johnson County's current mineral tax debt, delinquency is more than a one-company problem. Five companies are currently endebted to the county, according to treasurer record.
Wyoil Corp. President Leonard Pearce used three words to explain his company's failure to pay its Johnson County mineral taxes since 2012, a total bill of $500,000:
"Low oil prices." 
When that debt began to accrue, prices were above $90 a barrel, almost double their current rate. Each year, Wyoil has added to its debt, and Johnson County can't do much of anything about it.
"We have no leverage (to collect unpaid taxes)," Crago told the state legislators. 
"Literally, zero." 
The county charges 18% interest on delinquent taxes, but for debtors unlikely to pay their bills anyhow, the tool is "not worth the ink that you run a report on it, almost," Novotny said.
He pressed legislators to consider putting county mineral taxes on a monthly collection schedule, a policy change previously floated in a failed 2016 bill. Currently, the biannual county tax bills, assessed on the fair market value of minerals extracted, don't come due until as much as two years after resources leave the ground.
That could be half a lifetime for some oil and gas producers: In 2014, less than four years after High Plains Gas acquired 3,000 Powder River Basin wells, the state seized its assets when the company was unable to pay a $6.8 million bond. 
Carbon Creek was a fresh-faced upstart in the basin in 2015 when it snatched up an arsenal of more than 7,000 wells.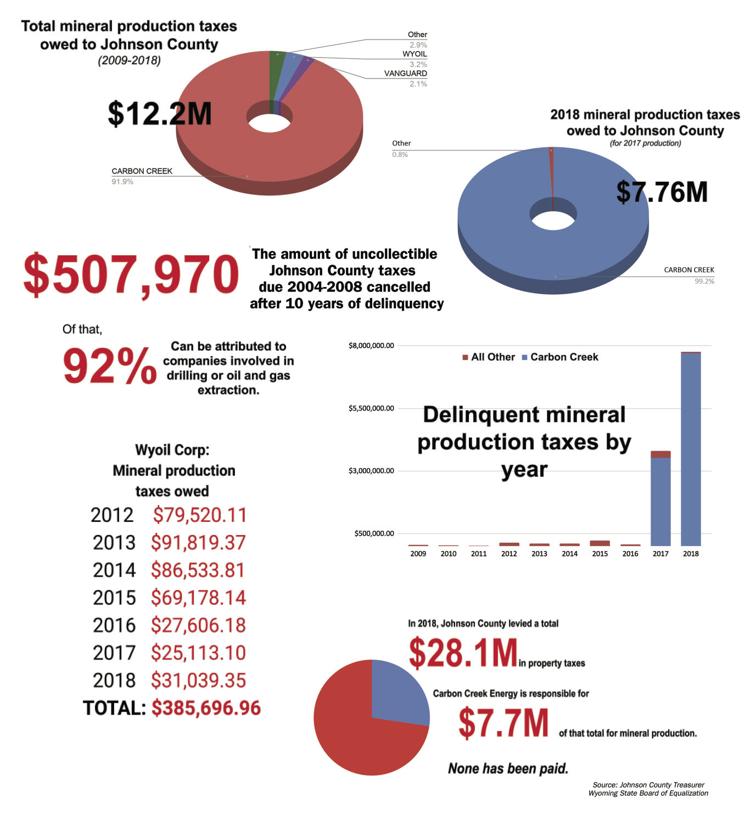 "No county has experienced more rapid decline in oil- and gas-based valuation as the roller coaster ride that is Johnson County," Novotny told legislators. 
Monthly collections would alert counties to insolvent companies more quickly, he said, and prevent debtors from amassing such large bills. The narrower time frame would allow counties to perfect liens sooner, providing more solid legal footing in bankruptcy court where liens are typically honored in the order in which they are received.
In 2018, the Powder River Basin Resource Council advocated for monthly collections in a report detailing the then $54 million in mineral taxes owed to 13 Wyoming counties.
According to a resource council update tallied this week, that figure is now above $84 million. Johnson County's listed debt has skyrocketed, from under $800,000 to more than $12.2 million.
"If we have all of our eggs in just a few baskets, to have a basket that is so loosely woven is very dangerous," said Hesid Brandow, a resource council organizer. Yet Pete Obermueller, president of the Petroleum Association of Wyoming, said an abrupt switch in the collection schedule would require companies to pay two tax bills at once and could put many of his members at risk of bankruptcy. 
Under the current system, a company that extracts minerals in 2019 can be expected to pay taxes on that production in 2020 and 2021. A wholesale switch to monthly payments would require that company to not only pay its 2019 bill in 2020 and 2021, but also to pay monthly bills on new minerals extracted in those years.
"Gas prices are dismal right now," Obermueller said. "Oil prices, at my last look, were at about $52 a barrel. These are slim margins. If the state makes a policy choice that accelerates that demise, that would be a shame."
"That does not mean that we could not switch to monthly payments," he added, offering legislators a proposal: Oil and gas companies would switch to a monthly collection system, and in exchange, the state would forgive a year's worth of taxes.
"From a cash flow perspective, we've made no change," Obermueller said, noting that counties would receive the same tax revenue currently expected each year. "And we've achieved the policy that you want to achieve without accelerating bankruptcies in Wyoming." 
Not all of the state's oil and gas operators actually view monthly collections as a concession – Wyoil's Pearce said they could help.
"Then it's out of mind," he said. "It's already taken care of."
Paper loss it might be, forgiving a year's worth of taxes would amount to a $250 million industry giveaway for fiscal year 2019, according to the latest Wyoming State Government Revenue Forecast.
"I stand by (my proposal)," Obermueller later told the Bulletin. "It would actually cost the state no money to do it."
"I think we can get them onto some sort of a payment schedule that doesn't let them game the system," Novotny said, saying he hoped for a compromise. "We just want to fairly collect what is owed. I think we can get a solution that works for industry."
No money is safe
Even under an improved regulatory system, mineral taxes previously collected aren't necessarily safe.
Vanguard Natural Resources paid its county taxes on time – "ahead of time, actually," according to Crago – before filing for bankruptcy in February 2017. Last fall, Vanguard filed a lawsuit against seven Wyoming counties to recoup $5.2 million, including $500,000 from Johnson County. The company claims that because the taxes were paid during imminent bankruptcy, they should have gone to higher-priority debtors. 
To fight the suit, the county was forced to hire a Texas bankruptcy court lawyer. 
"Just on Vanguard I spent the equivalent of salary and benefits of a deputy sheriff, or the cost of regraveling 9.6 miles of the county road, fighting for tax money that has already been collected and spent," Novotny said.
Vanguard, which emerged from its second bankruptcy as privately owned Grizzly Energy in July, was still extracting natural gas in Johnson County in August, according to the Oil and Gas Conservation Commission.
"This is not to be construed as a condemnation of our friends and neighbors in the extraction industry," Novotny said, pointing out the wealth oil and gas money has bought the county over the years. Yet, "they're still using our resources ..., but they're doing nothing to help offset the cost of rolling those heavy trucks out to a site. They just need to pay their fair share."
The county budget still depends heavily on mineral revenues.
"We have all of the advantages," Novotny said of efforts to diversify Johnson County's tax base. "We have great proximity to the two interstates. We have fiber, we have great connectivity. We have relatively inexpensive energy costs.… What we have been unable to do is find either something that's a value-add to the extraction items that get shipped down here or diversify beyond a stable tourism industry and some agriculture that is shrinking."
He still has hope in mineral revenue resurrection: Asked if companies with delinquent Johnson County tax bills should still be allowed to obtain new permits to drill within the state, Novotny favored leniency.
"Maybe, if it's going to help the company work its way out of insolvency," he said. "Then, yeah."
Still, he noted, oil and gas companies profit off of finite geological resources. If they don't pay their taxes, the county will never profit from its lost minerals:
"Once those are removed, they're gone forever."