The number of confirmed coronavirus cases in Wyoming increased by 19 on Monday led by the growth of 15 cases in Fremont County.
The Wyoming Department of Health, in its daily coronavirus update, reported the state had 389 confirmed cases of coronavirus as of Monday.
Fremont County officials had announced last week that because of an increase in testing and "contact tracing," a process by which health officials determine who may have come in contact with an infected individual, the county's confirmed case counts would increase dramatically.
The increase on Monday made Fremont the county with the state's highest number of confirmed cases at 98.
Laramie County had 89 cases; Teton County had 64; Natrona County had 39; Campbell County had 14; Sheridan County had 12; Converse and Johnson had 11; Sweetwater had 10; Albany had seven; Lincoln and Uinta had six; Crook and Washakie had five; Carbon had four, and Goshen had three. Big Horn, Hot Springs, Niobrara, Park and Sublette counties each had one case.
No cases have been detected in Platte or Weston counties.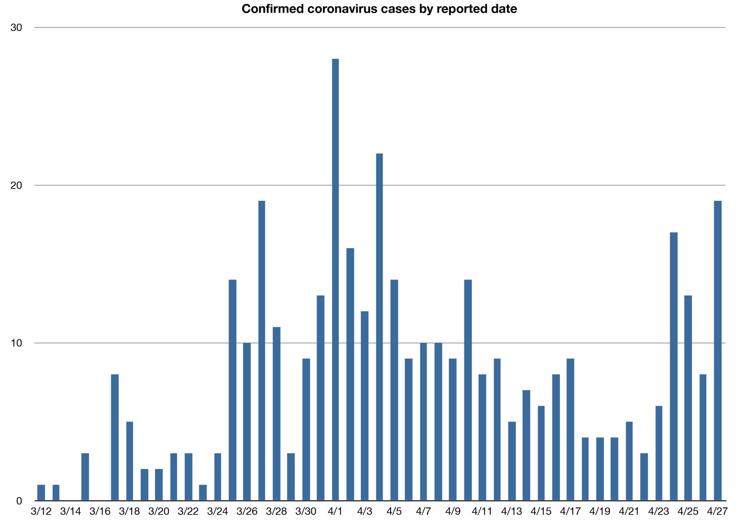 The number of laboratory-confirmed and "probable" recoveries went up by one on Monday to total 343. The number includes 249 laboratory-confirmed recoveries and 94 "probable" recoveries.
Meanwhile, Wyoming's legislators have started drafting two measures for consideration during a special session that would let the state respond to the coronavirus pandemic.
The Legislature's Management Council is expected to vote on the bills when it meets again Friday. If approved, the bills will be submitted for consideration by the full Legislature when it meets in a special session, perhaps as soon as late May.
One bill would establish a relief fund for the partial distribution of $1.25 billion Wyoming is to receive from the federal government. Appropriations would include $70 million for local governments $200 million for public hospitals.
The second bill would address issues raised by Gov. Mark Gordon earlier this month, including allowing the Wyoming Community Development Authority to compensate landlords who hold off on evicting tenants who have not paid their rent due to coronavirus-related pay losses.
The bill would also expand the state workers' compensation program to allow workers infected with coronavirus to receive assistance.
In other developments:
School's out: More school districts are deciding to keep schools closed for the remainder of the year and continue with the teaching of students in their homes. District trustees in Albany County, Campbell County and Rock Springs have decided students will not return to school buildings until at least the summer. "It's unfortunate, and we are living in unfortunate times," said Beth Bear, a member of the Albany County School District board. "I know my kids are ready to get back to school and we are ready to have them back to school, but this is the smartest, safety choice and I would hate to see us get kids back to school and have this outbreak spread further in our county."
Rallies: Residents around the state continue to rally in opposition to the statewide health orders that closed schools and some businesses. More than 60 people gathered in front of the Campbell County Courthouse on Friday to urge Gordon to lift the restrictions that have closed businesses expected to draw more than 10 people at a time — such as restaurants and bars — and businesses that provide personal services — such as hair salons and tattoo parlors. The protestors said it should be up to individuals to decide if they feel threatened by coronavirus. "Let the people be the judge," said Doug Camblin. "If you're not feeling well, stay home. Stay in your comfort zone. But don't cause businesses to go out of business."
Also on Friday, about 35 people gathered in Casper to protest the restrictions. 
Gordon has said he will issue modified health orders by Friday that will slightly relax the orders in place now. He has said the state will reopen slowly as merited by changing conditions.
Research stopped: Research by the University of Wyoming's College of Agriculture and Natural Resources has been halted because of the coronavirus. The ANR has announced that its off-site research activities will be suspended until May 15 and possibly to June 30.
Stay home: Teton County officials are asking antler hunters to stay home even though the shed antler season is to begin this week. The season begins Friday and the state Game and Fish Department has denied a request by county officials to postpone the season to prevent the spread of coronavirus. As a result, county officials are asking antler hunters via social media to not to visit Jackson for the season this year. "If you're out there and you're planning on attending, we're asking you, 'Please sit this one out,'" Jackson Chief of Police Todd Smith said.