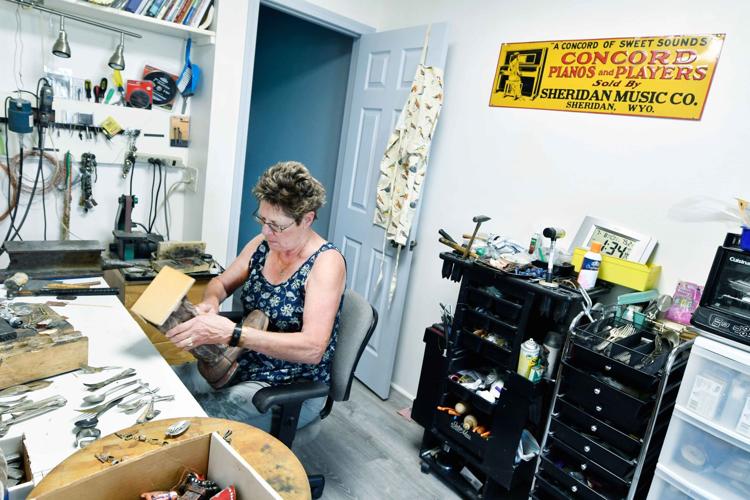 You've heard of the Cat in the Hat. And who doesn't know about the old woman who lived in a shoe?
Now, Donna Lueders wants to introduce a new critter: The bird in the boot.
Lueders makes jewelry and other items, both decorative and functional, out of reclaimed and repurposed items for her Buffalo-based home business, The She Shed. Last year, Lueders said, for Longmire Days, she was looking for something with a Western theme she could make and sell during the annual Lovin' Junkin' craft sale, when she came upon an idea.
She'd acquired several old cowboy boots, but what could she do with them? Why not make birdhouses out of them?
The idea "just came to mind," Lueders said. "I was thinking about something more cowboy-related for Longmire Days. I've been trying to think since I started out, how I can do that."
To convert boot to birdhouse, Lueders builds a simple frame with a bird-sized hole on one side. The frame fits into the boot and is secured, making the boot stiff, and an old license plate is fixed to the angled top for a roof. Then costume jewelry, rope, barbed wire and other knick-knacks are added as decoration and a birdhouse is born.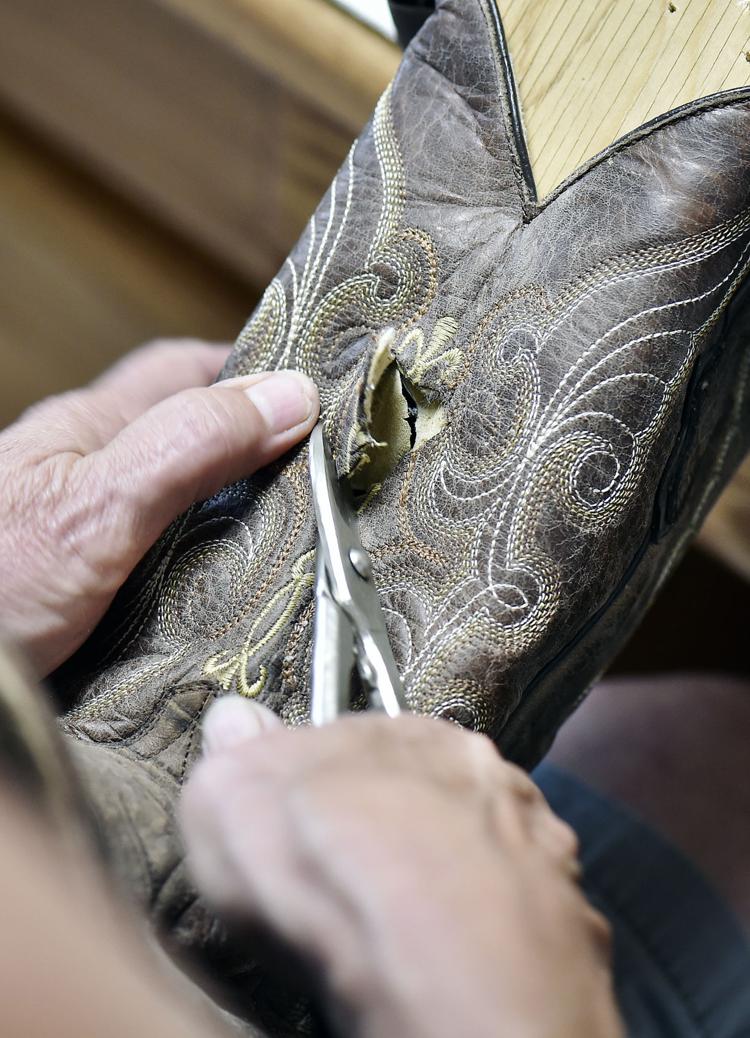 Lueders started out a few years ago, making bracelets out of scrap copper she'd inherited from her late father, Roy Andreen. He was "a tinker and a piddler.
"He'd be very proud of me today," she said. "I've followed in his footsteps."
The She Shed isn't her first venture in a home-based business. Her first was an upholstery shop, Donna's Upholstery. It played to her love of sewing, her first venture into crafting as a child, she said.
"I've always been into crafts – I've been sewing since I was in third grade," Lueders said. "I've always liked to do things with my hands, to see what I can make, see what I can learn.
"I love to learn new crafts, new things. It's a challenge."
After upholstery, Lueders taught herself woodworking. She ended up making cabinets, countertops and furniture for a cabin she and her husband, John, own in the mountains.
But that wasn't her passion either, she said. After the cabin project and making a few items for their kids, she came to a "what do I do now" point. Lueders ended up laying woodworking by the wayside.
In the interim, John had acquired a sawmill on the mountain. Donna told him some of the lumber coming out of the mill would be used to build her own getaway.
"I said, 'I want a she-shed,'" she said. "You have your place; I want a place for my stuff."
And The She Shed business was born. Lueders said she tried a few different names for her home-based business, but The She Shed just seemed right.
"I started with One-Of-A-Kind, because all my stuff is one-of-a-kind," she said. "Then, we built the she shed, and decided that name would stick. That's the name I want."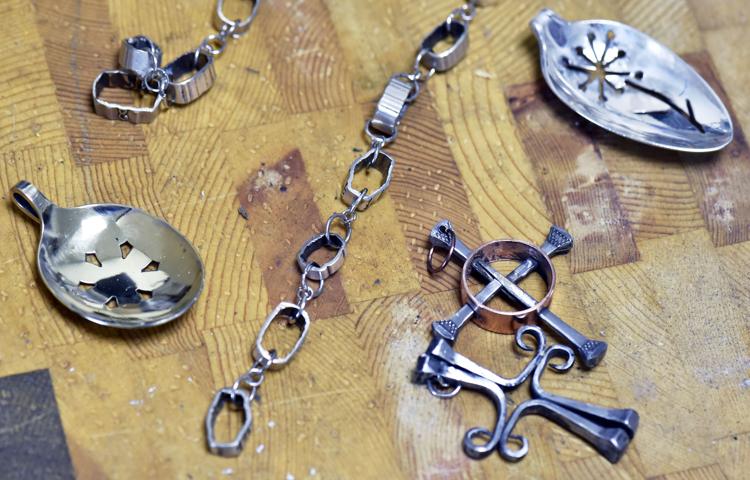 Most of what she makes is sold out of The She Shed – open by appointment only for right now – or at the handful of local crafts shows she attends throughout the year.
Proceeds from sales of her crafts support her crafting endeavors. She's thought about selling through some of the online merchant sites but isn't sure she wants it to get that big – she doesn't want to lose the uniqueness of her creations.
"I don't want to get so big I have to mass produce," she said. "Once you start having to fill orders, it's not as much fun.
"Anything I can find, I can repurpose, to make something different out of it," Lueders said. "I hate seeing things just get tossed."