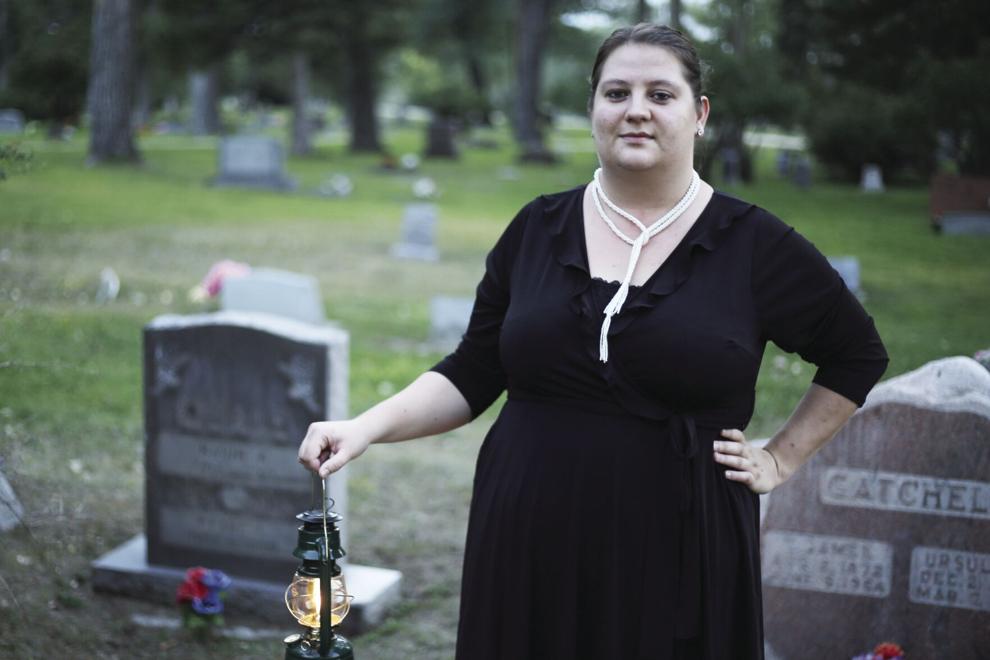 Clare Quale stood before a small crowd on Friday night, wearing a classic black dress with strings of pearls around her neck. 
In her quiet, serious way, the youngest daughter of the local museum's namesake, Jim Gatchell, spoke of her family and their life in Johnson County, which revolved around their pharmacy in Buffalo. Like most women of the early 20th century, she spoke little of herself, mostly highlighting the accomplishments of those around her, though she was an educated woman — a pharmacist — herself. 
Quale died in 1990. Her spirit was revived last weekend by Keelyn Byram, a collections assistant at the Jim Gatchell Memorial Museum who portrayed her in this year's Echoes of the Past tours of Willow Grove Cemetery hosted by the museum. 
Byram decided to portray Quale, she said, after studying letters between Quale and family members. It was from the collection of her items in the museum's archives that Byram was able to write a script and cultivate the character.
"I felt like I really got to know the Quales and the Gatchells through that," Byram said. "It was really fascinating and touching to get to know the stories of real people."
From these letters, which had been donated by Quale's children, Byram learned intimate details of the family's lives, such as nicknames, birthdays and what types of gifts each liked to send and receive. 
Byram knows Quale well, having studied her for roughly six hours a week over a four-month period. The history aspect was familiar to Byram, though the acting was new, she said, her last performance before this one likely a third-grade play.
"I just typed up a little monologue, I tried to get into character, I guess tried to capture the voice that I heard in the letters," she said.
In terms of costume, Byram said, she kept it simple. When Quale, born in 1908, was Byram's current age, it would have been the late 1930s or early 40s, so she went with pearls.
"She didn't wear a whole lot of jewelry," Byram said of Quale. "Her sister Genevieve was more into fashion than she was."
In a photo of Quale, her hair appears short, pixie-style and close to her head. Byram's own hair is nearly to her waist, so she opted to pull it back into a classic updo. 
Quale's father, Jim Gatchell, grew up on the Lakota reservation. His kinship with Native American communities led to his vast collection of artifacts now housed in the museum. Quale and her family assisted in fundraising for the museum that exists today.
She worked as a pharmacist for roughly 30 years before she had to retire due to rheumatoid arthritis, Byram said. She moved to live near her daughter in Thermopolis, then in Riverton, where she died more than 30 years ago.
Byram said the most interesting part of Quale's life was the relationship with her daughter Cynthia. 
"I won't get into it too much, because they're not really my secrets to tell," Byram said. "But Cynthia had a hard life and her mom and her dad never really gave up on her. To see that even though she was going through a lot that her parents still supported her was really touching to see."
Byram sees some similarities between herself and Quale. Both are the youngest siblings in their families, and Byram considers herself to be studious and reserved like Quale. 
For a few minutes on Friday night, standing beside her gravesite, telling her story to an attentive audience, Byram was Quale. 
"We all know the famous stories, like Nate Champion, but you don't hear much about everyday people doing everyday stuff," Byram said.