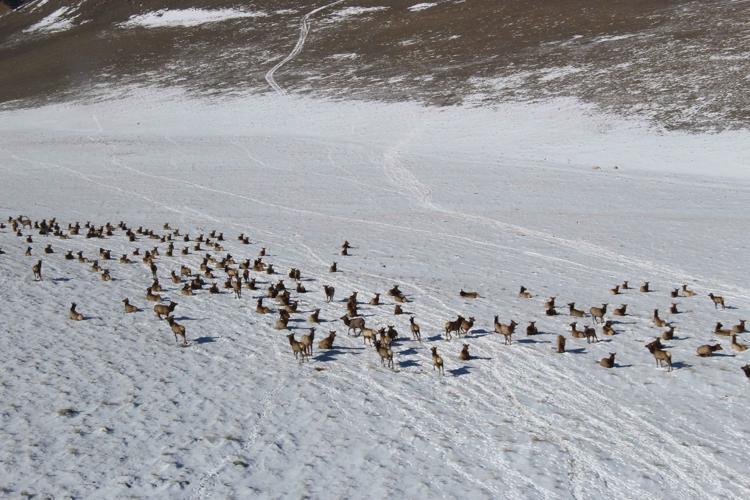 Moose and elk surveys conducted by the Wyoming Game & Fish Department have shown some unusual migratory elk movements this season.
Game & Fish wildlife biologists and game wardens conducted moose and elk surveys in the Buffalo area in January and February. These surveys are conducted annually by helicopter to gather information on current moose and elk numbers.
Elk trend counts have been complicated over the past three years as new elk movement patterns result in elk from one hunt area wintering in adjacent hunt areas, according to Game & Fish biologist Cheyenne Stewart.
Unusual migratory activity has been observed in hunt area 34. Game & Fish counted 2,370 elk, an increase of nearly 1,000 from last year. Stewart said this is likely because elk from hunt areas 35 and 49 are wintering in hunt area 34, something that has not occurred at such a regular rate and in such high numbers.
"Normal elk behavior involves migration to wintering grounds," Stewart said. "This is usually at a low elevation with good forage availability."
According to Stewart, elk will winter together in larger herds. With the arrival of spring, many of the elk will separate from the herd and migrate back to varying areas at a higher elevation.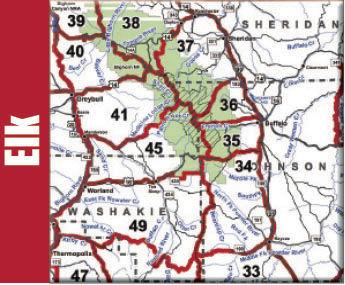 "That's normal elk biology," Stewart said. "What we're seeing here in hunt area 34 is elk that summer in different areas; for example, hunt area 35 and 49 are starting to show a pattern of spending their winters in hunt area 34."
It's unknown why this change has occurred, but Stewart has some theories.
"The winter of 2016-17 saw heavier snowfall than normal. That, as with any severe weather event, has the potential to change animal movement," Stewart said. "So it's possible that happened just one year and ever since then it may have thrown them off of their normal migration."   
Game & Fish also surveyed local moose populations. The counts include bulls, cows and calves. These classifications provide information on calf production and survival, as well as the proportion of bulls in the herd. The survey is timed to correspond to the period when moose are using willow habitats, making them more visible. This year's flight over hunt area 34 was conducted on Jan. 31, which was later than in past years because of unfavorable weather for flying earlier in the year.
Forty-six moose were counted during the flight – eight bulls, nine cows, eight calves and 21 unknown. In 2018, 51 moose were counted during the annual survey, which was the highest post-hunting-season moose count since 2008.
Stewart said 18 moose in hunt area 34 have been fitted with GPS collars as part of an ongoing habitat and movement study in the Bighorn Mountains and three of them were observed on this year's flight.
"Moose populations, worldwide, have seen declines," Stewart said. "There has been a high interest to understand what the dynamics are in our different moose populations around the state, so this is a part of that effort to understand not only specifically what's going on in the Bighorn Mountains, but statewide populations and how they compare in the big picture."