Gray wolves removed from endangered species list
By Camille Erickson Casper Star-Tribune Via Wyoming News Exchange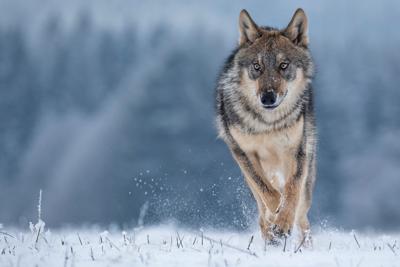 CASPER — In a move decried by wildlife advocates but supported by many Wyoming lawmakers, the Trump administration Thursday lifted protections for gray wolves under the Endangered Species Act.
The decision comes after the U.S. Fish and Wildlife Service, a branch of the Interior Department, announced it would lift federal protections for the iconic animal in the lower 48 states. Instead, the federal government would defer to state and tribe management plans to sustain the critical species.
A large segment of Wyoming lawmakers, ranchers and hunters support the Interior Department's effort to remove protections for the wolf under the Endangered Species Act. Current population numbers indicate the gray wolf is no longer vulnerable or in need of federal oversight, proponents of delisting say.
"Today's action reflects the Trump Administration's continued commitment to species conservation based on the parameters of the law and the best scientific and commercial data available," Interior Secretary David Bernhardt said in a statement on Thursday. "After more than 45 years as a listed species, the gray wolf has exceeded all conservation goals for recovery. Today's announcement simply reflects the determination that this species is neither a threatened nor endangered species based on the specific factors Congress has laid out in the law."
Wyoming's lawmakers immediately endorsed the change.
"Delisting the gray wolf has been a long and bumpy road, but I think everyone should take pride in this announcement today," Sen. Mike Enzi said in a statement. "States like Wyoming have shown they are able to effectively manage the gray wolf. It is important to remember that the purpose of the Endangered Species Act is to get to this point, where a species is fully recovered."
Meanwhile, unwinding national safeguards for the gray wolf remains wildly unpopular among wildlife advocates. Many maintain gray wolves still face dire threats and need strong federal protection, and therefore should be on the act's List of Endangered and Threatened Wildlife.
About 311 wolves roam around Wyoming, according to a 2019 report from the Wyoming Game and Fish Department. According to the Interior Department, the country hosts about 6,000 gray wolves in total. Throughout the 20th century, widespread hunting and trapping decimated gray wolf populations to near-extinction across the U.S. But population numbers have recovered in several states, thanks in part to reintroduction initiatives in prime habitat, including Yellowstone National Park.
But a plethora of conservation groups expressed alarm over the Interior's decision to remove protections, calling the action premature and misguided.
"This is yet another example of the Trump administration ignoring science," said Lindsay Larris, wildlife program director with WildEarth Guardians. "From climate change denial, to their gross mishandling of the COVID-19 pandemic, to rollbacks of environmental safeguards protecting clean air and water, this administration has proven time and time again that they're only in it for themselves, even if it means ignoring and denying the facts."
The fight over the gray wolf stretches back decades.
Wildlife groups have been in a prolonged tug of war with federal and state governments over whether to delist the animal. Several states, like Wyoming, have been intent on managing their own affairs when it comes to the wolf, lobbying Washington to delist or reclassify the gray wolf under the act for years.
The federal government classified the gray wolf as endangered in 1974, soon after the Endangered Species Act became law in 1973. However, gray wolves received some level of federal protection as early as 1967. Since then, the gray wolf has mainly been classified as endangered, though states have challenged the federal government's handling of wildlife management on countless occasions. In fact, the U.S. Fish and Wildlife Services elected to delist the gray wolf in Wyoming, only to have federal protections reinstated following litigation.
"Again and again, the courts have rejected premature removal of wolf protection," said Collette Adkins, carnivore conservation director at the Center for Biological Diversity. "But instead of pursuing further wolf recovery, the Fish and Wildlife Service has just adopted the broadest, most destructive de-listing rule yet. The courts recognize, even if the feds don't, that the Endangered Species Act requires real wolf recovery, including in the southern Rockies and other places with ideal wolf habitat."
In April 2017, the U.S. Fish and Wildlife Service gave Wyoming another chance to establish its own protections for the animal and ceded gray wolf management to the state. Wyoming lawmakers have been quick to defend the state's capacity to protect the gray wolf without federal help.
"We have seen firsthand in Wyoming how a state is fully capable of managing gray wolf populations," Sen. John Barrasso said in a statement Thursday. "Since 2017, the wolf has been delisted in our state. Wyoming has proven that states, not Washington, are in the best position to manage the gray wolf."
Back in September, Gov. Mark Gordon traveled to Washington to testify before the U.S. Senate's Committee on the Environment and Public Works. He spoke in favor of proposed reforms to the Endangered Species Act.
"I believe the Endangered Species Act is broken," he told committee members. "And there is no scientific reason it shouldn't be fixed."
Gordon favors state oversight to sustain sensitive wildlife and doesn't look kindly on federal interference. What's more, Wyoming lawmakers and the governor have agreed the constant threat of legal challenges to state plans has undercut Wyoming's efforts to protect critical species.
The rule takes effect in 60 days. A cohort of nearly a dozen environmental groups plan to bring a legal challenge to Thursday's decision.
Humidity:

43%

Cloud Coverage:

%

Wind:

5 mph

UV Index:

0 Low

Sunrise:

07:25:15 AM

Sunset:

04:28:20 PM
Today
A clear sky. Low 34F. Winds W at 5 to 10 mph.
Tonight
A clear sky. Low 34F. Winds W at 5 to 10 mph.
Tomorrow
Mainly sunny. High 54F. Winds WNW at 5 to 10 mph.