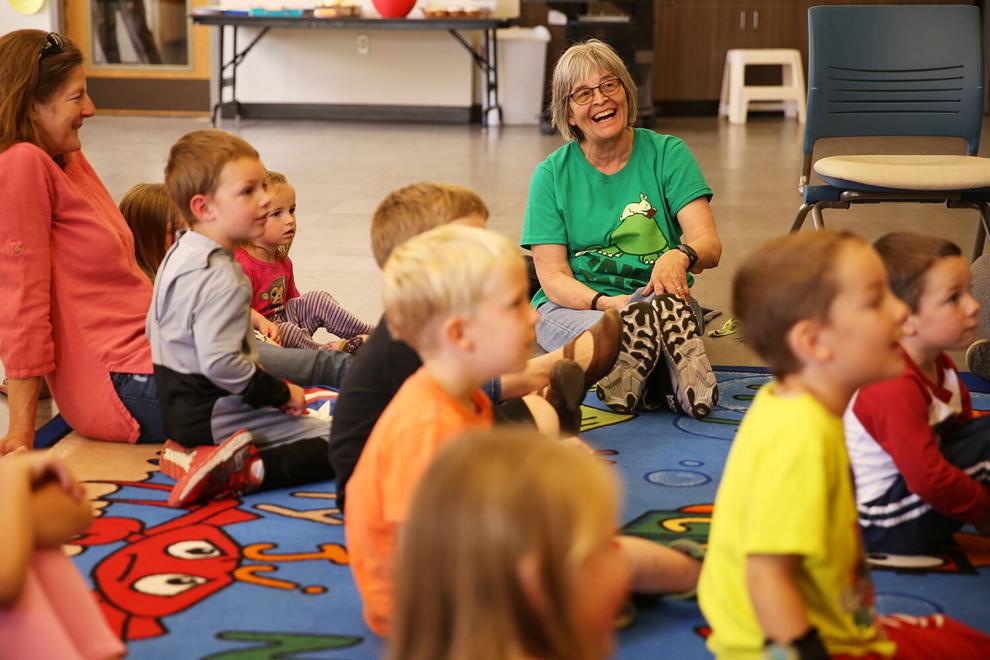 The last of Mary Rhoads' library story hours was no different than the first few hundred she's led.
No fanfare or tears from parents or children, just rapt attention and smiles. Rhoads, Johnson County Library's longtime children's librarian and assistant director, was in the air, on the floor, up and down with the youngsters between stories last Thursday, as always. 
After the crafts and ice cream were cleaned up and chairs were put away, Rhoads smiled as she reflected on her 32-year career at the library, a place she called "one of the most important buildings in town."
"Sometimes you're just so lucky to get a job that you love to do," Rhoads said. "This here was a passion, and a love, and that's why you just kept doing things instead of staying stagnant. You wanted to improve. You wanted to do more. You wanted it to be the best you can make it."
A young Rhoads wandered into the Kaycee Library many years ago, hoping to turn her love of literature into a job. Then-director Barbara Fraley took a chance on her, Rhoads said, and she worked there for five years before a six-month stint with the Wyoming State Library in Cheyenne.  
Soon after, she made her way back to Buffalo to take on the role she's now known for. 
"I don't remember the interview, but I think I told her that I love to read and I'm a hard worker, and I got the job," she said. 
Since then, Rhoads has been at the helm of the library's children's wing, which requires day-to-day work such as buying books and working with patrons, in addition to planning the programs that bring the community through the doors.
To name a few, Rhoads has been involved with Legos at the Library, Reader's Theater, summer reading, book buddies, school visits and, of course, story hour. 
Director Steve Rzasa has worked with Rhoads for roughly 13 years, as partners in planning much of the facility's programming and as a mentee to a trusted adviser in leading the library. 
"It's always a bummer when you are missing somebody who has that kind of institutional memory," Rzasa said. 
Rhoads has seen toddlers she read to years ago grow into adults who bring their own little ones to story hour each Tuesday and Thursday. 
"It's so cool," Rhoads said. "Because then you watch (parents') faces, and it's almost the same. There's that excitement, that interest."
One of those past participants turned parents is Heather Moses, who has brought her children — Anwen, 12, Eira, 9, and Tesni, 5 — to Rhoads for the past 10 years.
Moses said she remembers sitting on the carpet in front of Rhoads as a 3-year-old. Now, she brings Tesni, who is in her last year participating before heading to kindergarten next year. She's thankful that Rhoads didn't choose to retire before her last child was done. 
"(Story hour) would bring back memories," Moses said. "Not all the songs are the same, and the crafts, I don't remember them being that cool. Pinterest has come a long way for people."
Rhoads' final story hour featured two of her favorite reads: "The Wide-Mouthed Frog" by Keith Faulkner and "The Baby Beebee Bird" by Diane Redfield Massie. And, thanks to Pinterest, a science experiment with a water bottle, cut-up straws and paper clips renders her a magician in the eyes of the 13 kids in the group. 
Kelsey Tobiasson has brought her three children to story hour for the past seven years. Rhoads, exuding patience, works with her youngest, Trayben, 3, on the day's craft after the rest of the group has scattered to find books and movies to bring home.
"When I first moved here, I was crazy pregnant with my middle child, and my oldest girl was 18 months," Tobiasson said. "Mary came and sat down on the floor with us and she got out the big books. It was that very first time that I came in and I was like, 'She's going to be my friend whether she wants to or not.' She is just very welcoming and warm and the kids flock to her, because she's lovely."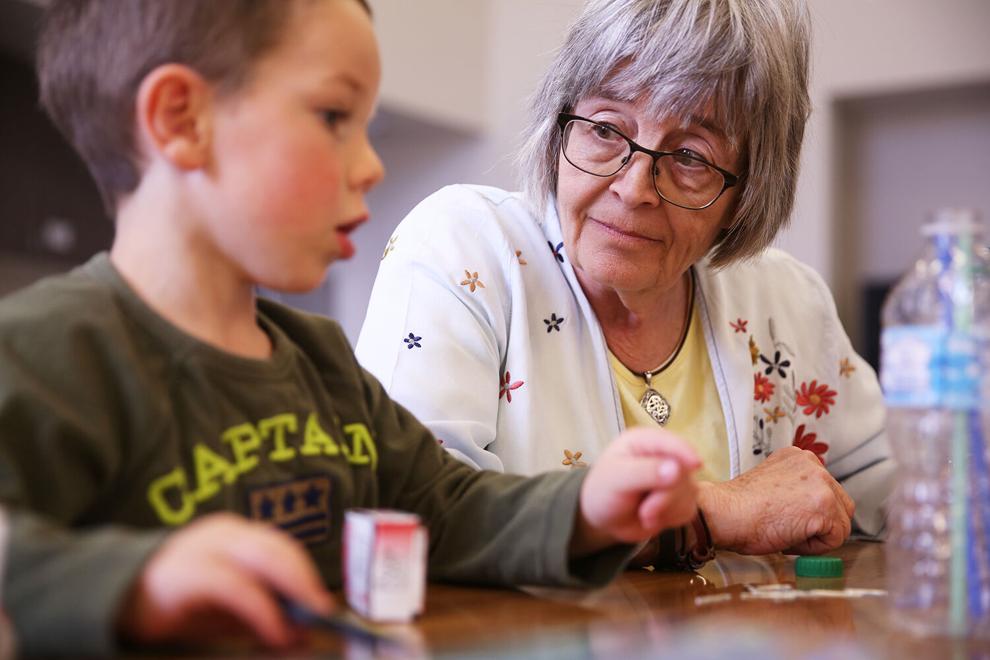 With her retirement from the library, Rhoads will also retire the countless songs and voices she's cultivated through her years working with young people. From roaring lions to high-pitched birds to croaking frogs, she does it all in service of her audience. 
"Mary's always fun," Rzasa said. "She's probably one of the funnest people I've worked with here. She always has fun with all the kids."
Rhoads ended her tenure at the library on June 1, after a surprise story hour hosted by Tobiasson, with the help of other grateful parents, on Rhoads' last Thursday as children's librarian. 
For the first time, Rhoads sat in the audience, surrounded by kids of all ages—from infants to 15-year-olds—and clapped and sang along to songs led by someone else.  A party with snacks, gifts and a binder filled with handwritten thank yous and fond memories.
In a nod to the "Pete the Cat" children's book series, attendees hung a sign congratulating Rhoads, who will soon be "rocking in her retirement shoes." 
During retirement, she hopes to camp and fish in the Bighorn Mountains, work in her yard and spend more time on a recently picked-up hobby – genealogy. 
And she'll spend time at the library. Buffalo artist Lisa Norman, who painted a mural in the children's wing five years ago, will visit the summer reading crew and paint with them at some point.
"I've already volunteered," Rhoads said. "I don't want to miss that. I want to watch those kids paint."
Still, Rhoads will ease her way out of her role, leaving the children's wing and its programs in her colleagues' capable hands, coming back only for new reads and a chat. 
"You think they'll make me use my library card?" Rhoads asked.