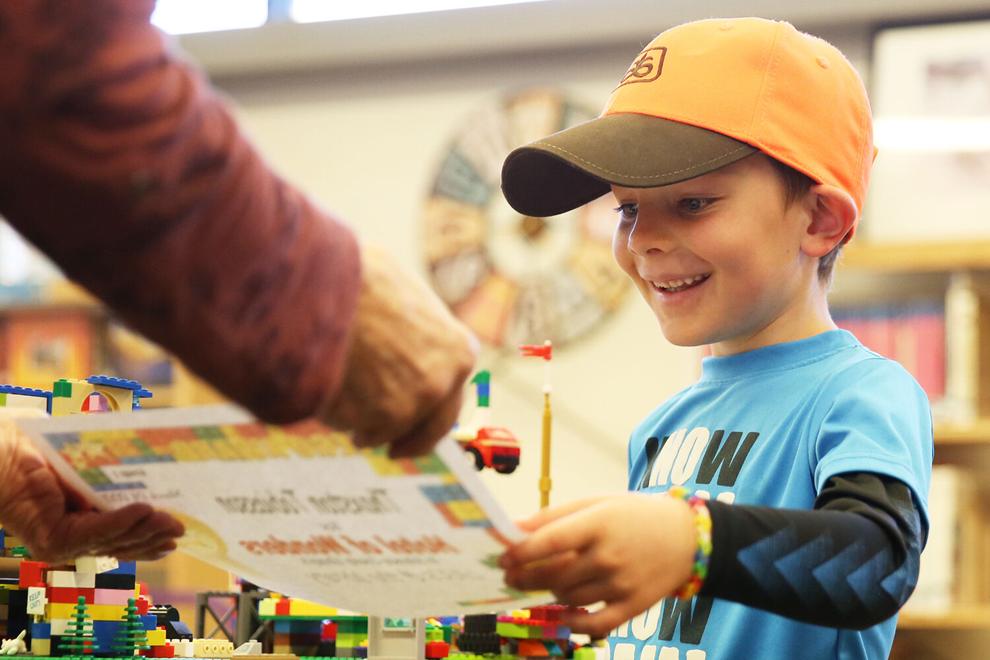 Library holds 10th annual Lego building contest
The children's wing of the Johnson County Library buzzed with excitement last Wednesday, as future engineers and their loved ones browsed the tables filled with Lego creations, waiting to hear if theirs was chosen as a winner. 
Creations are judged by age category, with participants ranging from preschoolers to high school students. The library awards a first-place prize and honorable mention in each age group, and every participant is recognized with a certificate acknowledging something unique about their build.
Still, every Lego fanatic would love to walk away with one of five first-place prizes: a 1,500 piece Lego set. 
A smiling 6-year-old named Thaxston Tobiasson won the preschool category with his creation, "Hotel of Wonders."
"Wonders" is an understatement for the build, which includes a bald Aladdin (his hair piece is currently missing), Buzz Lightyear, a roller coaster, a screen to alert the hotel guests of incoming meteors and his favorite piece, a flying car. 
"I just came up with the idea when I almost gave up building this, but then I just thought a flying car would be nice, so I added it in," he said. 
This unique universe was constructed in just "a couple of days," Tobiasson said. 
Tobiasson and his sister, Preah, 7, share their Lego kits, which is why Preah's scene includes Aladdin's purple magic carpet and his companion, Jasmine. 
Preah Tobiasson, a two-year Legos at the Library participant, built "The Mysterious Garden," a concept that took her roughly three weeks. 
"Sometimes, if I wake up really early, before school, I'll build them while I have time," she said. "I like looking at all of the creations I can make and seeing how much Legos it takes up to build it."
Billy Webber, 13, a four-time Legos at the Library participant, received an honorable mention in the 6th-12th grade category in the form of a king-sized Kit Kat bar for his build, "A Big Rig Hauling a Big Load." An engineering feat, acknowledged Mary Rhoads, assistant director and children's services librarian, the design was different from Webber's past entries. 
Webber said he has a few hundred sets of Legos. The floor of his bedroom, his workspace, is covered with them, according to his mom, Angie. 
"He loves Star Wars movies, and he'll find a vehicle and replicate it on his own," Angie Webber said. "He free-builds it; he gets inspiration that way."
The 10th annual Legos at the Library contest brought in 78 entries this year, the most since its inception. 
Rhoads said she brought the contest to the library in 2011 after researching potential children's programs, and it's now sponsored by the Friends of the Johnson County Library Foundation. Buffalo-based builders in preschool through 12th grade are invited to share their projects with the library.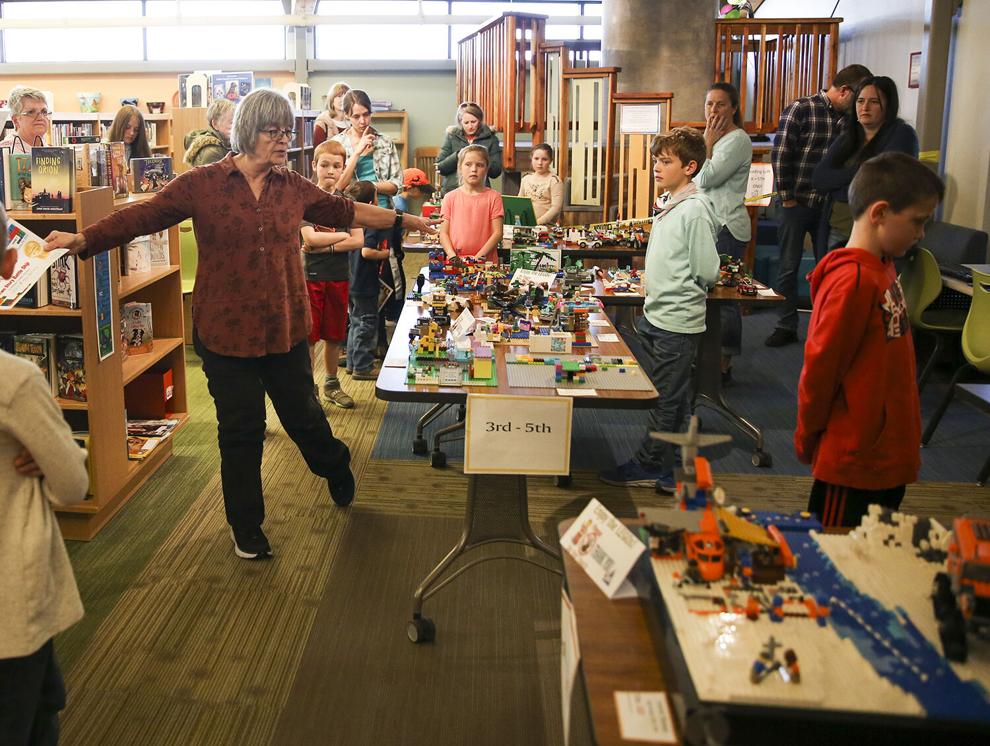 "The builds are all wonderful," Rhoads said. 
Lego-enthusiast and retired doctor Dozier Tabb has judged the contest for the past three years. He said he judges creations based on their originality, function, comprehensive story telling, aesthetics and complexity. The process this year, with so many entrants, took roughly three hours.
"I enjoy things getting built. I used to build models and rockets and a little bit of Legos," Tabb said. "Every year it's neat to be involved and see what's on their minds and what kind of things they idealize." 
As participants carried their creations out of the library, some said they are already thinking ahead to next year. One of the newly crowned Lego building champions is past thinking and intends to get an early start on construction. 
"I think tomorrow," Thaxston Tobiasson said.