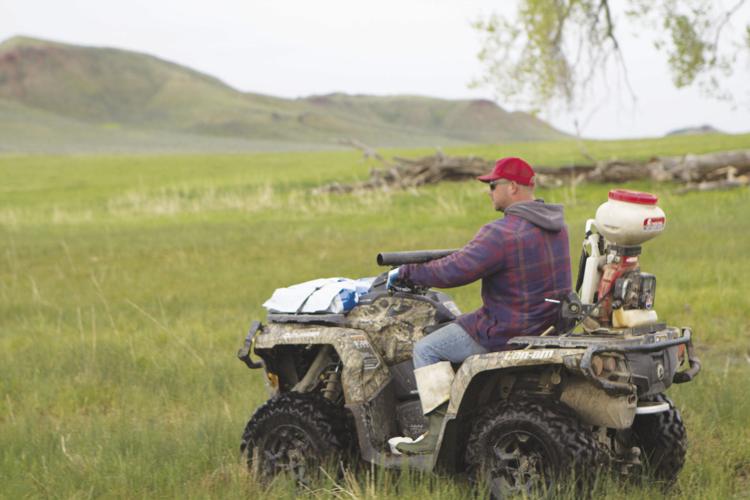 Gov. Mark Gordon this month tasked 32 of Wyoming's scientists, legislators and conservation policy experts with providing recommendations for action on invasive terrestrial species – plants capable of killing livestock, diminishing wildlife habitat and increasing fire risk.
Under the governor's new initiative, the selected group is divided into a policy and technical team. Rod Litzel, a more-than-30-year veteran and the current Johnson County Weed and Pest District supervisor, was named to the technical team. He will be joined by Brian Mealor, another local voice as the director of the University of Wyoming Sheridan Research and Extension Center.
"We're seeing large changes in certain areas of the state. You go from a sagebrush steppe system to a monoculture of cheatgrass," said Joe Budd, a natural resources policy adviser for Gordon, on the initiative's urgency. "We haven't seen that across the board in Wyoming. But it doesn't mean it can't happen"
Gordon has already requested an additional $500,000 for the Wyoming supplemental budget this fiscal year to treat noxious weeds on state lands.
"Our neighboring counties, we work really well together in terms of projects that cross county lines," Litzel said, explaining the challenge of combating an invasion that doesn't respect jurisdictional or property boundaries. "We're always going to have (weeds.) We need to have the goal of, 'How do we best manage that?'"
County concerns
Locally, leafy spurge, a yellow-flowered plant with a toxic milky sap, is one of Litzel's top priorities.
Spurge is particularly harmful to local livestock operations.
   "If you keep having weeds invade and don't control them, pretty soon they take over to the point where (ranchers) can't stock as many cattle, or they don't have the same weight gain," Litzel said.
"You don't get the same (crop) production, and you have to buy more hay. In terms of Johnson County, in particular, we can't appreciate enough the value that the ranching and farming community brings to the local economy. That's what this county is rooted in. The weeds represent a pretty big threat."
Litzel's past experience with leafy spurge showed him the importance of the sort of collaboration he hopes to see come out of the governor's new invasive species teams.
"In the early 2000s, our spurge program had an upheaval of sorts," he said. "Within the county itself, we had a lot of folks that would spray heavy one year and their neighbors weren't doing anything yet. Then, the next year would go vice versa. We just felt like we were constantly chasing our tail, and not gaining any ground."
Three decades of coordinated landowner commitment helped effectively control the weed's spread until this year, when, according to Litzel, "Mother Nature threw us a curveball."
Moisture from a wet spring stacked on top of a wet fall helped more weed seeds germinate, he said, and may have washed away some of the typical residual effects of his spray crew's Tordon herbicide. Weed spread accelerated across the board – Litzel is also watching knapweed, Scotch thistle, white top and tall larkspur, among others – but locally, it was leafy spurge and cheatgrass that really surged.
Cheatgrass is a longtime local invasive, but in recent years other noxious grasses, such as ventenata and medusahead, have appeared in the area. According to Litzel, ventenata is more prevalent in Sheridan County now, but there are 100 or 200 affected acres in Johnson County and, "We're in the crosshairs for it moving south."
Mealor, of the Sheridan Extension Office, said that once invasive grasses take over an area, they can actually make it easier for other weeds to move in.
"There's some indication that once the rangeland system has been impacted sufficiently by an invasive species like cheatgrass, the way that system works starts to change," Mealor said. "It reduces plant species diversity. One of the things that we think is that it also increases susceptibility to other invasive species like ventenata and medusahead. Medusahead may be even more competitive than cheatgrass."
In addition to outcompeting native plants, invasive grasses increase wildfire risk.
"They dry up faster than our native perennials," Mealor said. "People would call them flashy fuels. There's a lot of air kind of in between the stems, and there's not a lot of structure to them."
As invasive species take over the area between native plants, "it increases fuel continuity," he said. "You get a lightning strike, or somebody pulls over on the side of the road with a hot catalytic converter, or flicks out a cigarette. As early as mid-June sometimes, those guys are dried down and ready to burn."
Long-term outlook
The teams' first meeting was canceled last week due to weather, but Budd, the governor's policy adviser, hopes to be able to reschedule it by the end of the month.
"It's really important that we have private, state, federal, all of our different counties, everybody, with at least an understanding of some of those things," Budd said. "Is there a way that we can better coordinate those things and get to where we're not doing kind of patchwork projects and with the mixed ownership in Wyoming?"
Litzel prefers to integrate biological controls along with spraying in his weed management plans, deploying insects or strategic grazing with sheep and goats, which can eat spurge.
"This might solidify some funding potentially, in the future, if this goes the right direction," he said, noting the importance of long-term commitment to the problem. "Weed control of any kind will require constant maintenance."