Local physicians are concerned that many people in Johnson County with mild cold-like symptoms may be unknowingly spreading the coronavirus throughout the community. 
In a Monday press briefing, Dr. Mark Schueler, Johnson County Health Officer, called the seven confirmed cases of the coronavirus in Johnson County, "the tip of the iceberg."
Schueler said that while the healthcare center's testing capacity has increased in recent days thanks in part to the ability to create their own transport medium in the hospital's lab, testing is still very limited and continues to be reserved for the most ill, those with multiple risk factors for complications and those in a residential care center.
"We test almost no one in Johnson County," he said. As of Tuesday, fewer than 20 people had been tested; over 8,000 people live in Johnson County. 
"All we know is that it's here," said Schueler. "We have to assume that in the general population there are many more positives, but we don't know." 
In an email, Johnson County Healthcare Center wrote that the clinic is receiving about 80 calls per day over the typical call volume with questions about COVID-19.
"We triage each call with a provider, (and) let patients know what is their next best step based on their individual case," wrote Marcy Schueler, Johnson County Healthcare Center director of marketing. "We document each call (and) we follow each patient as our providers suggest."
What testing does and does not reveal
As of Tuesday evening, there were seven confirmed positive cases of the coronavirus in the county. To date, none of those who have tested positive in Johnson County have required hospitalization, according to the county's Emergency Operations Center. That's both a blessing and a curse. 
"The people who have had positive tests have had relatively minor illness, like a cold," Schueler said. "That's worrisome in that there are a lot of people who have colds this time of year. I'm concerned there are people with minor symptoms who have COVID virus and are not aware and not worried about it. It's going to sneak up on us if those folks are spreading their germs. Then it's only a matter of time until older, more vulnerable people get sick." 
Even a negative test does not mean the person is not infected or infectious, Schueler said. Research coming out of China indicates that the false-negative rate may be around 30%.
Schueler said that while a test may satisfy a person's curiosity, the results do not change the course of treatment. Most people will be able to recover at home, treating the symptoms of the illness.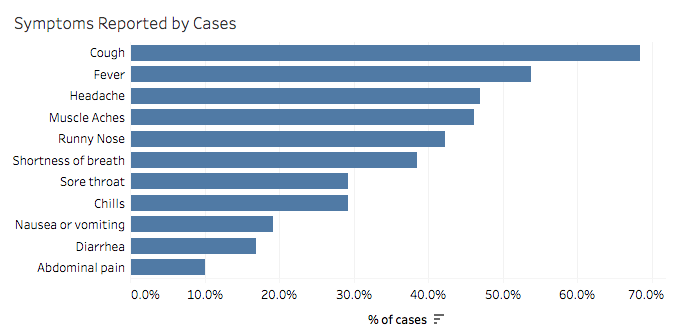 Separately, in a Monday afternoon press briefing, Gov. Mark Gordon and State Health Officer Dr. Alexia Harrist said that testing continues to be limited statewide. As of Tuesday, the Wyoming Public Health Laboratory has conducted 1,563 COVID-19 tests, and the Wyoming Department of Health has received 634 test results from private labs, according to the department's website.
"I think it's important that we speak frankly about testing, and I did so today on the White House call with the President and other governors," Gordon said. "In an ideal situation, we would be able to test every person who presents symptoms consistent with COVID-19. Unfortunately, that is not the situation here or anywhere else in the United States."
In the absence of widely available testing, Harrist said that continued social distancing measures remain the best way of slowing the spread of the virus. 
"All the things that Governor Gordon and I are asking you to do are meant to reduce the number of people sick at one time in Wyoming," Harrist said. 
Last week, Gordon and Harrist extended existing statewide health orders through April 17 to slow community transmission of the coronavirus. Those orders include closing public places including schools, prohibiting gatherings of 10 people or more in a single room or confined space (including outdoors) and closing bars, restaurants, coffee shops and some personal services businesses. Food establishments can continue to provide take out and delivery services. 
Slowing the spread
During the governor's press conference, Dr. David Wheeler, Wyoming Medical Society President, stressed the need to slow the spread of the virus, warning that failure to do so would overwhelm the state's hospitals and medical providers.
"If we flatten the curve now, our hospitals will have more time to prepare," Wheeler said. "If we flatten the curve now, fewer people will be sick at any given time. If we work hard during this time to surge hospital capacity and at the same time slow the spread of the disease, many more of us will make it through to the other end of this."
On Friday, the medical society sent a letter to Gordon calling for a shutdown to slow the spread of the virus.
"We have seen over and over again the horrific effects on other communities that waited too long to enact such policy," Wheeler said Monday. "If we wait until people start to show up in our emergency rooms, gasping for breath, we have waited too, too long. If we do not act now, it is certain that we will use up all of the available resources for health care in our state in just a matter of weeks."
So far, Gordon has resisted the call, saying on Monday that, "Essential businesses need to continue, businesses need to continue, and people need to respect the guidance that we've given."
Locally, Schueler said one concern is the small number of positive test results may lead people to wrongly believe that the virus is not a threat in the community. 
"I think we're getting a little complacent. This is the critical time where we can make a big difference in what the numbers are," he said. He added that the hospital is not equipped or staffed to handle "30 or 40 really sick people at the same time. Hopefully we don't see what an extreme number of critically ill people looks like." 
He added that in the absence of people in the community becoming very ill, he is concerned that people will not remain committed to social distancing. 
Schueler and Wheeler said that Wyoming's peak incidence is likely to be later than the rest of the nation, perhaps as late as May 1. 
"What we're seeing in other places around the world is that it takes something on the order of three to six weeks for the curve to begin to bend towards flattening, meaning that you start to hit your peak of the most number of new cases per day," Wheeler said. "And then there's an additional multiple-week tailoff of this. So we're really looking at continuing social distancing fairly aggressively for the next six weeks or so I would imagine, and then gradually beginning to relax it over the next couple of months after that."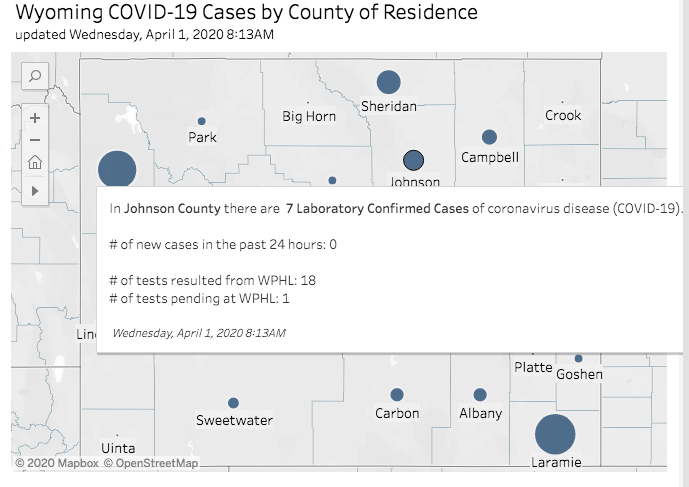 Preparing for a surge
In addition to encouraging social distancing and preventative measures, the Johnson County Healthcare continues to take steps to prepare for a surge in patients, CEO Sean McCallister said. 
One of the major challenges facing hospitals nationwide is a shortage of critical personal protective equipment. McCallister said that through a collaborative effort with Sheridan Memorial Hospital and Campbell County Health, the Johnson County Healthcare Center was able to secure 5,000 each of N95 masks, surgical masks, gowns and gloves via a bulk order.
"This will be a godsend to have these additional supplies," McCallister said.
Still, McCallister acknowledged that because there are so many unknowns, including how many will ultimately contract the virus and how many of those will require hospitalization, the hospital will continue to be conservative in their use of the equipment.
The healthcare center also opened a new COVID evaluation center on Monday. The center allows personnel to screen and evaluate people from their vehicle or in an isolated part of the hospital. 
"If you have questions or concerns, call our clinic first and foremost," McCallister said, adding that the clinical team is using an algorithm to help guide decision-making in terms of care and the right place to get the care. "The reason we're doing that is to protect our team members so when we do have really sick patients here our team can continue to provide care over the long haul."  
'Act like everyone's got it'
Schueler and McCallister joined the chorus of voices, including those of Harrist and Gordon, imploring people to continue to practice social distancing and good hand washing hygiene and to stay home if they are ill, even if they are not ill enough to require medical attention. 
"I think it's important to provide some guidance on what you should do if you're sick," Harrist said. "We know people who are aged 65 and older and people who have medical conditions such as heart disease, lung disease, diabetes and weak immune systems are more likely than others to get severe illness. However, we also know that anyone can get sick and has the potential of having a serious illness, and anyone who is sick can pass it on to others. If you're sick, stay home except to get medical care. Avoid contact with other people and public areas and keep yourself away from other people in your household as much as possible. Stay in touch with your doctor by phone. Your doctor can help determine whether you need to be evaluated further."
Schueler said that people who have symptoms of a cold, even if it's COVID-19, probably don't need to be seen by a care provider.
"You're probably wasting time and money if you enter the system at that point. However, let's assume it's out there, and you have a cold and you're not sick enough to come to the clinic, you should still follow the guidelines as if you have COVID-19."
Schueler said people with symptoms should continue to quarantine at home until their fever is gone for 72 hours and it has been seven days since the symptoms began. 
"Act like everyone's got it and just be diligent," McCallister said. 
"We test almost no one in Johnson County," he said. As of Tuesday, fewer than 20 people had been tested; over 8,000 people live in Johnson County. 
"All we know is that it's here," said Schueler. "We have to