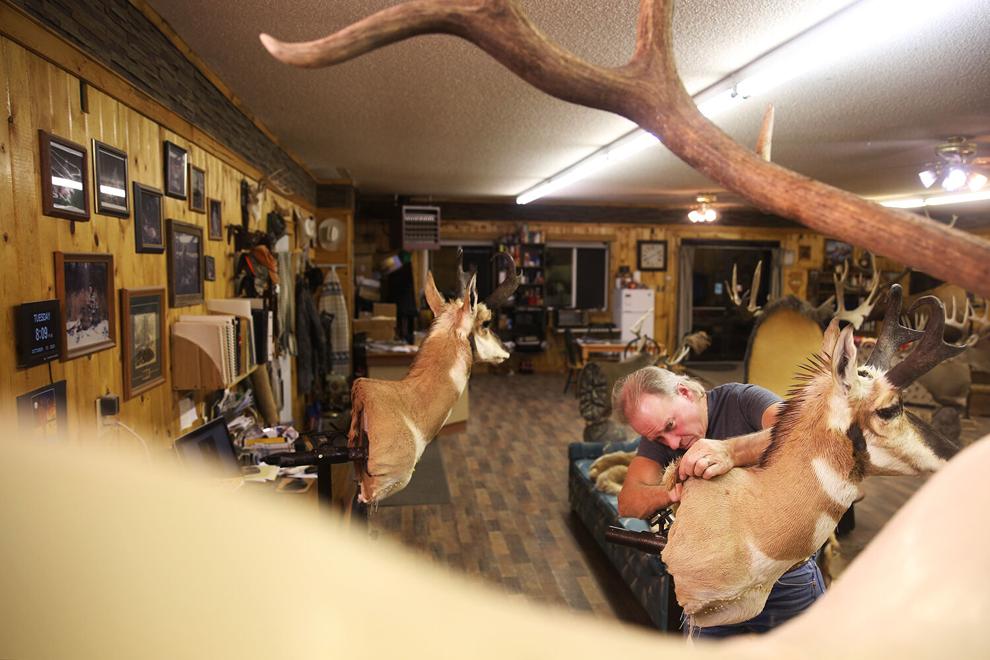 The shelves of Tim Peterson's workshop are lined with an eclectic assortment of tools. Canisters of hair mousse are stacked next to industrial-sized jugs of Gorilla Glue; tiny painter's brushes and jagged saws hang over drawers of glass eyes and plastic tongues.
For Peterson, there's nothing strange about it. These are all part of an average day's work at Hawk Creek Taxidermy.
Peterson's taxidermy education began with a pigeon and ended with a steer's head, the last assignment he had to complete to get his degree. He walked 2 miles to a local plant to fetch a freshly butchered Charolais, dripping blood all the way back to his house as he hauled the 40-pound head behind him.
He boiled out the skull, then re-attached the treated hide to clean bone. That steer head still lives on in ceremonial honor with the American-International Charolais Association, where it is passed with the inauguration of each new president.
A few decades later, Peterson's taxidermy looks quite different from those early attempts.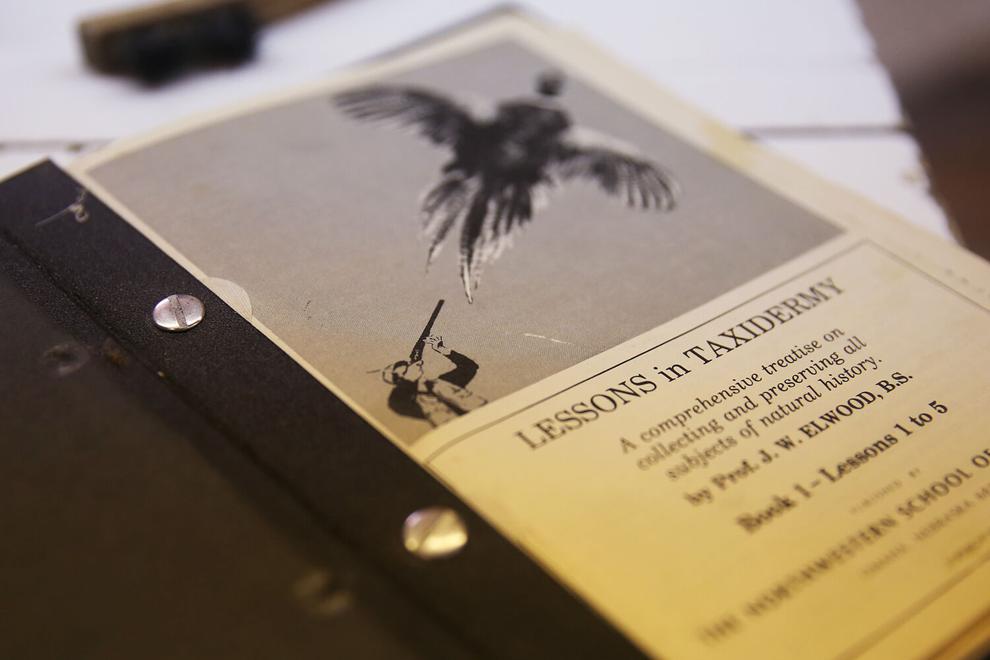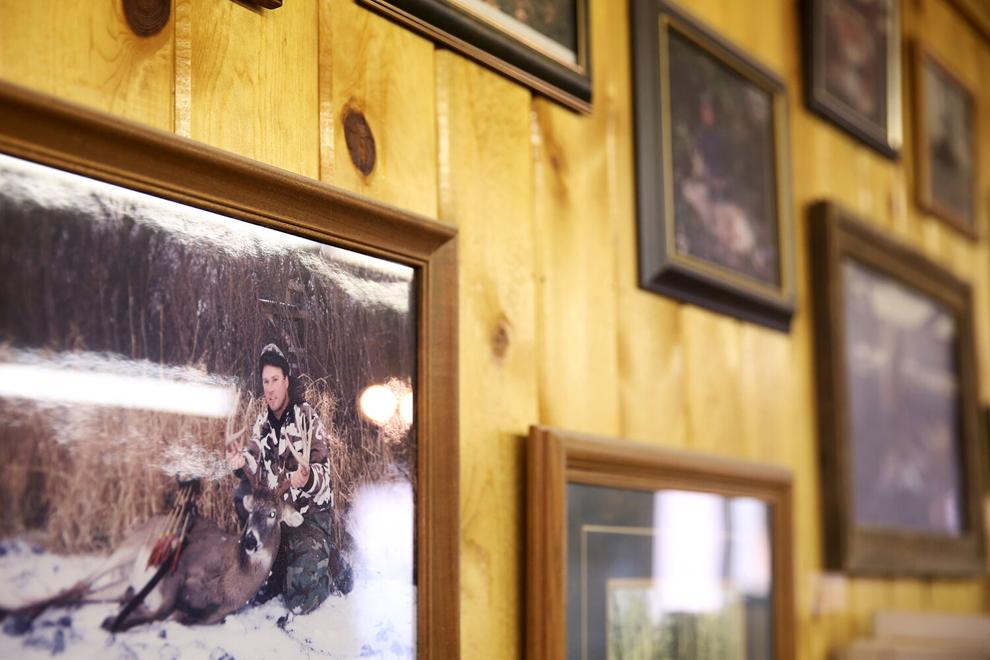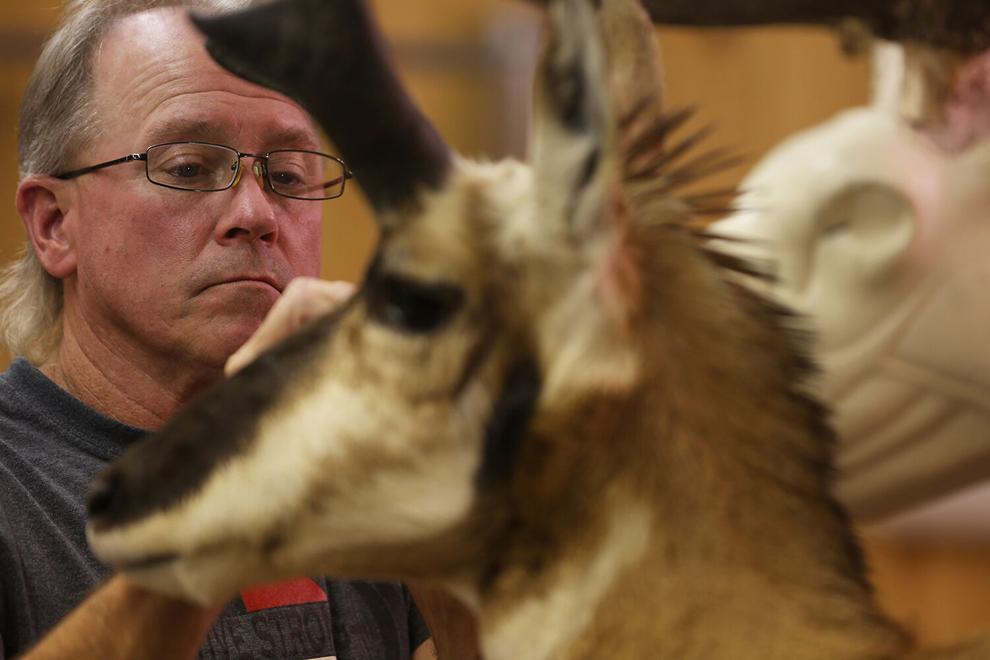 His Kaycee workshop is lined with crouching wolves and leaping white-tailed deer. An elk flares its nostrils; a massive bull moose stands tall, its antlers nearly scraping the ceiling. For the sake of practicality and convenience, these all are made of hides glued to lightweight molds. Most of the bases and antlers are detachable, so that unlike Peterson's first bone-heavy mount, the trophies are portable.
Past the gauntlet of antlers, hooves and plastic fangs sits a closet where the taxidermy process begins. Sent to Kaycee from a tannery in Michigan, hides of everything from caribou to mountain lions to antelope hang in neat rows.
Once a hide is brought out of the closet, it's soaked in salt water and stretched before Peterson pores over the skin, sewing bullet holes or cut marks and massaging hair mousse into the fur until it shines. Then the hide is carefully draped over a glue-slathered mold.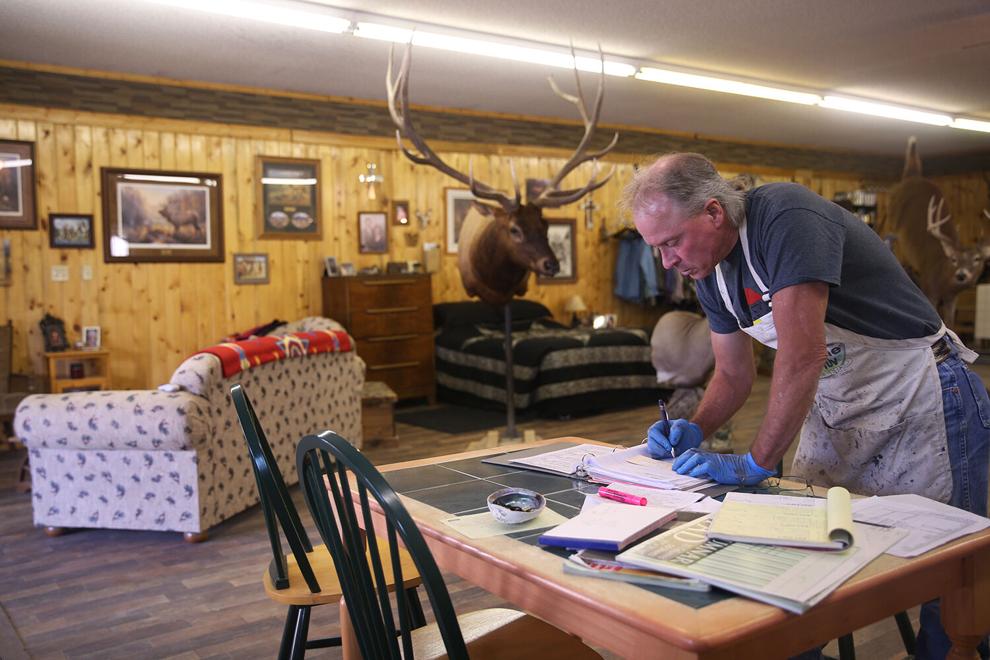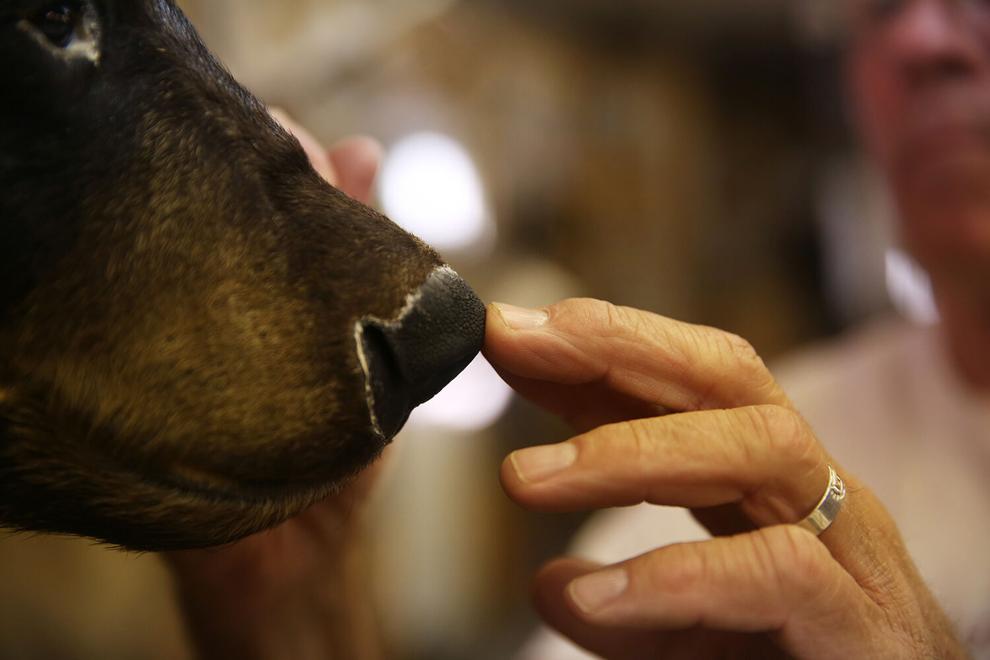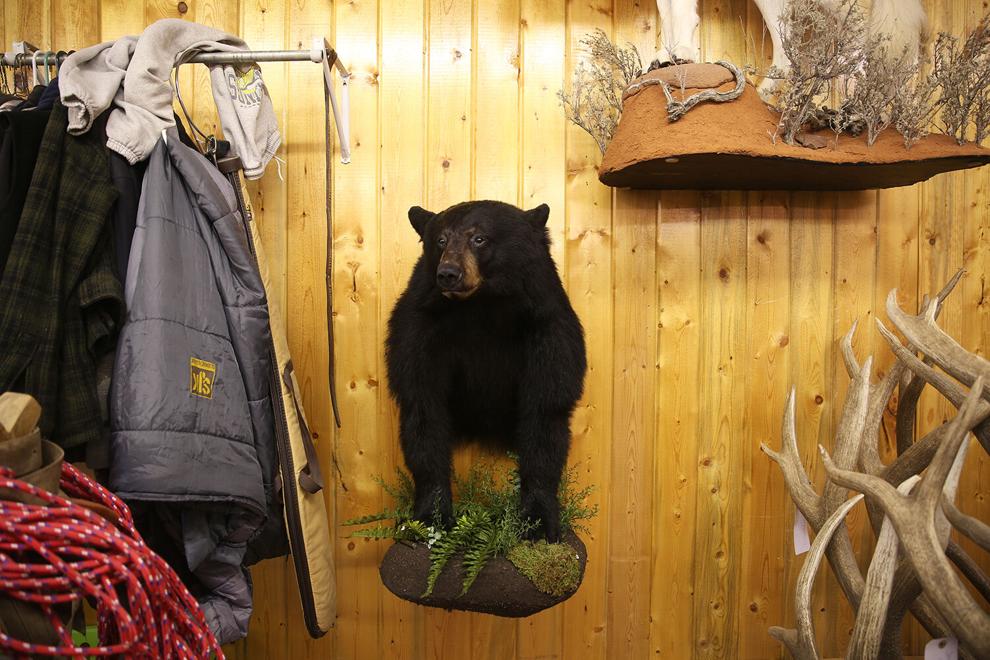 Detail work on each animal can take hours. Peterson carefully ruffles the fur along the neck and hunching shoulders to simulate the way live skin moves over muscle. He cuts slices of plastic out of an old coffee lid and traces delicate veins into the canthus of the staring glass eye.
Sometimes, damage to the hide requires improvisation on Peterson's part. One bobcat hide was sent back from the tannery with all of its whiskers missing from one side.
Peterson was stumped. Then he noticed that his then-wife's housecat had the same color whiskers.
"I took it to the shop, and I carefully cut the whiskers all off the side," Peterson said. "Then I took (the bobcat) and poked a hole and just slipped them in there. … It worked. You'd never even know it."
Unique commissions require unique solutions. North American porcupines have around 30,000 barbed quills bristling on their backs, more than a few of which ended up embedded in Peterson's hands after one particularly prickly taxidermy.
"I hope I never do another one," Peterson said. "I was cussing. I can't count how many times I was bleeding from them."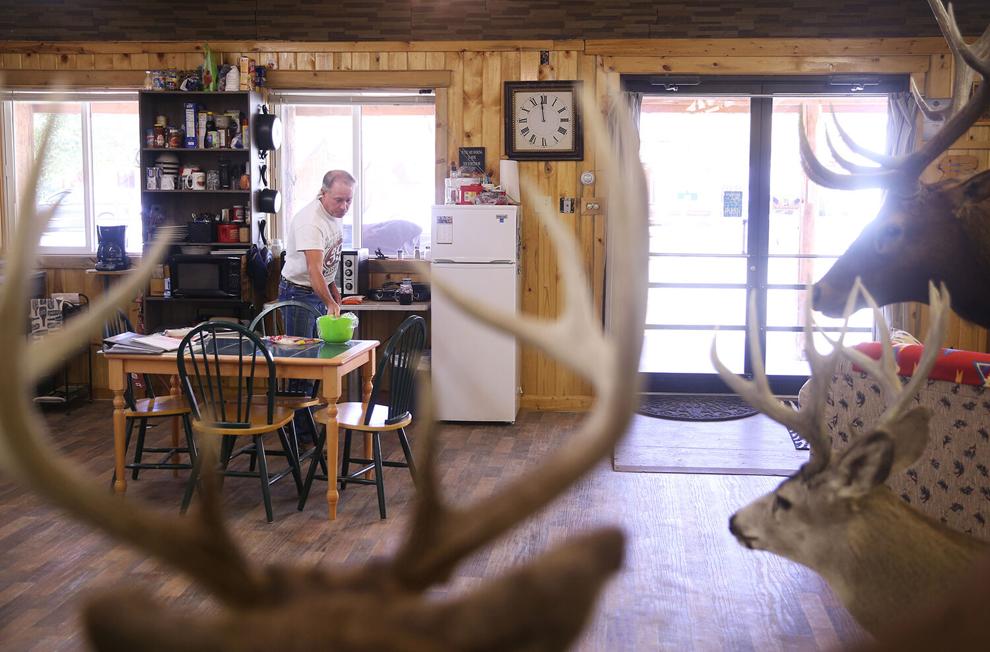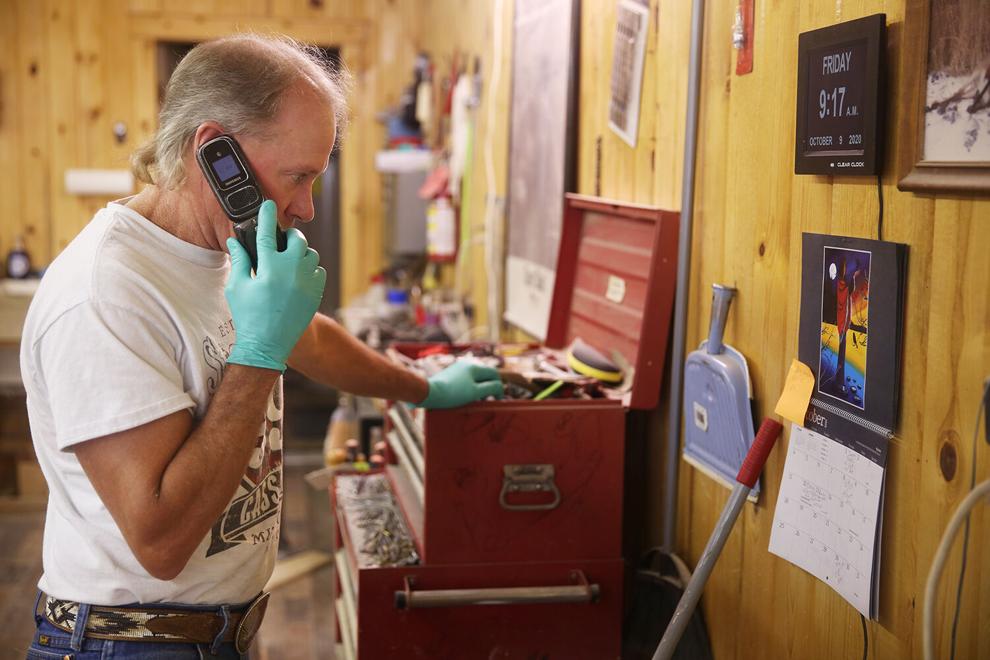 The list of animals Peterson has immortalized gets even stranger once it extends outside North America. One client sent Peterson the hide of a giraffe from a hunting trip in Africa.
The animal was massive, standing at over 12 feet from its hooves to its ossicones, the tufted cartilage jutting from its forehead like horns. It was too tall to stand in Peterson's workshop, so he created the mold in parts, painstakingly poring over every detail from its tail to its eyelashes with only Google Images as a reference.
He planned on putting together the finished product outside of his client's house. Then, disaster struck in the form of a snowstorm.
"We had a blizzard," Peterson said. "So I hauled it in, and the first time I put it together was at his house. I was nervous. But I was pretty positive it was all going to work out."
Peterson sticks to mostly hunting trophies. Occasionally, he will hand-paint a trout mold, scale by scale, at a fisherman's request. But he stays away from housepets. They would require a custom-made mold, which would make the taxidermy's price point skyrocket. He generally directs interested clients to a company that will gut and freeze-dry the animal instead.
"I try to talk people out of it, because if they had a dog for 15 years and it's like their kid, then you know that dog really well," Peterson. "Whoever does this dog, it's not going to have the same expression."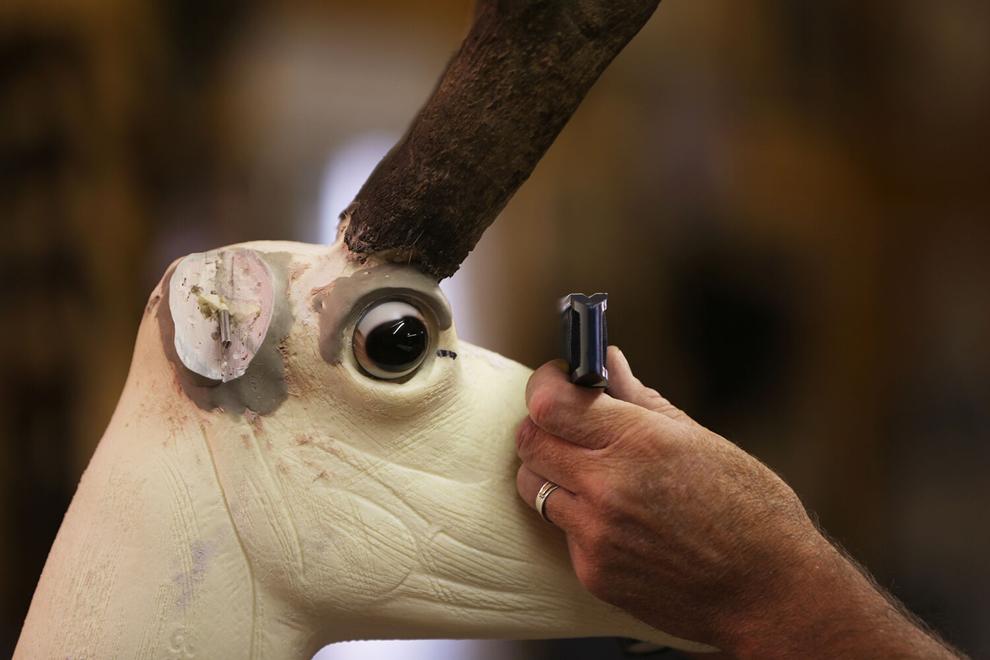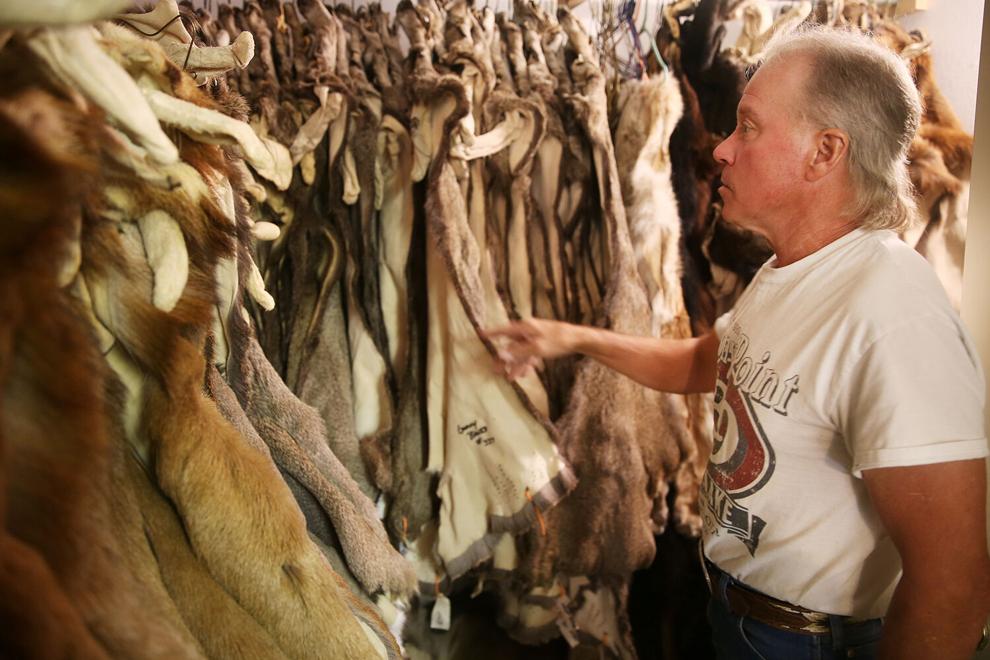 Most of Peterson's commissions come from out-of-state hunters who bring in the white-tailed deer or antelope they shoot on hunting trips. At times, they'll request a more complicated tableau, like a litter of coyote pups peeping out of a den or a wolf closing its jaws around the haunch of a squealing musk ox.
For lifelike recreations of such scenes, it helps to have a lifetime of experience prowling through the backwoods of the American Midwest. After growing up hunting in Minnesota, Peterson came to Wyoming to guide hunting expeditions through the Bighorn Mountains before returning to taxidermy full time. 
Usually, Peterson tells clients to expect a turnaround time of about 10 to 14 months on each order. But the pandemic closed the tannery Peterson uses for two and a half months this spring, creating a backlog of hides ready to be stretched and mounted. That means Peterson has even less time to do what he truly loves: walking up through the mountains with a bow in his hand and a quiver on his back.
"I've been hunting since I was a little kid," Peterson said. "It definitely tweaked my interest in doing this …, but it kind of takes a lot of time away from my hunting nowadays."