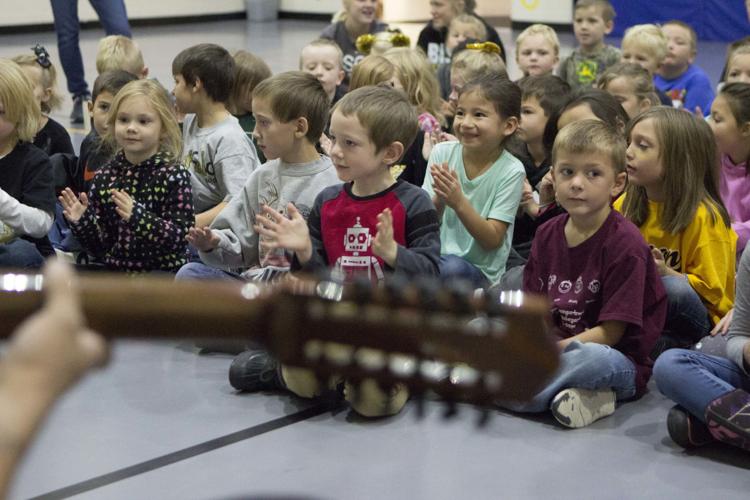 Johnson County School Board trustees voted 7-1 Monday night to adopt a 4.5-day week calendar for the 2020-21 school year.
The move comes nearly 10 months after Superintendent Jim Wagner solicited community input on whether the school should adopt an alternative calendar. What followed were months of discussion, a number of community meetings and work by a calendar committee composed of school representatives, board representatives and community members.
The calendar is notably different from the calendar the schools have operated on in the recent past. Buffalo schools will dismiss at 1 p.m. every Friday during the 2020-21 calendar. School will start Aug. 24 – three days later than this year. The last day of school for Buffalo students is slated for May 28, 2021, baring the necessity of making up snow days.
The changes, according to Wagner, were driven by a desire to ensure that Buffalo High School students are in classrooms, with teachers more.
"When I got here, the first thing I heard about from staff, parents and community members was that Fridays were a wasted day at the high school," Wagner said. "Just a free for all. The question to ask if that is the case, is what are you doing to make it more meaningful? Or continue to do what we're currently doing which is nothing. We talked about what's going to best for kids. And what kind of calendar is it going to look like in order to make things happen that can be more meaningful for the kids."
Board Trustee Dave Belus, who voted against the calendar, said that if the move to a 4.5-day was just for BHS "it'd be a no-brainer for me, but it's not."
Citing statistics that 87% of middle school activities occur on Tuesdays or Thursdays, Belus questioned the wisdom of dismissing kids early on Fridays.
Wagner said there was no possible calendar option that would address the middle school activities schedule. Belus asked whether the middle school could utilize the free Friday afternoons to schedule its activities, but board member Jodi Verplanke said that was unlikely due to a shortage of referees and officials.
Trustee Mary McCorkle said that middle school students who participate in activities must be academically eligible to do so, and she was not concerned with middle school kids missing school.
"Their grades are where they have to be to leave early that day," McCorkle said. "Those kids that are leaving are eligible."
Per Wyoming High School Activities Association Rules, BHS students must also be academically eligible to participate in activities.
Even with the change, Principal Craig Anderson said the schools still exceed both the state-mandated minimum number of instructional days and hours.
"It's not a whole day, it's not six hours, it's 2.5 hours," McCorkle said.
Trustee Mike Moon said that the half-day is a benefit for "the good kids."
Citing a number of interventions and alternative programs offered for at-risk students, Moon said the change would be a benefit to the "good kids" who might miss fewer classes on Friday.
"If the kids who are the better students who are in those activities are gone every Friday afternoon all year long, there's a possibility that an upper-level math student or upper-level science student or person like that would miss 36 contact periods with the teacher," he said. "I look at this as a way to kind of mitigate that a little bit, and put the good teachers in front of the good kids. Maybe give the good kids a break for a change."
In the current academic calendar, there are 28 student days on Fridays. The 2020-21 calendar has many fewer Fridays off. Under the current school year calendar, students and staff have five Fridays off that are not associated with a break like Christmas or Thanksgiving. Students have two additional Fridays and two Mondays off for staff in-service. The new calendar includes one Friday that there is no school for staff or students – March 12, the weekend of the 3A basketball tournament. The calendar also includes three staff-only days.
Wagner said that Friday afternoons would be utilized for professional development, thereby reducing the need to build those days into the calendar.
When the calendar committee recommended the calendar to the board during the board's Sept. 23 meeting, McCorkle said it was the intention of the committee to adopt a 4.5-day calendar for both 2020-21 and 2021-22 school years. However, the board only approved the 2020-21 calendar Monday night.
With the adoption of the calendar, questions remain, including transportation, whether the district will offer afterschool programming on Fridays for elementary school children, how Fridays will be structured in each building, and what the district policy will be for weather-related late-starts on Fridays, among others.
"We've got to make sure that we don't put the cart before the horse," Wagner said, "because there's a hell of a lot of things that have to be figured out if I know what calendar we're doing in order to move forward."