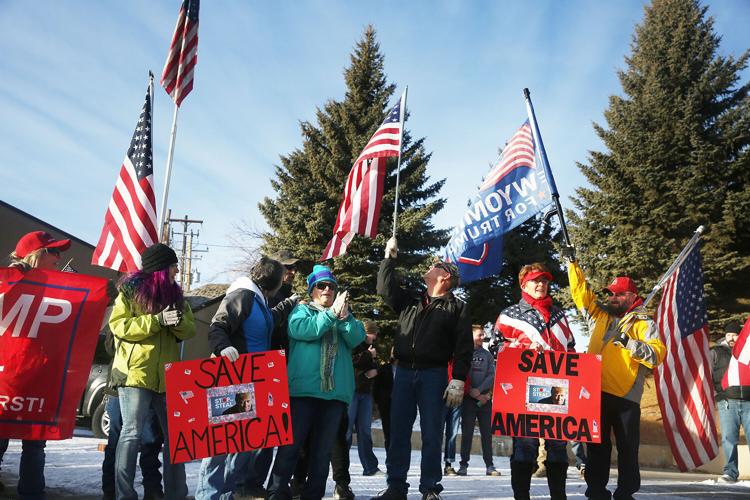 More than 75 people gathered beneath a flagpole on Main Street in Buffalo on Jan. 6 to express their support for President Donald Trump.
As the U.S. Congress prepared to certify the electoral votes that would affirm Joe Biden's victory in the 2020 presidential election, pro-Trump supporters gathered in communities and at state capitols across the country. The president has continued to cite unsubstantiated allegations of voter fraud.
Mark Russell, of Story, organized the Buffalo gathering. The day before the event, Russell said a protest was not his goal.
"Basically, it's just an opportunity for like-minded people, pro-Trump people, to come together and just support each other and, you know, have some community," he said. "I'm saying that we support Trump either way, and we're here no matter what."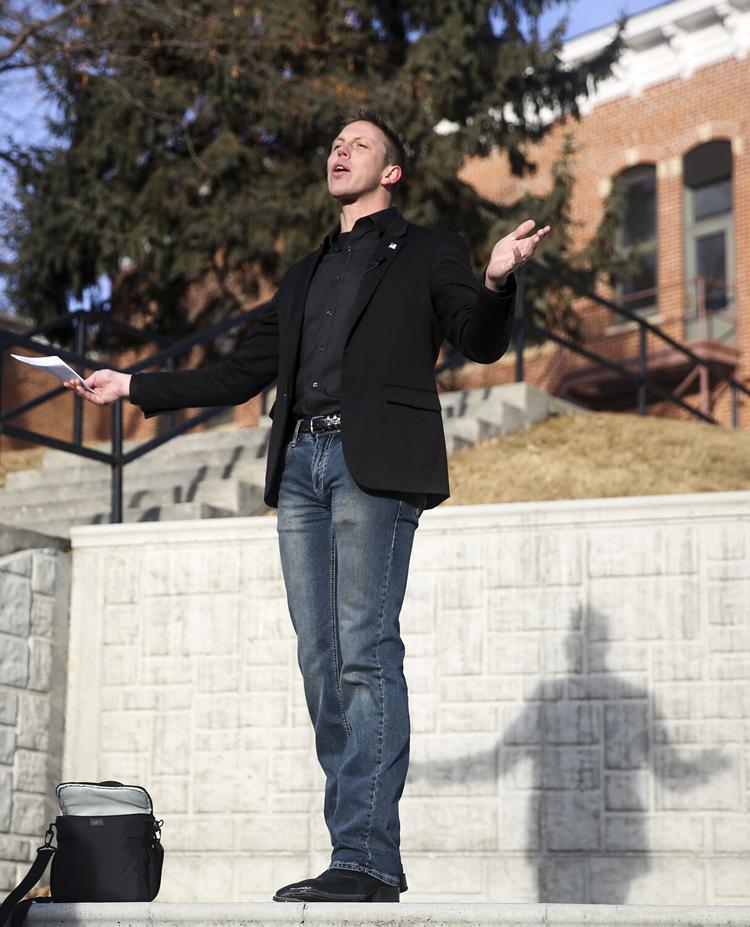 The next morning, wearing a black blazer with an American-flag lapel pin and standing atop a cement block by the courthouse stairs, Russell raised his fist in time to the crowd's chants of "Stop the steal!" as he began his speech.
Steven Rogers, who arrived with family members and a dog wearing a red-white-and-blue bandana around its neck, said the gathering was "the last stand for freedom."
Candee Read said the election was "very fraudulent." More than a dozen of the children, parents and grandparents in attendance carried American flags, as well as various banners promoting Trump or the Second Amendment.
The peaceful event stood in contrast with a mob of violent protestors who later that day overtook the Capitol building in Washington, D.C., forcing an evacuation of the Senate and House and leading to the death of five people, including a Capitol Hill police officer, according to national news reports.
Reached that afternoon, Russell said he did not want his gathering associated with the events in Washington.
"It's not something we're a part of," he said. "It's hard for me to see it no matter who it is. I don't like seeing it."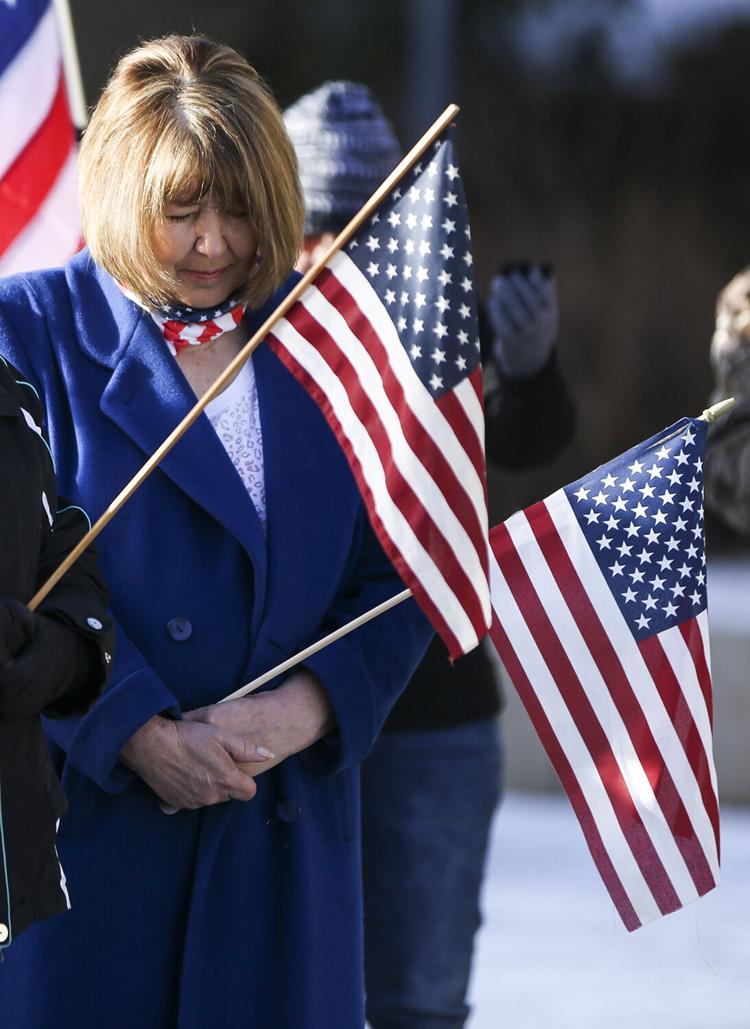 Wyoming's congressional delegation, Rep. Liz Cheney and Sens. John Barrasso and Cynthia Lummis, unanimously condemned the violence.
In a speech to protesters earlier in the day, Trump called Cheney "weak" and encouraged supporters to find challengers for Republicans he views as insufficiently loyal.
"The Liz Cheneys of the world, we have to get rid of them," the president said.
Ahead of the Jan. 6 vote, Lummis was part of a group of 13 senators who, citing concerns about election integrity that have been repeatedly dismissed in roughly 60 court cases across the country, pledged to object to election results in a handful of states won by Biden. Following the violence at the Capitol, Lummis, along with 92 other senators, rejected a challenge to results in Arizona, but Lummis still voted in support of a challenge to Pennsylvania's results.
Those gathered in Buffalo railed against the media and "big tech" firms, citing the need to find more reliable ways to communicate with one another.
"The media is not our friend right now," Russell said to the crowd, calling for a strong grassroots movement.
Facebook removed multiple "Stop the Steal"-themed groups in the wake of Wednesday's event amid criticism, including from the company's early investor and adviser, Roger McNamee, that the social media websites held some responsibility for allowing hate speech and disinformation that may have led to the violence.
"With a click of a button, (Facebook CEO Mark) Zuckerberg can shut us down," Russell told the group.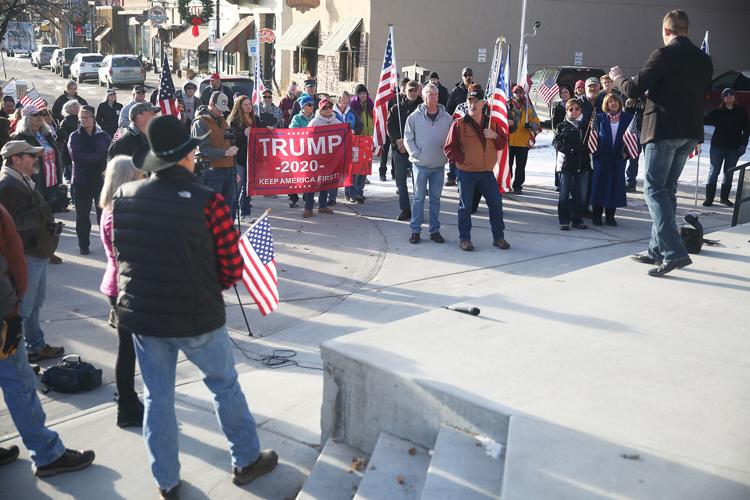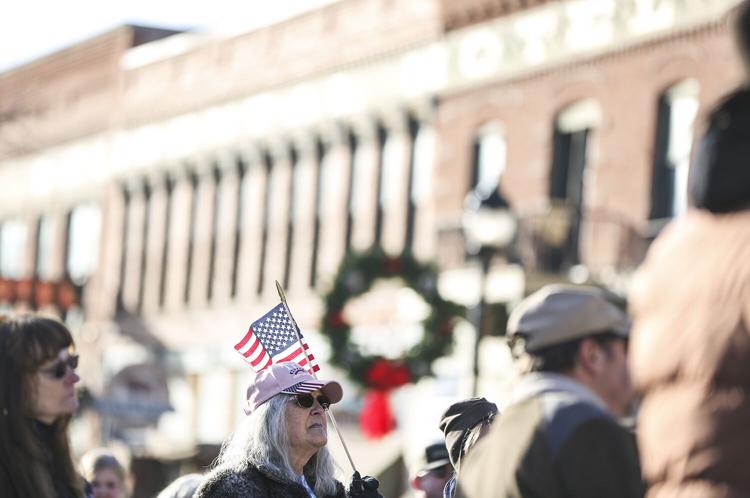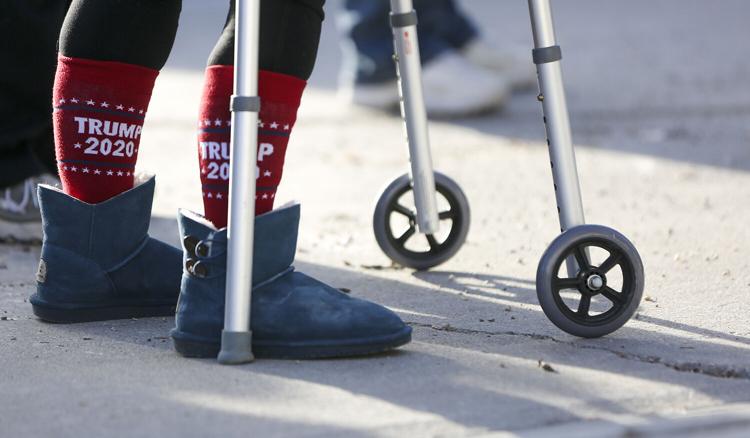 Rogers said the work of media fact-checkers and what he called "censors" is "bull crap." He said he no longer relied on Fox News because he believes it has slid increasingly to the left. He now relies on Newsmax and OAN, because, he said, "They haven't given me a reason not to trust them."
"You used to be able to know that right was gonna win out, but it's not so clear," said Connie Wheeler. "There used to be right and wrong, and now there's, it's not just clear."
In a speech to the group, after chants of "We support Trump," faded away, Russell spoke on what he called "12 steps to change America." Many of those steps involved prayer, political action and community building.
"President Trump has a lot of responsibility," Russell said, concluding his speech with a prayer. "Please give him the courage, the strength and the ability to do what is right."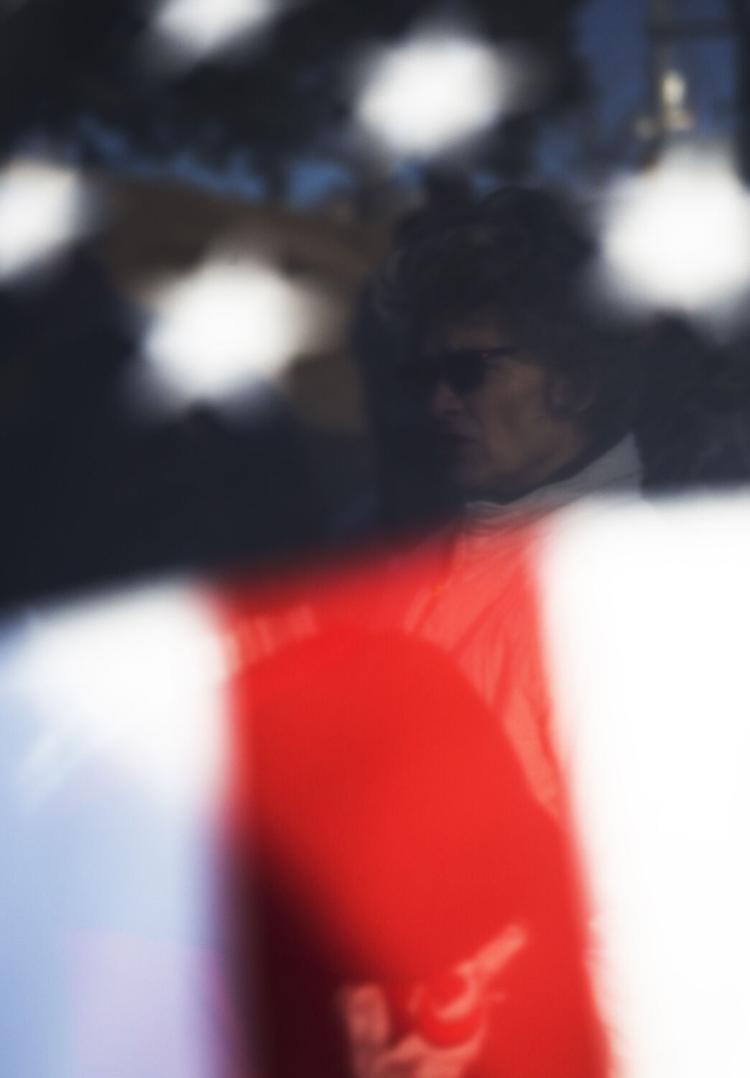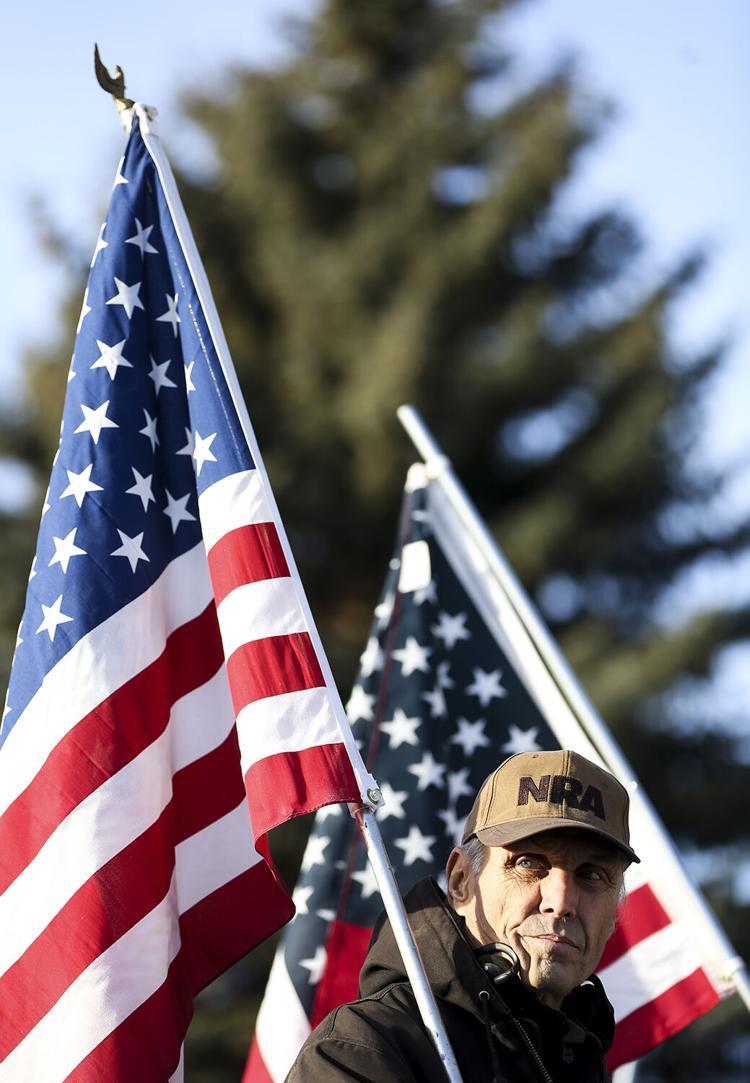 During his remarks, Russell said there is only "one truth." In an interview after the speech, he clarified that his definition of truth "was based largely on biblical principles."
"I listen to all sides," he said. "A lot of people are just like, 'I'm just gonna listen to Fox.' I listen to everybody. I listen to MSNBC, ABC, all this stuff, I listen to. I think it's good. You have to understand where people are coming from."
"There's thousands of reasons why I'm here today," Read said as the crowd dispersed. "I'm here for my family. For my grandson that is only 2. He's got to grow up in whatever we leave behind.
"I know I'm right," she added. "That is my personal opinion. And there's nobody that's gonna change it. Either way, whichever way, whether I'm a Democrat or Republican, I know what I believe. And I'm going to let my beliefs be known."