In 1987, "The Simpsons" first aired on television, the first criminal conviction by the use of DNA evidence took place, President Ronald Reagan gave his historic speech at the Berlin Wall urging Soviet leader Mikhail Gorbachev to "tear down this wall," and Paul Rickett began working at The Dash Inn.
Back then, he was 4 foot 10 inches tall, weighing in at 100 pounds. He doesn't remember his first day, but he remembers that he was an instant fit. He not only got along with owners Larry and Pati Bettinger, but they accepted him like family. During slow hours, Larry threw a football with Paul.
"It was a lot of fun back in those days," Paul said. "Larry and Pati were always easy to talk to. We just did our job and hung out. We even talked to them about personal issues that we had That meant a lot to everybody."
Thirty-two years later, Paul and his wife Chris have purchased The Dash Inn.
The beginning
Affectionately shortened to "The Dash" by Buffalo residents, the restaurant opened in 1967.
Larry's father, Don Bettinger, was with Shell Oil Company and living in Buffalo. When a transfer came down that would move Bettinger and his family to Montana or Louisiana, he made a life-changing decision.
"He looked around and decided Buffalo needed a restaurant," Larry said. "He built himself a little place up on Fort Street where the Buffalo Computer store is at now."
The name "The Dash Inn" was taken from a location in Sterling, Colorado, where Larry was born.
The Bettingers worked to create a friendly family restaurant. Larry's mom, affectionately known as Bert, would give away ice cream cones on hot summer days and was the heart and soul of the operation, Larry said.
Larry grew up and fell in love with the game of golf. He earned the chance of a lifetime – to be an assistant golf pro under Bill Poirot.
"My parents were struggling with the restaurant," Larry said. "I just decided I would pick my parents over doing that."
Larry went to work with his parents and as time went on, he knew he would be forced to make a difficult decision – pursue his love of golf or truly dive into the restaurant business.
In 1981, tragedy hit when Larry's brother-in-law, Dennis Albright, a pilot in the U.S. Air Force, died when his plane went down. Larry's sister, Gayle Albright, returned to Buffalo to be with family.
"We were all in a panic of what to do with our lives," Larry said. "So after six years of my sister being here, me, my sister and Pati decided to come together and buy this."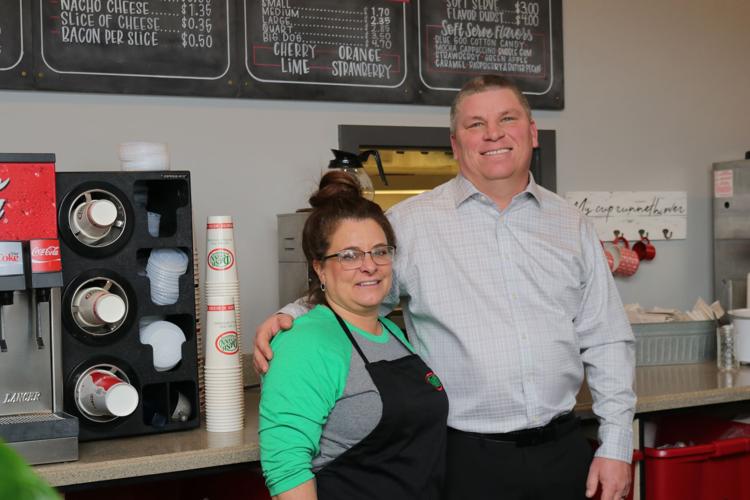 All in the family
They liked the name, but Larry wanted to relocate to a spot with higher traffic.
"I decided to stick with The Dash Inn and just move on that way," Larry said. "So I came out here and cold called Dick Reimann. He owned this property. It was a gas station."
Larry wrote an offer in a letter and Reimann accepted. Larry drew up the plans for the new restaurant himself and hired Geoff Speiring to construct the building.
"And eventually, we turned it into a restaurant," Larry said.
Larry's high school sweetheart, Pati, had quit her job at a bank and was home raising two children. When the time was right, she jumped in.
Gayle was pivotal in establishing the workforce of the restaurant. She managed employees and excelled at customers service. The Dash Inn wouldn't have been successful without her knowledge of people and service, Larry said.   
As Larry, Pati and Gayle began to operate the new restaurant, Larry's parents took over as caretakers of the children.
"It was a good switch out," Larry said. "They got to enjoy the kids while we worked."
Restaurant hours are grueling and the work is repetitious. Owning a restaurant is even more difficult, Larry said.
The three family members worked hard, many times working long into the night, going to bed only to get little sleep, waking up and returning to the restaurant after a shower.
The family watched as franchise after franchise moved into Buffalo – fast food joints with big names and deep pockets, but Larry and Pati knew that their hard work would pay off.
The three of them ran the restaurant with an attention to detail. They took a "hands on" approach to management, Pati said.
"It scares you," Larry said. "When McDonald's moved in I was scared to death."
Gayle retired from the restaurant seven years ago. One of her many duties was handling issues and creating a schedule for employees. Larry admits that Pati managed the employees better than he did.
"You got to keep your employees accountable," Larry said. "It's never ending. Pati was great with the help; I'm not so great. But I knew what needed to be done and what needed to be said to people."
But Pati's favorite job is cooking on the grill, so when she was ready, Pati placed their daughter Cheryl in charge of the employees.
A new era
After more than three decades, countless burgers and meals served, Larry and Pati are ready for a different adventure and feel it's time to pass the spatula.
The Bettingers were ready to retire. But leaving a Buffalo institution in the hands of a stranger was not something they were willing to do. So Larry called Paul.
No longer 4 foot 10 inches high or a 100 pounds, Paul had become successful working for 20 years with U.S. Foods, a food distribution company.
"Larry came to me in June," Paul said. "He called me on the phone and asked me about it."
But Paul wasn't sure if it was something he wanted to do. Returning home that evening he spoke with his wife, Chris.
"She said we're doing it," Paul laughed.
The desire to work for herself fueled Chris' dreams and when the offer came in the form of owning and operating The Dash Inn, she wanted to jump at the chance.
"I didn't want to do it," Paul said. "I've watched how hard Larry and Pati have worked for 20 years."
But Paul understood Chris' drive and saw a chance to help her with her dream and they purchased the restaurant on Jan. 1, 2019.
The two are learning how to operate and manage the establishment from the team that has made it successful for the past five decades.
"I wanted it to be a happy place," Chris said. "It's the same Dash Inn, it's just had a facelift."
Larry and Pati will remain on through the summer to help Paul and Chris adapt to their new careers, working hard to remain consistent and dedicated to the people of Buffalo, Paul said.
"If we can get to half of what they've done, we'll be lucky," Paul said.   
There's a lot to learn, Paul said. But there will be no changes as far as the menu is concerned.
"That was never the plan," Paul said. "We want to do the best that we can customer service wise, just like they did. Take care of the customer. That's what it's all about and we don't want to change a thing."
Chris and Paul are planning and preparing for the rush of the summer season while simultaneously learning the intricacies of running a restaurant, something Paul said they couldn't do without Larry and Pati.
"They've gone above and beyond as far as I'm concerned," Paul said. "They could sell this place and walk away. They chose not to do that because they want to make sure that we can make it too. They don't have to do that, and they are. It's amazing."