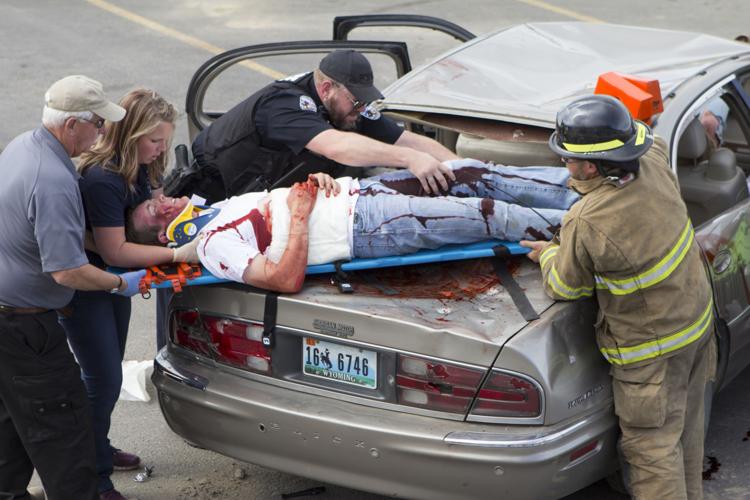 "This is just a drill," the dispatcher says over the Buffalo High School loud speaker, but that is small comfort.
This doesn't look like a drill. It doesn't feel like a drill.
In drills, you do not hear your friends scream and cry. In drills, you cannot see the flashing of sirens. In drills, you cannot touch the casket of a classmate gone too soon.
So, yes, this is just a drill. But it is also much more. This is Freshman Impact.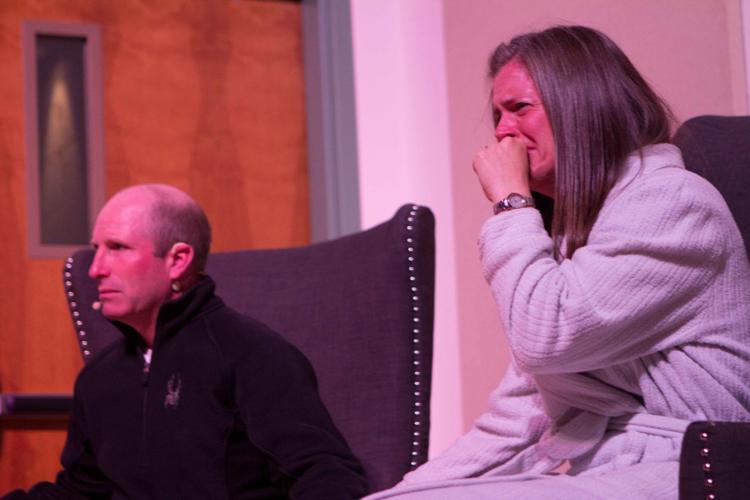 ~
This is just a knock on the door from an old friend.
Dr. Blaine Ruby has known County Coroner Dave Harness for years, so his face is not unexpected. But when Dave asks Blaine and his wife, Adri, to sit down, they suspect that something is wrong. When the priest and the state trooper come in, they know it is.
"There was a terrible accident tonight, guys," Harness said. "Your son Rowen was injured very seriously. He didn't make it. Rowen is dead. I'm so sorry."
Adri starts crying. This is all part a skit designed to show freshmen high schoolers the consequences of bad choices, but the tears are authentic. In the moment, it feels real.
"I didn't know how I would react," Adri said after the skit. "That's not something I practiced. … That was raw emotion."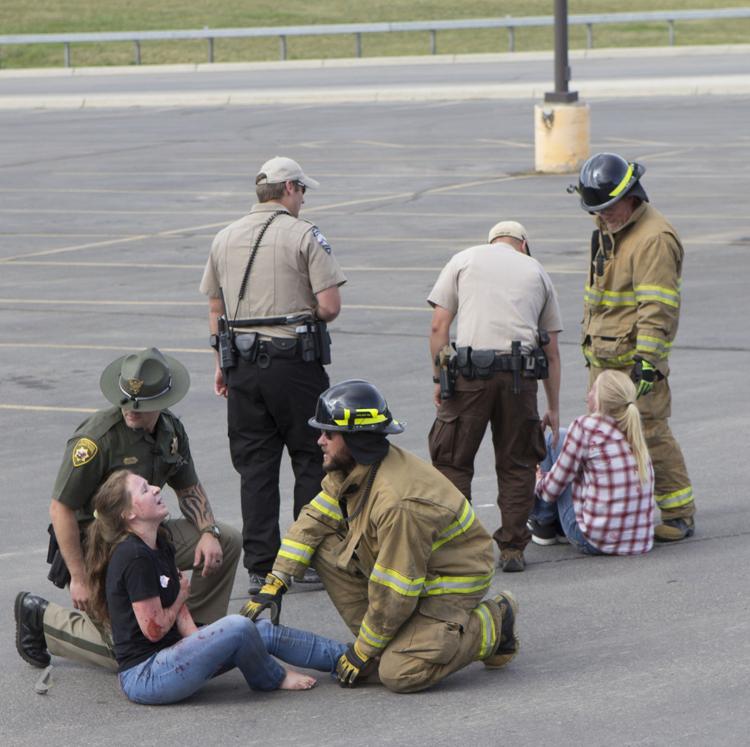 ~
This is just a trial – Judge William Edelman said he has five trials just like this pending in Sheridan and Johnson counties.
Senior Holly Qualm is on trial for Rowen's death and for injuries she caused to three other classmates who got into her car after a fateful night when Holly had too much to drink and smoke.
During the mock trial, Qualm's defense attorney asks for leniency. She's a good kid, the attorney argues. She's never done anything like this before.
But Judge Edelman gives Qualm seven to 10 years in prison, followed by another 10 years of supervised probation. She will also have to pay restitution to the Rubys and the other families affected by the accident
"I am hopeful, Miss Qualm, that this sentence will in some small part cause others in your situation to think twice before making some of the serious poor judgments that you did that night," Edelman said.
While the trial isn't real, the sentence often is. Edelman said he imposed a similar sentence in a DUI case recently in Sheridan. After the sentencing, Edelman said that he hoped these very real consequences made an impact on the students present.
"I just hope that this drove home for all of you how quickly your lives can take a horrible turn and become a tragedy," Edelman said. "It's clear when Holly and the kids go to the lake, nobody's planning that it's going to end that way. It just does. So always try to think about what's the worst thing that can happen and is it worth taking that risk."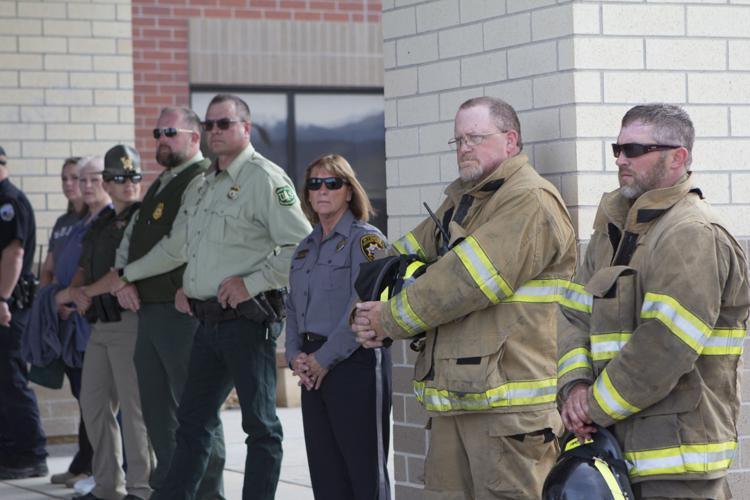 ~
This is just string and toilet paper and glue. This is not actual blood – not an actual wound, BHS senior Jacqueline Stowe says.
But it looks real. And the whole scenario feels real – even to those who acted in it.
"You think going into this, 'Oh, I'll be fine,'" said Anson Turner who portrayed a victim in the crash scene. "Everybody knows it's fake, but it feels so real. When you're laying on that table (gurney) and you're strapped in and your head is locked in and you can't move, there is something surreal about that. And getting loaded into that ambulance … that is not a place you would want to end up."
"I've seen this skit a couple times now, and it's easy to walk by it and understand what's happening and move on," said Kate Norman who also portrayed a crash victim. "But the minute it's you with your best friends on the ground dying, there's a switch that flips and you can't forget it. I would just encourage you guys to not make that wrong move and not put yourself in that kind of situation because you're never going to be the same."
Rowen Ruby said that he hoped attendees of the program learned about the impact of their choices. But he also hoped that they left with one simple message: "Your life matters."
"Having your parents up there reading and crying … It changes your view on life," Rowen said. "I just want you guys to know that there are people out there who love you. They care about you. And it's your responsibility to be there for them and to not make those bad choices because you're their whole world. Your life is not just your own. It also belongs to the people you love."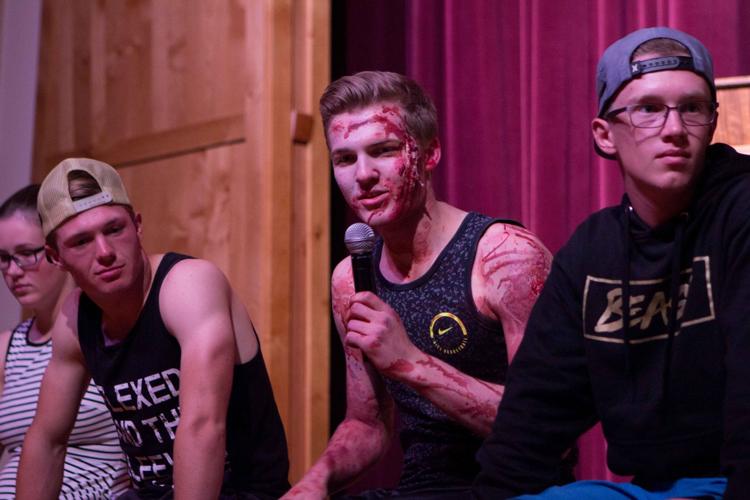 ~
This is just a procession of students – all actors in the skit and crash scene – into the Buffalo High School auditorium.
But for Adri Ruby, it is more than that. It is the first time she can see her son again.
As soon as she locks eyes with Rowen, she walks up to him and gives him a hug. She holds him close – hoping and praying that she will never have to let him go.