One of Amanda Kaufmann's earliest memories is of a small horse.
"We had a little pony we all rode. She was little enough, little kids could ride her," Kaufmann recalled. "That's where it all started."
The "it" is a life that revolves around horses, 4-H and the Johnson County Fair. For more than four decades – since her kids were old enough to join – Kaufmann has led the 4-H equine programs in the county, sharing her love of horses and riding with multiple generations.
Kaufmann will be honored for that service this year. When the annual Johnson County Fair and Rodeo parade kicks off at 10 a.m. Saturday, she'll be at the head of a pack of riders leading the parade through town as 2019 grand marshal.
Kaufmann's selection as grand marshal was the work of two 4-H members, junior leaders Karina Bassett and Jordi Knudson, who embraced the idea as a junior leadership project. The pair – riding students of Kaufmann's – have reached out to other 4-H horse project participants, past and present, to organize a group who will ride with her in front of the parade.
"They asked me first," Kaufmann said. "How do you turn down two kids you've worked with, that are willing to put the effort into it? I was honored to do that.
"We'd talked about riding in the parade last year anyway," she said. "They thought this would be a good idea – they'd put me up for sacrifice."
In addition to 45 years as the horse project leader for the county, Kaufmann has been superintendent of the fair horse shows for many years. She doesn't remember exactly how many, she admitted, but she does have scores of memories.
When she first started as the horse project leader, the program attracted 10 or 12 young riders each year. That changed about five years ago. Numbers started to increase, Kaufmann said, because she and her helpers – Desira Light, Leesa Belus and Chris Bloomgren – changed the way they were doing things.
At a July 15 practice, for example, about 20 horses and riders came out to practice a variety of different disciplines associated with the horse competitions. Kaufmann credits her helpers with making the job easier.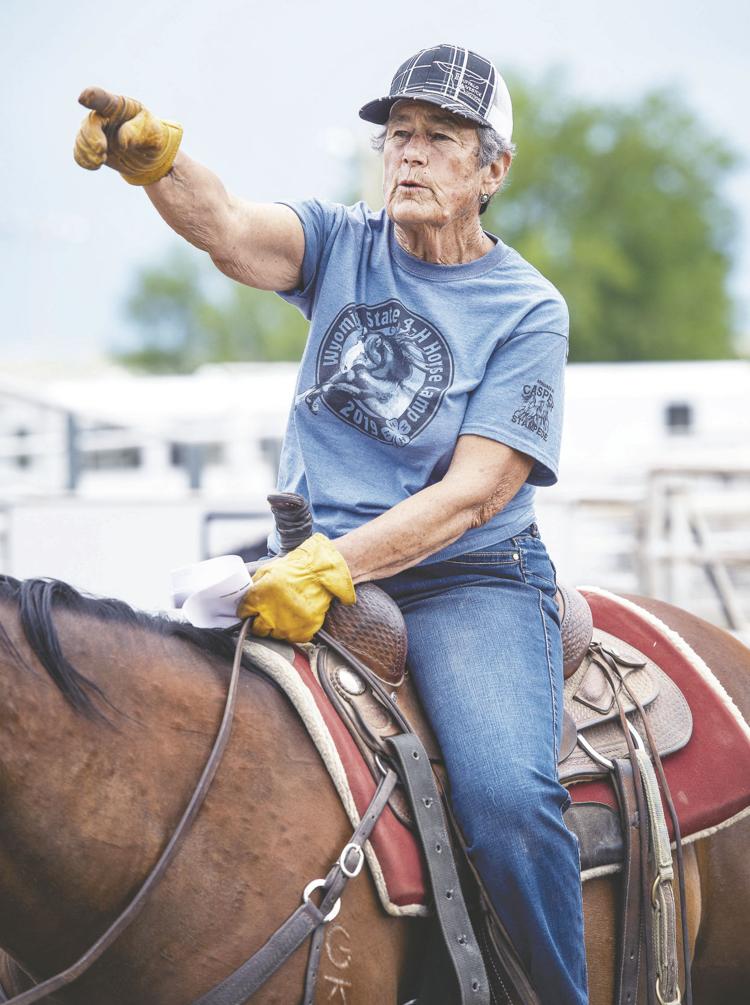 But the riding practices are just part of the story. March through May of each year, while schools are still in session, the equine program group meets in a classroom after the school day is over. They learn about horses; then after school is out for the year, the riding lessons begin.
But it's not all about riding. Kaufmann has several young people who come to the classroom sessions but don't own horses. These youth – who simply have a desire to learn about horses – end up exhibiting a static display at the county fair featuring what they learned.
"They just want to learn," Kaufmann said. "Kids love horses."
Kaufmann started in 4-H as soon as she was old enough to join. But she's been around horses probably since she was 2 years old, she said. She got her love of horses from her mother, Bay Schiffer, who taught her to ride, and her dad, Ken, who raised thoroughbreds and was a polo player.
"My parents both rode, and they grew up showing horses," Kaufmann said. "I rode in my first parade when I was probably 5 – in Sheridan. It's just always been a part of my life."
Sharing that love with younger riders is what keeps Kaufmann coming back, she said. But seeing a young person who may be struggling with their horse succeed is what makes it exciting and satisfying.
"I could give multiple examples – kids at different levels of riding skills will hit a roadblock," Kaufman said. "They won't be able to do something with their horse and, all of a sudden, everything starts to work.
"I had a girl years ago whose oldest daughter is now in our group," she said. "She couldn't get the right lead, she worked a long time, really struggled. Eventually, she taught the horse to do what she wanted it to do. Those are the things you remember."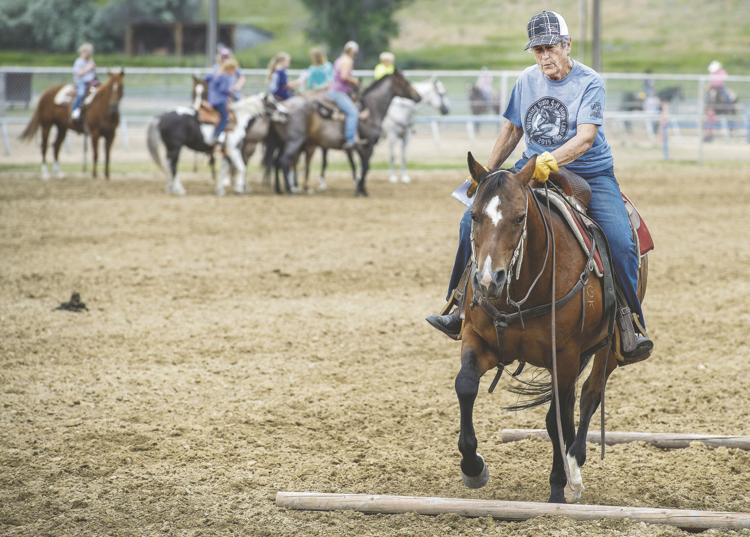 Over the years, Kaufmann has partnered with many horses. Today, she's riding a young quarter horse gelding named Turtle, who she said is very well trained and serves as a great example for her students.
"When you have a horse like that, the kids see that," she said. "They can see what the possibilities are with their own horse."
While being named grand marshal is an honor, Kaufmann said it's not all about her. And the thought that two junior leaders would come up with the idea themselves, to Kaufmann, is what 4-H is all about.
"That's all part of 4-H – youth development," she said. "Not only doing a project, but learning responsibility, how to be part of a group, how to be leaders.
"The whole point of this parade thing is – it's more about the kids than it is about me," Kaufmann said. "The kids – that's the heart of the 4-H program."