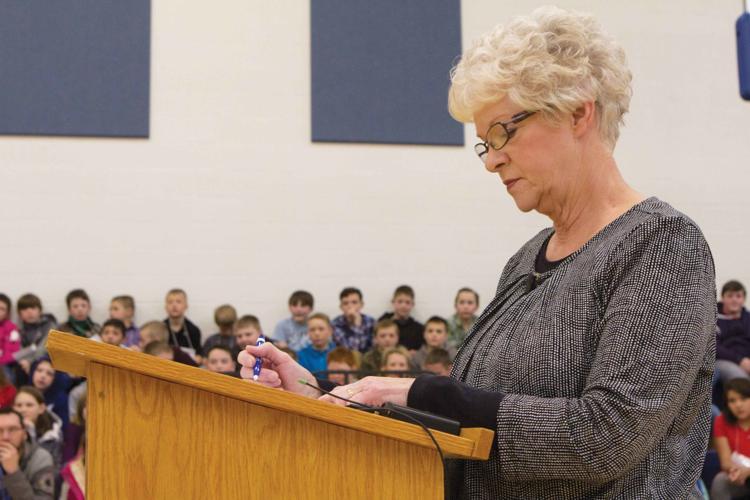 "Words are important," Susie Berry says.
If anybody knows this truth, Berry does.
As a teacher of various language arts classes at Buffalo High School for 25 years, Berry lived and breathed words – teaching them and reading them and writing them.
While Berry retired from the high school in 2002, words still follow her everywhere she goes.
From "scratched" to "writhing" to "salutation" to "antecedents," a seemingly endless parade of words marched off of Berry's tongue the morning of Feb. 21.
"The word is 'garrison,' meaning a military post," Berry pronounced slowly and steadily for eighth-grader Teila Peters. "Colonel Madison searched through the garrison for the missing ammunition. Garrison."
"Garrison," Peters said. "G-A-R-R-I-S-O-N. Garrison."
"Correct," Berry said, as a slight smile crossed her lips.
Another job well done.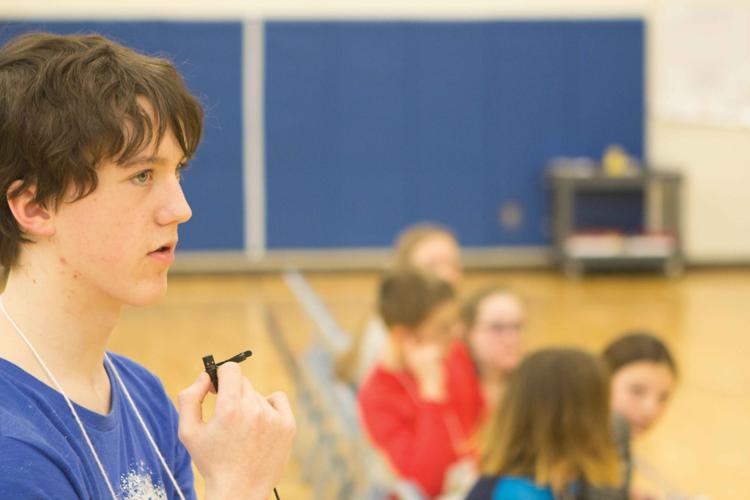 For nearly a decade, Berry has volunteered as the pronouncer at the Johnson County Spelling Bee. Berry said she sees it as a privilege and a community service opportunity to share her love of words with the next generation of students.
"I taught a variety of language arts classes at Buffalo High School from 1977 to 2002, so my entire professional career focused on words in one way or another," Berry said. "When (Clear Creek Middle School language arts teacher) Mr. (Mike) Scarlett asked if I would like to help with the spelling bee, I was more than happy to get involved."
At face value, the pronouncer's job is easy – pronounce the word, provide a definition, use the word in a sentence and pronounce the word again. But a lot of work goes into ensuring that every student has the best chance to win, Berry said.
"Prior to the spelling bee oral competition, I study the words by reviewing the definitions and modifying or simplifying if necessary so the definition doesn't confuse the speller," Berry said. "If any of the sentences are too long or too wordy, I modify or shorten them. I try to make each speller's word as clear and concise as possible so each one has the best opportunity to spell correctly."
Berry pronounced 96 words for 20 third- through eighth-graders through the seven oral rounds of competition held in the CCMS gym on Feb. 21. Of those students, eighth-grader Nate Rzasa emerged triumphant, winning with a correct spelling of "antecedents." Eighth-grader Teila Peters and sixth-grader Grace McCorkle took second and third place, respectively.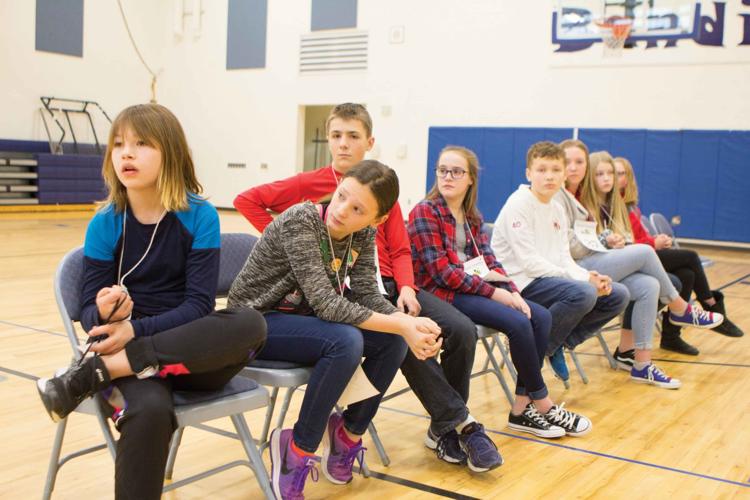 While Berry said she is always happy for the winners, she also feels the spelling bee is a valuable experience for all involved.
"Words are important," Berry said. "I'm afraid that computers and texts and Twitter and Facebook have all damaged peoples' spelling, so emphasizing correct spelling is a valuable endeavor."
Rzasa, Peters and McCorkle will represent Johnson County at the Wyoming State Spelling Bee. The bee will be held in Rock Springs on March 23.