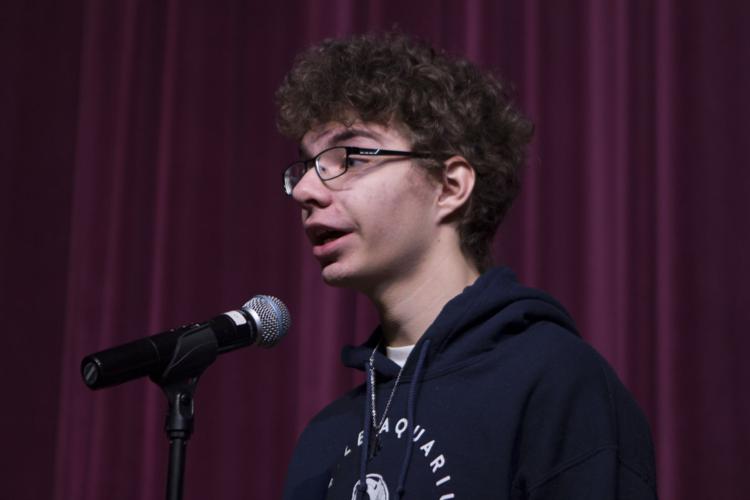 Poetry has an unexpected power that sneaks up on you when you least expect it.
It snuck up on Buffalo High School junior Logan Rubottom as he was reciting "Every Single Day," a poem by John Straley, during the annual Poetry Out Loud competition at Buffalo High School on Feb. 5.
"I think every piece of writing is a story that needs to be told, but certain pieces are made for certain people," Rubottom said. "With 'Every Single Day,' I feel that poem, and I can relate to it to a certain extent. When I feel love, I can be a mushy and romantic person, and I feel like that comes through in the poem."
Poetry Out Loud is a national recitation competition where students memorize and recite poems from a list of more than 900.
In his first year competing in Poetry Out Loud, Rubottom took first place in a field of nine BHS students. Rubottom will travel on March 2 to the state competition at Laramie State Community College.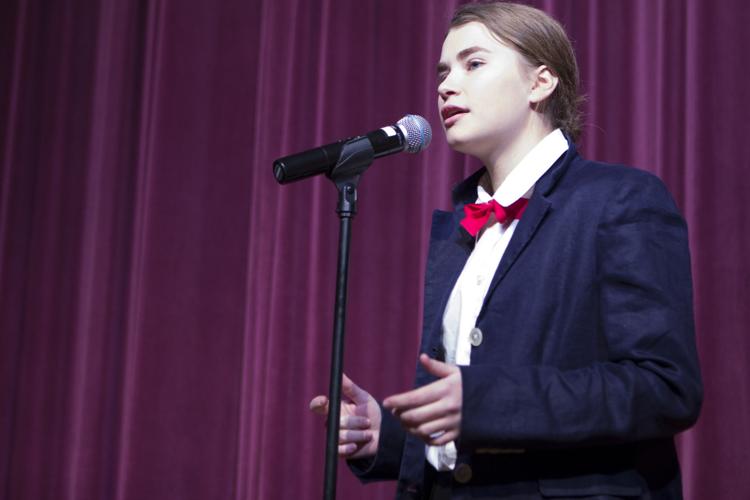 "I've been in speech and debate for a couple years, so I am pretty used to performing in classrooms with just one judge and four kids," Rubottom said. "It was a little weird doing it on a stage with a microphone, but by the time I recited my second poem, I had kind of gotten into a rhythm."
Community members Kelsey McDonnell and Tracey Ostheimer judged students on their physical presence, voice and articulation, dramatic appropriateness, evidence of understanding and overall performance, according to McDonnell. Rubottom's connection to both his poems – 'Every Single Day' and 'Our Nature' by Rae Armantrout – was evident in his performance, McDonnell said.
"As far as accuracy, he just nailed it with both poems," McDonnell said. "His stage presence and performance was spot on. He was very calm and did a good job with inflection and dramatics. He really was just a pleasure to watch."
Elsa Freise took second place in the competition, while Savy Fitzgerald took third, according to contest organizer Kira Wages.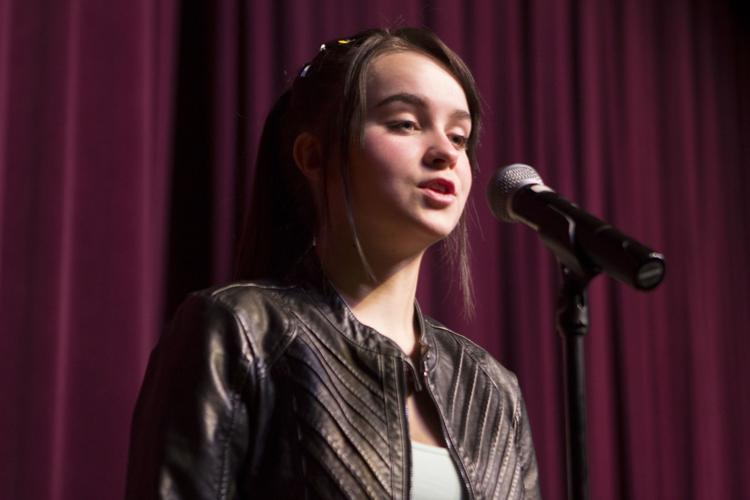 McDonnell said she enjoyed watching all the students and admired their courage.
"It is a brave act to put yourself out there like that," McDonnell said. "I was so impressed with all the students for being so incredibly poised – no one was fidgeting, and they all had great confidence in themselves. It was a lot of fun to watch."
Rubottom said he enjoyed sharing the experience of live poetry with his classmates, and he hopes that even more participate next year.
"One thing I've learned through speech and debate is that if you perform enough times, the stress kind of goes away, and there is something freeing about it," Rubottom said. "If you want to express yourself, Poetry Out Loud is a great way to do it. There is little time commitment to it – you can just recite your heart out and see what you are capable of."
The National Endowment for the Arts and the Poetry Foundation partner with U.S. state arts agencies to fund the Poetry Out Loud competition, which begins at the school level. The winners are then asked to perform at the state level. State winners receive an all-expense paid trip to Washington, D.C. At the national finals, $50,000 in awards and school stipends are given. BHS has produced two state champions – Josh Schaberg, who graduated in 2007, and Caila Booth, who graduated in 2008.