You've probably never thought about having to teach a fifth grader the ins and outs of sending an email, but for Cloud Peak Elementary School teacher Maggi Lambert that became the centerpiece of her first-day-of-school lesson this fall. 
Lambert said this was part of the CPE teachers' plan to address the issues with virtual, quarantine learning they discovered last spring when schools abruptly shut down due to COVID-19 concerns. 
At that time, Lambert said, teachers had to learn to use technology on the fly, which exposed some weaknesses and gaps. So when in-person learning returned in the fall, teachers had a better idea of what they needed to teach the students to prepare for the "inevitable event they are going to have to learn from home again." 
According to superintendent Jim Wagner, the district is doing everything in its power to keep schools open — like increased sanitization and no outside visitors to name a few — but as students become ill or are in contact with someone who is, it's inevitable some of them will have to be kept home for 10 to 14 days. 
"Our kids are eight, nine and 10 years old in this building, and email was not a mode of communication that we used often with them while we were here with them in the building," she said. "So when we were trying to use that as a mode of communication in the spring when everybody went home, it didn't go very well." 
Email, however, was not the only new technology that teachers and students had to learn in order to make virtual learning effective this semester, according to district director of curriculum Kellie Boedecker. 
She said the school, and the district, is utilizing Swivl systems in some classrooms and has installed fixed cameras in other classrooms. The schools are also making heavy use of the district-distributed Google Chromebooks.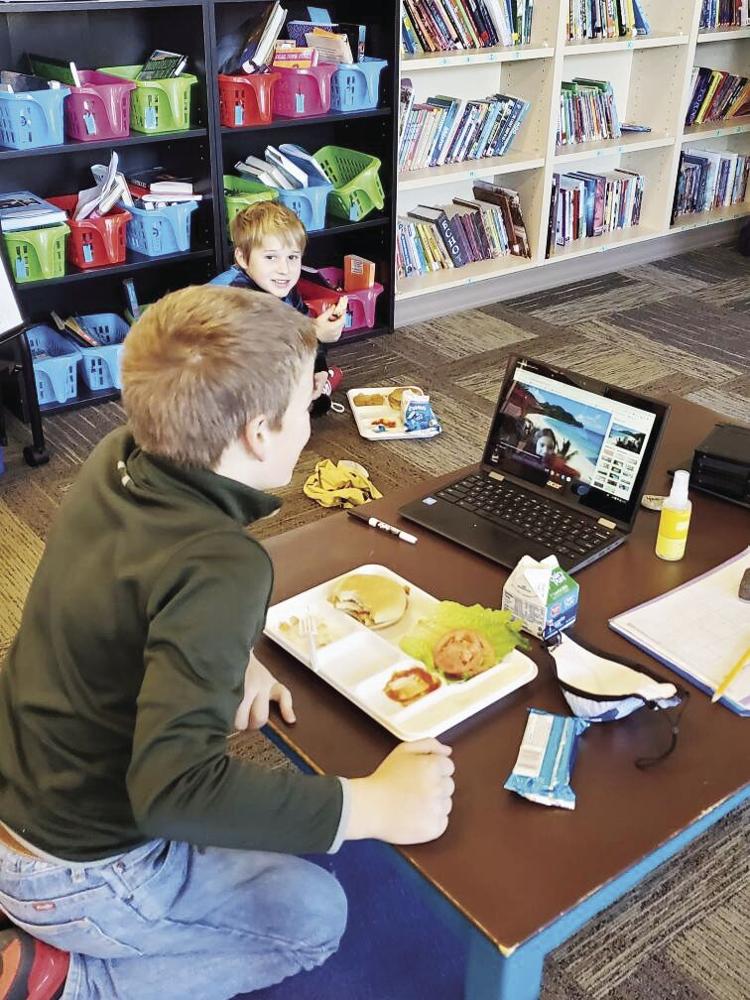 The Swivl system consists of an iPad sitting on a rotating tripod and a microphone and trackers the teacher wears while teaching. If everything works correctly, the iPad swivels and follows the teacher as he or she moves around the classroom.
Cloud Peak Principal Craig Anderson said his school currently has seven Swivl systems in operation, but due to the number of students on quarantine at any one time — as many as 11 of 14 classrooms missing students so far — teachers are finding that they have to get creative with iPads on fixed tripods or video chats using the Chromebooks. 
The district's director of technology and innovation said all schools except New West High School currently have Swivl systems.
"There's about five in each building, and sometimes when there's a mass request, those are getting moved around, so you may have as many as ten in a building," he said. 
These video-learning tools have been instrumental, Lambert and Anderson said, not only for keeping students up to speed in the classroom but also for maintaining crucial social interaction with peers to help them better transition back into classes when they return from quarantine. 
"We'll see kids walking down the hall carrying the Swivl or the iPad on a tripod and they're taking their classmate to music class or science class," Anderson said. 
Lambert said one of the hardest parts about the spring was the long-term separation students experienced from their friends and their teachers. The new technologies have helped turn that around this semester, she said. 
"That was hard," she said. "Everybody at home just felt kind of sad, and now, they're home for a little bit, but they still get to see their classmates every day, they're eating lunch with them. … Their morale is still very high." 
Lambert also said using these new learning tools has helped teachers better learn how to infuse technology into all areas of learning so students are better prepared with "21st-century learning skills" that will help them throughout the remainder of their schooling and into the working world. 
It's not all glamorous, though, according to Lambert and Anderson, with the inevitable technological glitches and significantly more prep time and adjusting teachers must do to make sure all their students are receiving the educational support they need. 
Lambert said that because it's harder to be responsive in her teaching through video chat, it's important to make plans for when something goes wrong. 
"I can have the best plan in mind and have these really great intentions as far as where I'm going to be during that time, but I have to make adjustments and adapt my lessons," she said. "What happens if they don't get it or they didn't learn it in this modality that I've provided it? So now I need to do a little reteaching." 
This can be especially difficult when you have multiple students in quarantine at a time, Lambert said. She's had as many as four students at one time missing from her classroom — and the students all have different learning needs. 
Lambert and Anderson both expect certain aspects of virtual learning to continue in the district moving forward, but they said students shouldn't yet fret about virtual learning doing away with snow days, given the unpredictability and logistical challenges of those surprise days off. 
Right now, Cloud Peak isn't sending devices home daily, so getting them to each student would be tough for the unexpected day off. Lambert also said it wouldn't be the same as the current virtual learning system, which is about keeping kids connected to their peers and teachers in school, not just making them learn from home. 
"There's something kind of magical about a snow day to a kid," Lambert said. "On a snow day, everybody's home, and you should go out and you should play in the snow and build forts and have snowball fights." 
While no one in Johnson County can say for sure what the future of schooling holds this semester or next, Lambert said, the district's teachers have ironed out many of the kinks to help students successfully learn. 
"In the spring, we were in crisis teaching mode, and now I think we can say we are virtually learning," Lambert said.