When life gives you lemons, you make lemonade. When life gives Becky Qualm trash, she makes science experiments.
In the corner of Qualm's science classroom at Cloud Peak Elementary School sit numerous plastic bags full of trash – soda cans, plastic wrappers and other odds and ends. The trash, Qualm explains, will be used in a fifth-grade science experiment a few days from now. The trash will be dumped into containers of water, and it will be up to her students to engineer a filtration system to clean the water.
As Qualm describes the experiment, her enthusiasm is contagious. It is clear that she believes the lesson she has been imparting to her students for three years now: Science is not just important. It's also really, really fun.
"In upper elementary school, I was still really passionate about science," Qualm said. "One day, my teacher told us that we were going to learn about the human heart, and we just took out a book and read and that was so disappointing to me. There is obviously a place for reading and textbooks in my classroom, but I also think that students become more passionate and excited if they get the real-life application. After all, would you rather live it or read it?"
After 11 years in the Johnson County School District – including the past three as the teacher of third-, fourth- and fifth-grade science at Cloud Peak Elementary – Qualm's hands-on approach to science is drawing recognition from across the state. In September, Qualm was selected as the Wyoming Association of Conservation Districts' Teacher of the Year. Qualm will receive her award at the WACD's annual convention, which will be held at the Bomber Mountain Civic Center Nov. 13-15.
Qualm was nominated by Clear Creek Conservation District education coordinator Amanda Hulet, who has collaborated with Qualm for the past two years on lessons and first-hand learning experiences.
"As a teacher, Mrs. Qualm puts kids first," Hulet wrote in her recommendation letter. "The children she teaches are her priority and it shows. The kids love her. … Becky has a way with children that keeps them thoughtfully engaged and entertained. The students often talk about what they learned in her classroom in other parts of their day."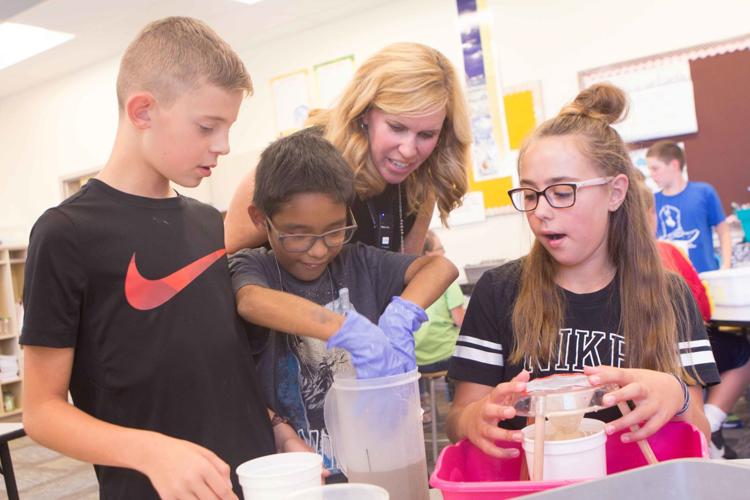 Hulet said Qualm was being honored in particular for her willingness to collaborate with local agencies like the conservation district, the Wyoming Game and Fish Department and the Natural Resources Conservation Service.
Qualm said those collaborations have taken many forms over the years – from studying the health of Clear Creek with the conservation district to tracking the migration patterns of mule deer and moose with Game and Fish to taking a core sample of the soil outside Cloud Peak with the NRCS.
"Just this week, we went out to study the health of Clear Creek with the conservation district," Qualm said. "Students were looking for macroinvertebrates and measuring dissolved oxygen in the water. Collaborations like this allow our students to not only read science but to do science, and that is incredibly valuable."
These hands-on learning opportunities also broaden student horizons in other ways, Qualm said.
"I think these experiences really help kids become more aware of careers that are possibilities for them," Qualm said. "You can't become what you can't see, so putting these individuals in front of them gives them something to aspire to."
Qualm said that she was "honored" to be recognized by the conservation districts, but also thankful for the help she had along the way.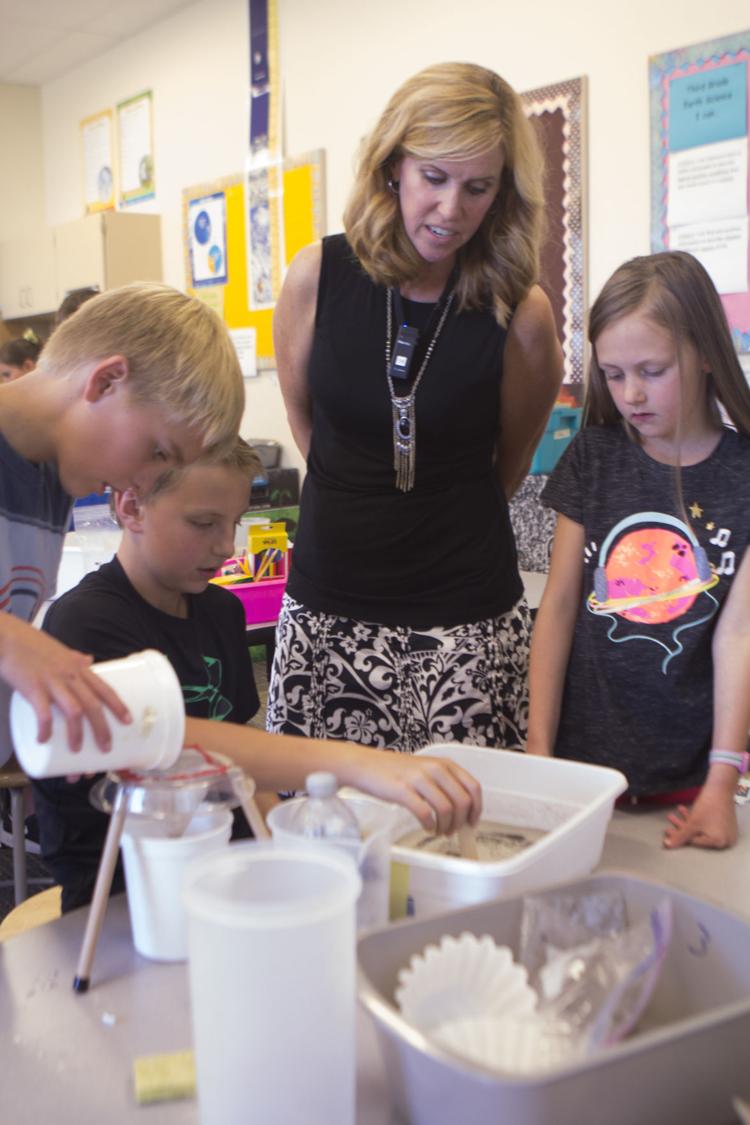 "I think it's phenomenal that the agencies are so willing to work with us," Qualm said. "I am also excited that our school system and state has given more emphasis to science in the last couple years. It used to be the big three – reading, writing and math. Now it is the big four – reading, writing, math and science. I am really happy that our school system and school board and leadership have given it that emphasis."
Qualm said she is looking forward to receiving her award in front of friends and family, but in the meantime, she has more pressing concerns: trash and water and learning.
"Science can be heavy, difficult content especially as students get into high school," Qualm said. "But my thought has always been that if you can show them the fun while still developing the scientific process in them, you can instill a love that endures. And that has worked pretty well for me so far."