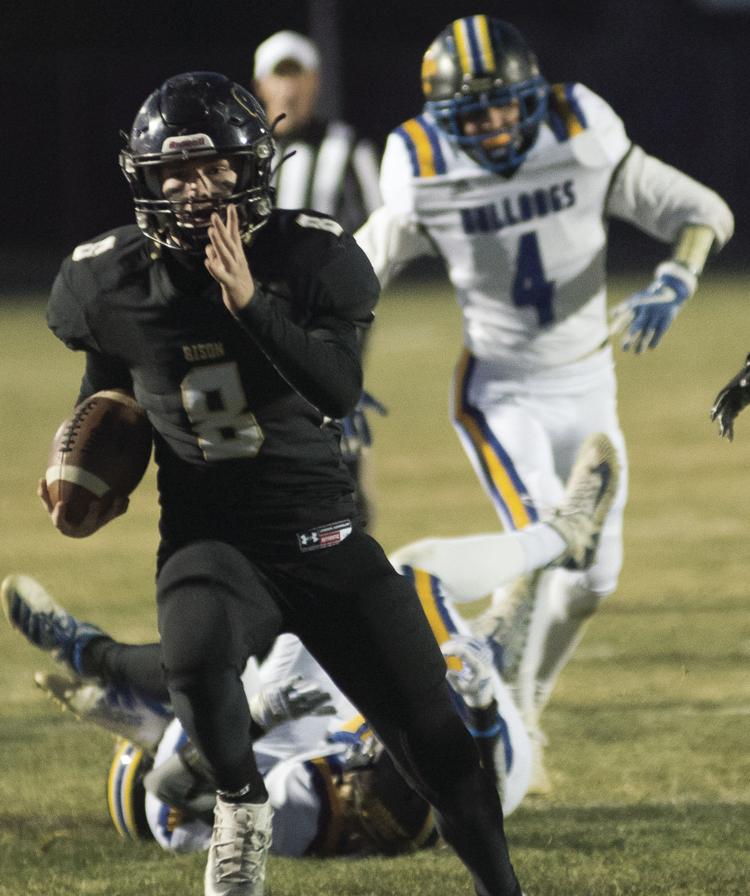 With all of the positives during the Buffalo High School Bison football team's 50-7 homecoming win over Wheatland Friday night at BHS, it's difficult to track down any negatives.
One glaring negative sticks out, however, and that's the Bulldogs rushing yardage in four quarters of play.
A relentless Bison defense, performing in a base defense most of the time in the absence of coordinator Ross Walker held the Wheatland rushing attack to minus 11 yards as Buffalo defenders stormed the backfield and stopped everything at the line of scrimmage en route to a convincing conference victory. The Bison are now 6-0 overall and 5-0 in conference play and have locked up home field advantage throughout the playoffs.
Anthony Graves and Dallas Lopez finished with two sacks apiece. Dawson Hatch finished with multiple tackles for loss. Austyn Carder, Calvin Rule and Hyrum Hatch all added tackles for loss as well.
"We got off to a slow start offensively, but defensively we were lights out from the start," coach Rob Hammond said.
Once the offense got rolling, it didn't stop either.
Quarterback Mason Moon found Taylor Swanston for a touchdown pass in the first quarter to put the Bison up 7-0.
The Bison defense was ready for a fake punt on an early Wheatland possession and ended up with a safety after Graves relocated a blocker backward into the punter's aim deep in Bulldogs territory to put Buffalo up 9-0.
"Anthony has found a knack for getting in there and getting a hand on punts," Hammond said. "That might be three he has blocked this year."
Rowen Ruby found room everywhere on a pair of runs leading to a touchdown near the end of the first frame to make it 16-0 Bison. That was the first of three long scoring runs for the senior. Ruby ended up with 168 yards on 12 rushes.
After a big stop by the Bison defense to force a turnover on downs, Ruby scored his second touchdown on a 35-yard burst up the middle to put BHS up 23-0.
"Their defensive game plan was to move a lot of their guys to the edge," Hammond said. "We started faking to the outside and finding a lot of room up the gut."
Hunter Pope recovered a Bulldogs fumble seconds after a quick sub on the defensive line to quickly give the ball back to the Bison.
Hatch then made his way for 24 yards and a score to put the Bison up 30-0.
Buffalo then recovered one of multiple kick offs on the season, this one by a hustling Lopez to set up another Hatch rush up the middle for 25 yards and a touchdown.
That put Buffalo up 36-0 heading into halftime.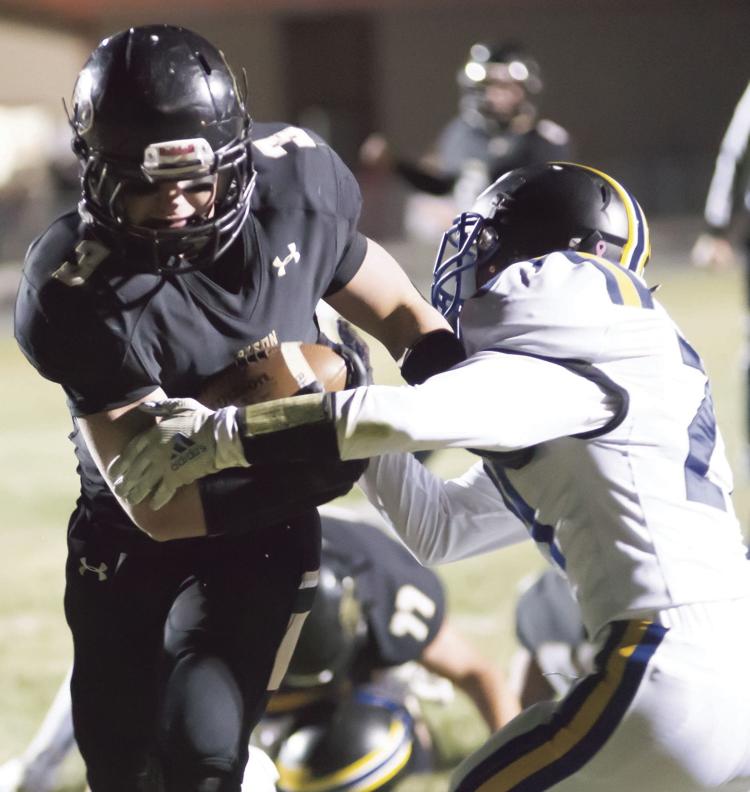 The defense continued its domination into the third. Graves started out with a sack as Wheatland turned to the passing game to try to get anything going. It didn't work.
After a turnover on downs Ruby made his way for 50 yards and a score on the first play to put the Bison up 43-0.
A long pass from Moon to Rule set up Hyrum Hatch for a 6-yard touchdown run for Buffalo's final score to put the Bison up 50-0 in the third.
Wheatland did manage to get a little something going through the air, but it didn't amount to much. And just when they thought they had seen enough of the sacks from the starters on defense, Lopez entered the game at the 8:00 mark in the fourth for his second sack and a 6-yard loss.
"That's my favorite play of the season," Hammond said. "We were subbing guys in and Taylor Swanston was yelling that we were short a guy. He said we needed an outside linebacker."
Lopez streaked from the water cooler on the sidelines, frantically trying to get his helmet on and in position.
"He figured he didn't have time to make it to where he was supposed to and just went through the B gap and got the sack," Hammond said. "He was literally at the water jug before he ran out there."
The Bison will look to carry over that intensity Friday night at BHS as they host Big Piney in a non-conference game. The Punchers enter the contest with just one loss on the season to No. 1 rated Mountain View.