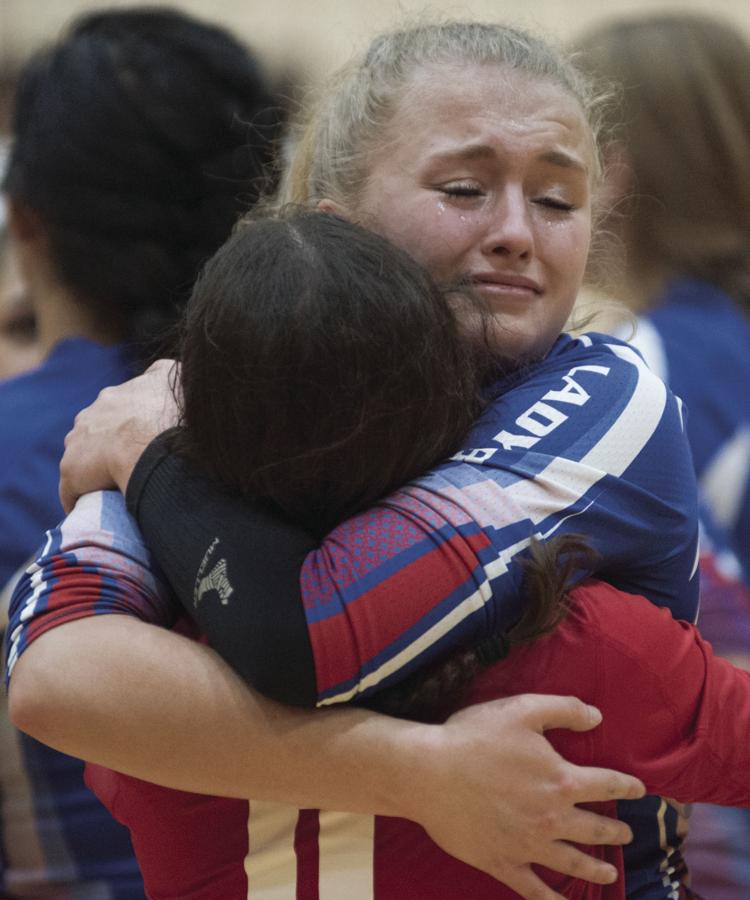 If there's one overriding theme to take away from the Kaycee High School Lady Bucs 1A East regional championship victory on Saturday, it has to be how much they earned it.
After dismantling Gurnsey-Sunrise 25-6, 25-12, 25-10, the Lady Bucs fought through 10 intense sets in their next two matches to eventually leave Newcastle with the 1A East crown and a big sigh of relief heading to the state tournament.
And after that much volleyball in two days, there was only one way to celebrate.
"We ended up going to Gillette and watching the 4A East regional tournament," coach Kiley Richendifer said. "Then we got home and did the celebratory fire truck and ambulance parade around town. It was so great."
After numerous highs and lows throughout the season, the Lady Bucs put together a stellar month of October, entering regionals as much under the radar as a top seed can be, winning nine of their last 10 matches and losing only to Meeteetse who went on an incredible win streak of their own.
The Lady Bucs looked to be in control of Hanna-Elk Mountain after beating Gurnsey, taking the first two sets 25-16, 25-23. The Lady Miners rebounded in sets three and four, however, winning 25-21, 25-17, to force a deciding game five that the Lady Bucs squeaked out 17-15.
In the championship game Saturday afternoon against Lingle-Ft. Laramie, it was clear Kaycee came to play. Even with the Lady Doggers getting their hands on and returning everything, the Lady Bucs front line of Bindi Hill, Tinley Pierson and Chesney Malson kept Kaycee in a groove until a kill by Callee Burnell ended things at 26-24.
"There were some really long volleys," Richendifer said. "But these girls have figured out what they can do."
In set two, Malson continued to play with confidence at the net, and after a kill of hers brought the Lady Bucs to within one, she combined with Hill for a stuff and point to tie things up at five.
Hill followed that series up with a kill to put Kaycee ahead and the Lady Bucs never looked back. Madison Troll hit the deck for a save to keep the Lady Doggers at arm's length. Hill came up with a tricky save follwed by her own kill and Pierson went high over the net for a pair of kills toward the end to put H-E-M away 25-20.
The back row of the Lady Bucs helped stymie any Lady Dogger rallies as Lingle seemed to return every shot Kaycee took. Seniors Alaina Fauber and Shelley Ramirez were all over the floor, while underclassmen like Jackie Ramirez Jade Maya took it to heart to play much-needed error-free ball.
"The back row people never get any credit," Richendifer said. "But Jade Maya back there got so many balls up for us and she passed just perfectly."
It would only figure that a team playing out of their minds like the Lady Doggers wouldn't walk away without winning a set in the biggest tournament of the year before state. Lingle continued to fill gaps everywhere on the floor and stole the third set 25-21 despite a big comeback from the Lady Bucs.
Kaycee was forced to come back again in the fourth as Troll went on a small run of her own at the net and Burnell unleashed on the Lady Doggers defense, but it was a little too late as Lingle took the fourth set 25-20.
"It was the second game in a row where we played so well in the first two sets, and they other team came back to win the next two," Richendifer said. "None of these teams wanted to lose."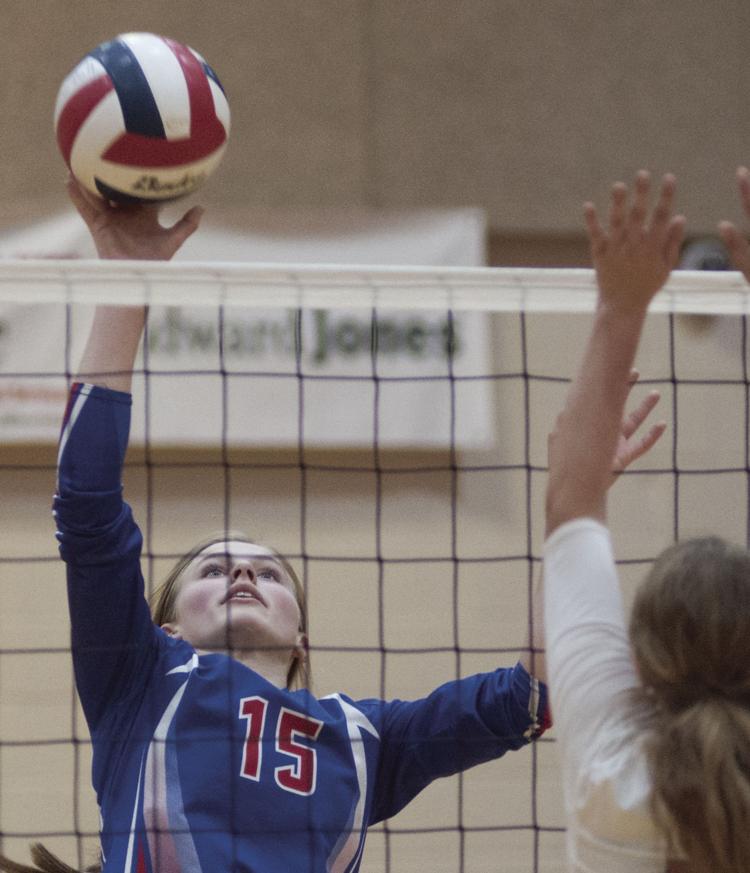 The fourth set was back and forth, and each team was bolstered by a large traveling crowd. The Lady Bucs managed to put it all together when they needed it most however, and win the fourth set 15-12 to take the title.
They are now set to face a Dubois team that hasn't finished the season as strong as they would have liked. A win there will put the Lady Bucs against either H-E-M or Little Snake River for a chance to advance to the championship game.
"Now that we are playing well, swinging away and playing smart and playing hard, we have a chance to win the state championship," Richendifer said. "All of the little things are starting to come together, and this team's chemistry is irreplaceable."