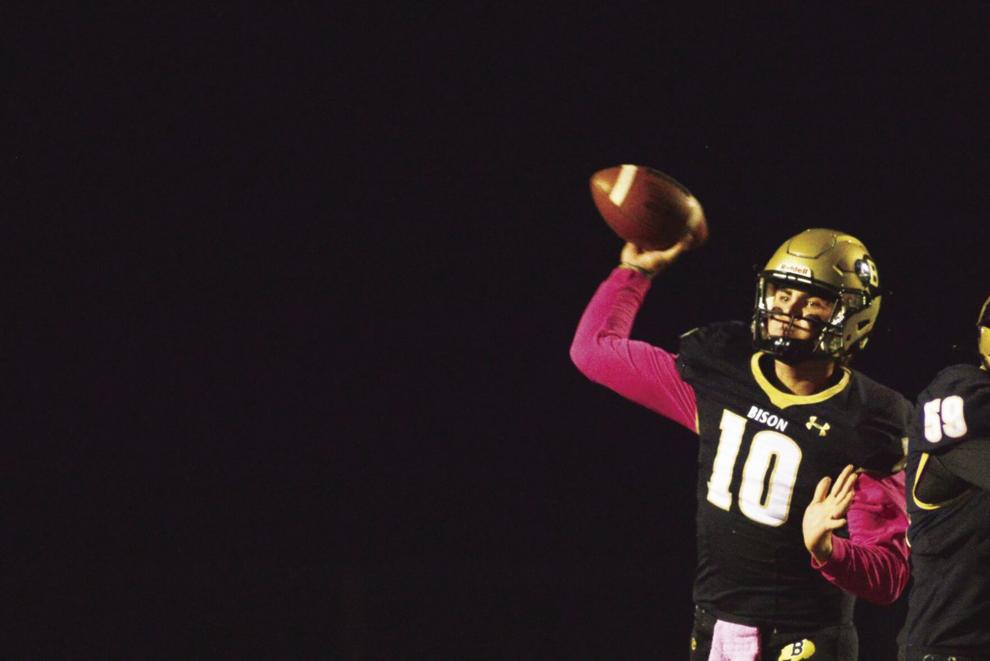 After a 40-23 homecoming win against the Worland Warriors, the Buffalo High School football team (5-1, 3-0 conference) has set itself up for a rivalry showdown with the Douglas Bearcats (5-1, 3-0 conference) on Friday that will likely decide the 3A East conference champion. 
"The winner of this game is really in the driver's seat for the No. 1 seed in the playoffs and the conference champion," head coach Rob Hammond said. "So, it's a huge game. We're not going to have any shortage of energy by any means." 
Last season's game against Douglas was a three-point loss at home for the Bison, and Hammond said his players have been talking about getting revenge since Buffalo started preseason meetings and team-building activities in July.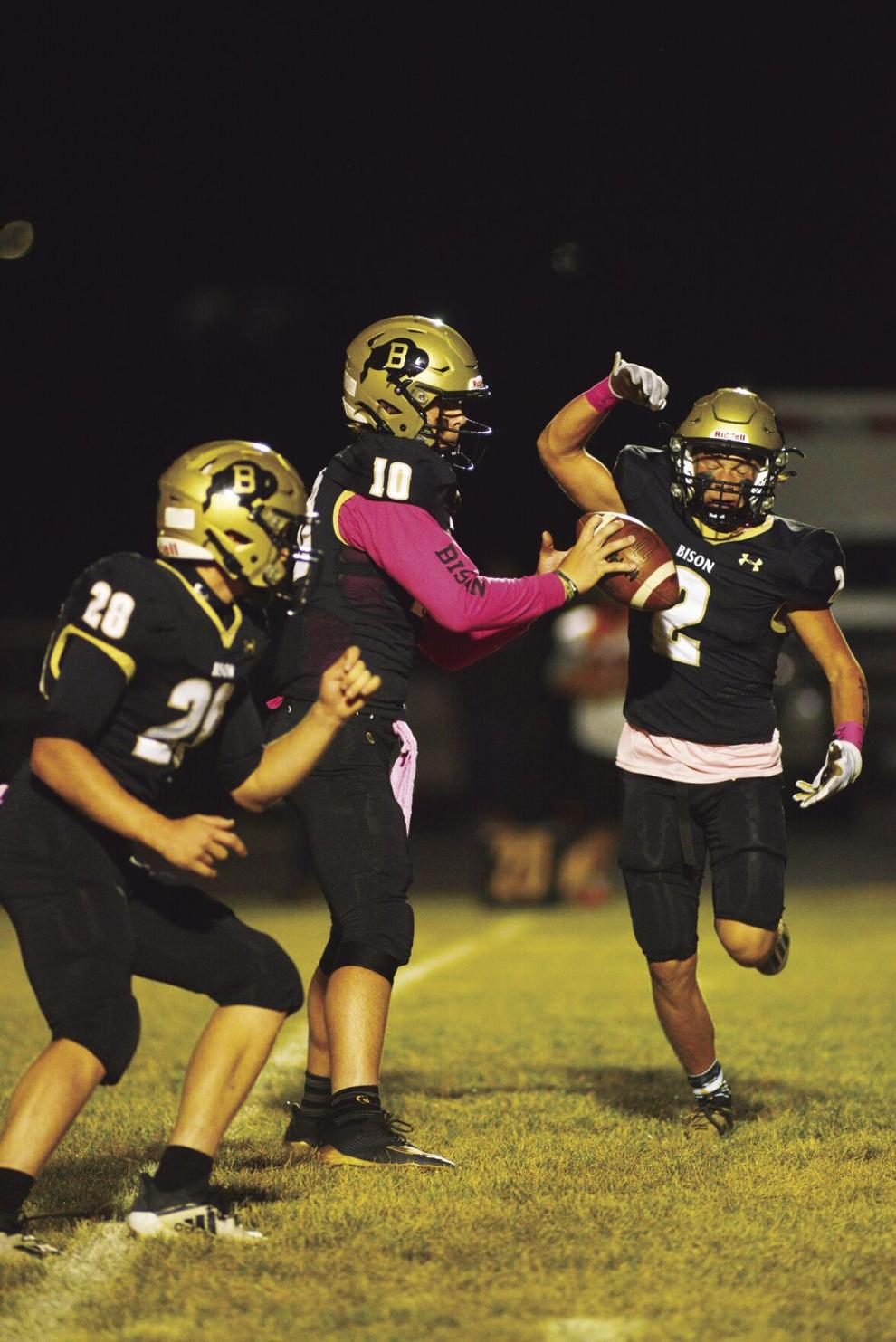 For this year's edition of the rivalry, Hammond said, the Bison are preparing for a Douglas team that is fundamentally sound, physical and fast — and has the advantage of playing this year's game at home. 
"We're going to have a great game plan, we're going to have to know our assignments, we're going to have to execute that game plan," Hammond said. "And then our kids are going to have to just be ready for a physical football game. It's going to hurt at the end of the game, but we're just going to have to be ready for it." 
The Bison put themselves in the position to take sole possession of first place in the 3A East on Friday by winning a rainy homecoming contest last weekend against Worland (3-3, 2-1 conference).
For the second week in a row, the Bison offense got off to a strong start, jumping out to a 12-0 lead (two missed extra points) after a 31-yard touchdown catch from junior wide receiver Blake Bell and a 3-yard touchdown run from senior quarterback Jackson Moon. 
The Bison defense started strong too, allowing no points and just 26 total rushing yards in the quarter.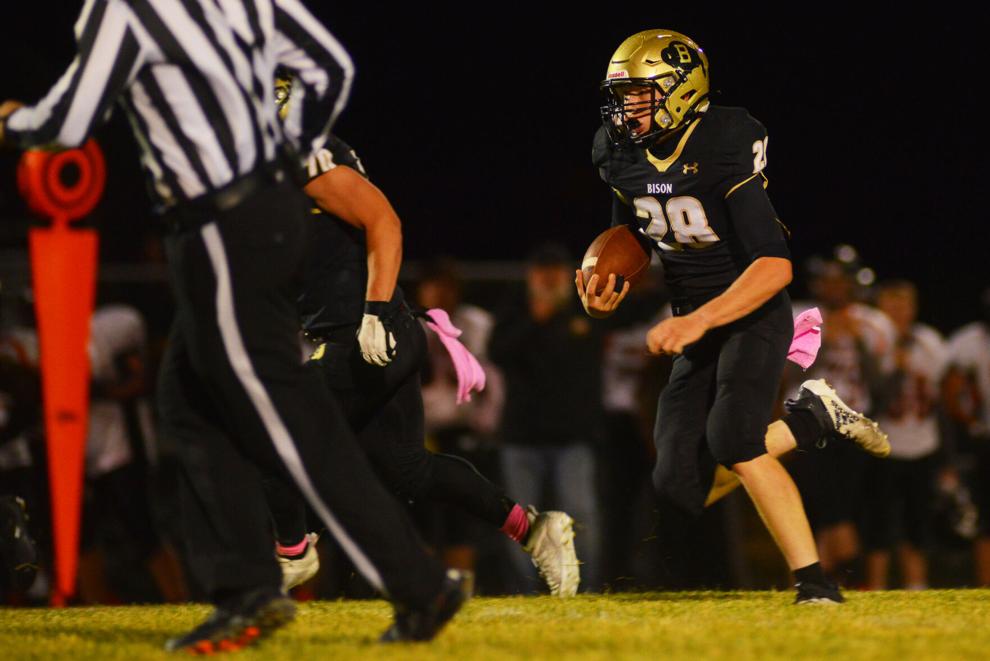 In the second quarter, however, the Warrior offense hit its stride, with the help of some Bison turnovers, which allowed Worland to take a 14-12 lead into the halftime break. 
"We had a couple turnovers, and we had a hard time figuring out how to stop Worland's offense. They have a great scheme for their players," Hammond said. "They have a lot of talented kids, and their scheme puts them all in a spot that you have to defend the whole field and we had a hard time with it." 
At halftime, Hammond said, the Bison made several key adjustments on defense to help contain Worland's players on the edge. 
The Bison outside linebackers widened their starting position, which gave them better angles when trying to stop Worland's receivers, and the coaching staff challenged junior linebacker Dawson Palser to line up even wider and to use his physicality to make important stops. 
These changes opened up the middle of the field, which allowed Worland to run the ball a little better, but Hammond said it took away more of the Warriors' strengths and "forced them to do some other things and that's why we were able to shut them down in the second half after that first drive." 
Worland's third-quarter touchdown — and missed extra point — would be their only touchdown for the remainder of the game, with just a field goal getting them on the scoreboard in the fourth quarter. 
For Buffalo, the offense took over in the second half, scoring two touchdowns in each quarter to reach the 40-point threshold for the second game in a row. 
Hammond said the offense was just taking what the Warrior defense was giving them and making adjustments to counter the Warrior's defensive adjustments, too. In the end, he said, he felt like the Bison offense — especially the offensive line — was able to physically wear down the Warrior defense to extend the lead.
"Really, the offense is just we're trying to add some new wrinkles in every week to try to, you know, frustrate the other defense and make them prepare for a lot of things and just maybe spread their focus out," Hammond said. 
The Bison are now preparing for their away game in Douglas on Friday at 7 p.m.