How do you become a rodeo cowboy? According to Owen Grubb, who will perform in his second Johnson County Youth Rodeo on Friday, there are three important requirements.
"Pretty much all you have to know is how to get on a horse, and how to become friends with your horse, and how to become good," Grubb said.
The first is easy enough. Grubb grabs the strings on the saddle, pulls himself up and steps into the stirrup from the left side. It's a long way up for a 5-year-old, but he isn't scared.
That's because — checking off the second — Grubb and his horse, Caesar, are good friends. A roping horse that Grubb is helping his father train, Caesar has bonded with his rider through long chats and the occasional tasty bribe.
"I talk to him a lot. … I say, 'It's all right, and I feel really good doing that," Grubb said. "I give him treats and pat him on the neck."
And the third requirement? This, quite literally, isn't Grubb's first rodeo. He competed last year, and he knows how to become good: lots and lots of practice.
In preparation for this year's pole bending competition, Grubb rides in a large field beside his house. His mother, Samantha, a horse-riding instructor, teaches him how to weave Caesar through a course of strategically placed buckets.
"You've gotta control the horse, like you're controlling a drone or something," Grubb said. "I don't make him go too fast, but sometimes he does the fastest lope ever, and I lope him a lot. It feels like he's jumping when he's loping."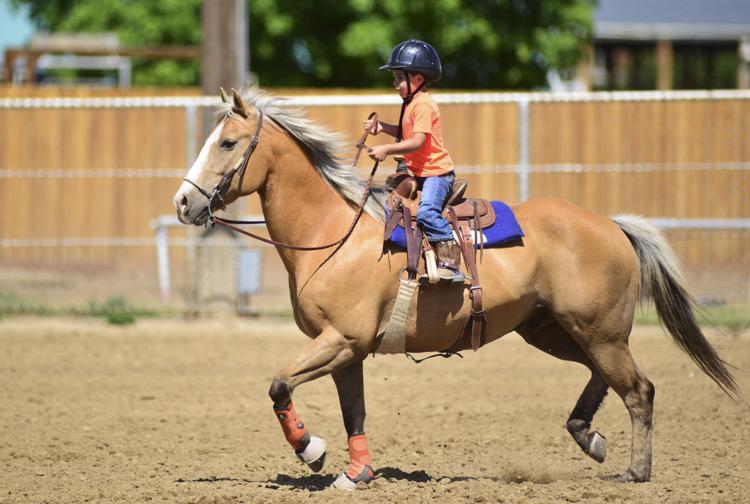 Once the course has been completed, Grubb will reward Caesar with his favorite post-workout treat: a palmful of cookies.
"That's all he wants," Grubb said. "He works really hard for me, so he gets the treats."
On rodeo day, Grubb will help catch Caesar and load him into the trailer. Then he will don his favorite rodeo shirt. It's emblazoned with a depiction of a calf-roper, the rider clinging to the reins as his horse bucks into the air. It's a fitting choice for Grubb, who hopes someday to try riding broncs.
For now, he will stick to making his pole-bending debut at the Johnson County Youth Rodeo this Friday. His mother will now endure what her own mom went through when Samantha was growing up: the anxiety of watching from the stands as your child rides.
"My mom would always say the same thing, that she was always scared," Samantha said. "I was never afraid on a horse, and I was so confused as to why she would be scared, but oh my goodness…"
She pats a palm rapidly over her chest, imitating the frantic pounding of her heartbeat as she watches Owen climb aboard Caesar.
"I want him to do well, and his horse is kind of spooky, so I always worry that horse is gonna take off with him," she said. "It's exciting and definitely emotional."
When Grubb first tried rodeo at 3 years old, he harbored similar concerns. But now he trusts Caesar, and Caesar trusts him.
"Once you've become friends with your horse, it's not (scary)," Grubb said. 
When asked if there were any tips he would offer a fellow competitor who may be new to the rodeo circuit, Grubb advises to keep an eye on the best part of the youth rodeo: the free T-shirts.
"My favorite part was getting to get the shirts," Grubb said. "This year there might be some prizes. Maybe more than just prize shirts."
For many kids, walking a horse into the arena under the weight of an audience's stares can be intimidating. But crowds don't phase Grubb. He knows his family sitting out there in the bleachers; he knows those are his friends playing beneath the stands. 
His easy confidence might come from his expert knowledge of those three crucial requirements to being a cowboy. But in the end, it all comes down to this: Grubb just truly enjoys rodeo.
"It's fun," Grubb said. "I do my best to show 'em what I've got."
Rodeo fans can watch Owen, Caesar and the rest of the county's young rodeo contestants at the Johnson County Youth Rodeo beginning at 9 a.m. Friday, July 31, as part of the 2020 Johnson County Fair & Rodeo at the Johnson County Fairgrounds.