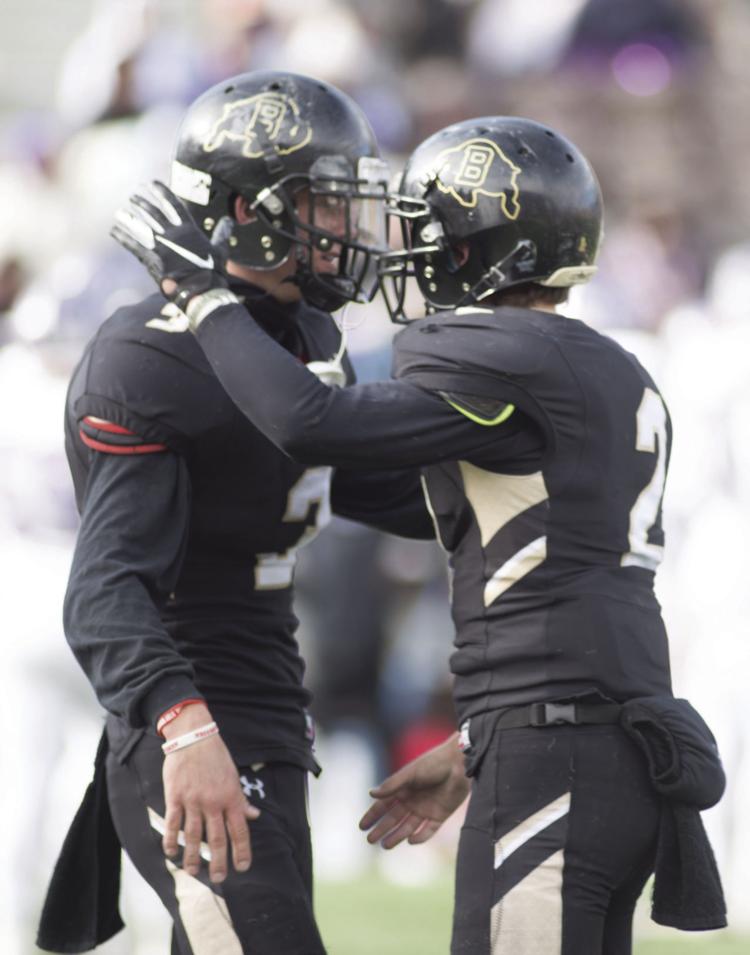 Normally when a high school student hears from a sibling or a parent that they saw something about them on Facebook, they might think twice about what they've done and where they've been the past few days.
But for Buffalo High School Bison football player Luke Glassock, the social media post in question wasn't of him tripping down a flight of stairs or spending an hour trying to parallel park. It happened to be a pretty special recognition from one of the biggest newspapers in the nation.
Glassock was recently named USA Today All-Wyoming special teams player of the year, and it came as a little bit of a surprise.
"My sister told me and showed it to me," Glassock said. "I think she saw it on Facebook or something like that. It is a great honor."
The senior quarterback and safety was also named the Casper Star Tribune Super 25 offensive player of the year, an accolade that may have had to do as much with his right leg as well as his arm.
With Glassock at the helm, the Bison offense was formidable on the ground and through the air, but it was Glassock's kicking performances that caught USA Today's eye. The senior notched the four longest field goals in 2A football with a long of 49 yards against Moorcroft. He also nailed a crucial 36-yarder in a memorable battle with Glenrock.
"Scoring so many touchdowns this year made my job easy as a field goal kicker," Glassock said. "It's not an easy job, but somebody's got to do it."
He averaged over 35 yards per punt this year as well, with a long of 63 against Glenrock. When the Bison were forced to punt, Glassock laid the ball inside the 20 or found the out-of-bounds mark in the coffin corner to pin opposing offenses deep in their territory.
That leg may have been most impressive on kickoffs, however. Glassock kicked off over 70 times for the Bison, with 52 of them landing for touchbacks. The next closest kicker in the conference was Tucker Bopp of Glenrock with eight touchbacks.
With all that scoring the Bison did this season, Glassock was also 47 of 50 converting extra points. That was with a new holder in Mason Moon and snapper in Aaron Thiele. And while Thiele stepped up to the ungrateful challenge as snapper, he too got noticed by USA Today.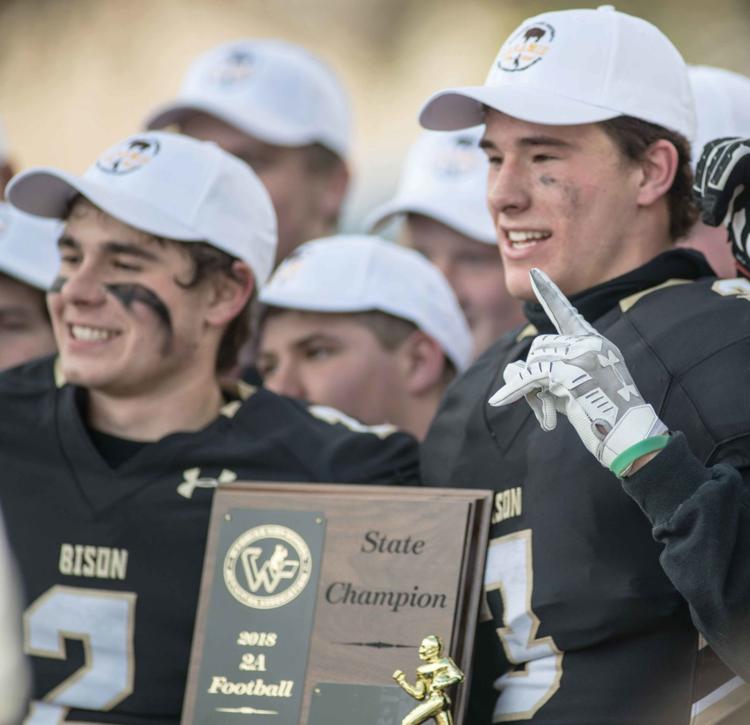 The senior linebacker had already earned 2A co-defensive player of the year honors, but the national paper also named him All-Wyoming second team wide receiver.
And like Glassock, he found out from a relative that he had made national news.
"My mom told me," Thiele said. "She said, 'Did you see this? Look. It's USA Today.' It was pretty cool."
With the new Bison offense, Thiele had his number called at receiver at both ends of the field. He and Glassock hooked up repeatedly on fades in the end zone, and Thiele's sure hands accounted for countless catches in the slot and on posts as Buffalo lit up opposing defenses.
Thiele led the conference in receptions with 31 and tallied the most touchdowns with nine. He racked up those impressive stats while typically playing only the first half of games, as coach Rob Hammond pulled his starters after halftime when the scores were out of hand.
"It's nice to see the hard work I've done has paid off, and it's really cool to get honored like that. I know there are a lot of other guys that were definitely deserving of it," Thiele said. "Luke and I have been playing together for a long time. It was nice having that connection and the ability to play well together."
The stand out receiver never knew when his number would be called, but with opposing defenses having to focus so much on the speed in the backfield, he knew that the Bison offense would be able to spread the field.
"Blocking for guys like Rowen Ruby and Cody Milmine was one of the best parts of the season," Thiele said. "When you see your block helping those backs get a 60-, 70- or 80-yard run, it's pretty special."
With a 52-yard field goal against Torrington his sophomore year and more big kicks since, Glassock is considering his options for kicking at the next level.
Thiele also will make a decision shortly about where he will suit up and play.
Either way, a pair of Bison gridiron stars will be making waves somewhere next season and have just added some more accolades to get programs salivating.