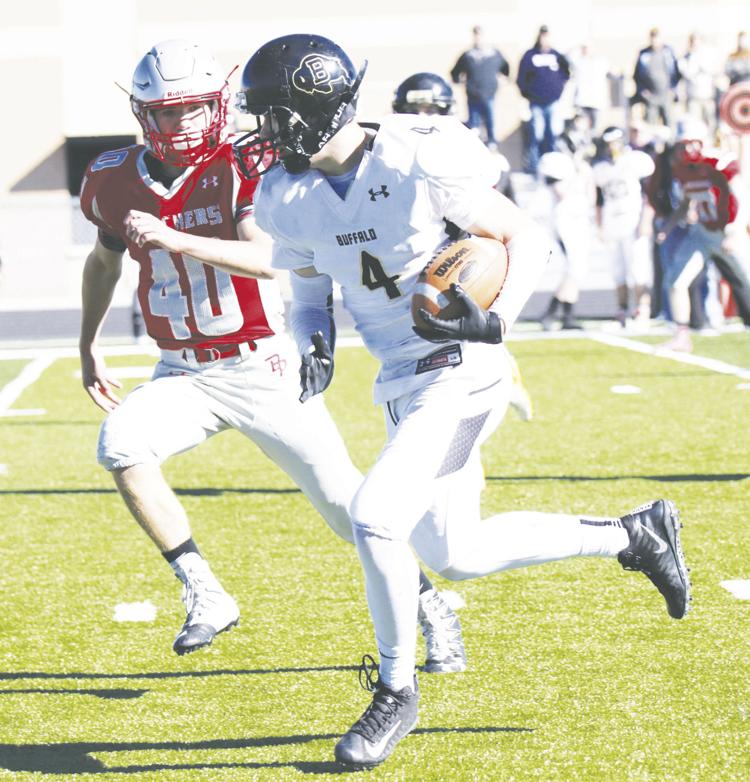 After a long bus drive to Big Piney on Friday, it took a little time for the Buffalo High School football team to put together a scoring drive on the field, but once the offense got rolling the defense did their part in a 28-0 win against the Punchers.
"It was a struggle at first, we were just flat," coach Rob Hammond said. "We just didn't start well and had some penalties we need to clean up."
Neither team was able to get things going offensively until just under 2 minutes left in the first half. But after one of many fumble recoveries for the Bison, quarterback Luke Glassock found Dawson Hatch for a pair of long gainers that set Hyrum Hatch up for a 1-yard touchdown run.
"Dawson has played great and he's a big reason we have been winning games," Hammond said. "And you have to hand it to Luke, they were double teaming Aaron Thiele and he changed a play at the line and found Dawson on a post. He was covered by a linebacker and that's just a huge mismatch."
Entering the third quarter with a 7-0 lead the Bison defense continued to do what they did all game long: force Puncher punts and turnovers.
After a bad snap and a 4-yard punt by Big Piney, the Bison took over at the Punchers 15-yard line. Even with the double team, Glassock was able to find Thiele in the end zone for a 21-yard touchdown pass.
"We just decided to take a shot with Aaron," Hammond said. "Sometimes you just need to throw it up to your best athlete and let him make a play."
With the Big Piney offense at a loss to gain yardage, Buffalo surprised the Punchers with an onside kick attempt. Big Piney recovered the kick, but big Bison defensive plays, highlighted by a sack by Hunter Pope, forced another Punchers punt.
One of a number of good returns by Cody Milmine set up Rowen Ruby for big runs up the middle and an eventual 3-yard touchdown rush to make it 21-0 at the end of the third.
"Big Piney really struggled on offense and had trouble just getting the snaps off," Hammond said. "They had a backup quarterback playing because of injury and could not move the ball."
The Bison defense finished out the final frame continuing to dominate the Punchers offense.
Hyrum Hatch added a 9-yard touchdown run later in the quarter as Buffalo walked away with the shutout.
Buffalo finishes the regular season Friday night at home against Newcastle.
If Kemmerer beats Lovell, which is a likely scenario, the Bison will host Kemmerer in the first round of the playoffs. The Rangers are 3-4 on the season and coming off a 42-0 loss to Mountain View.