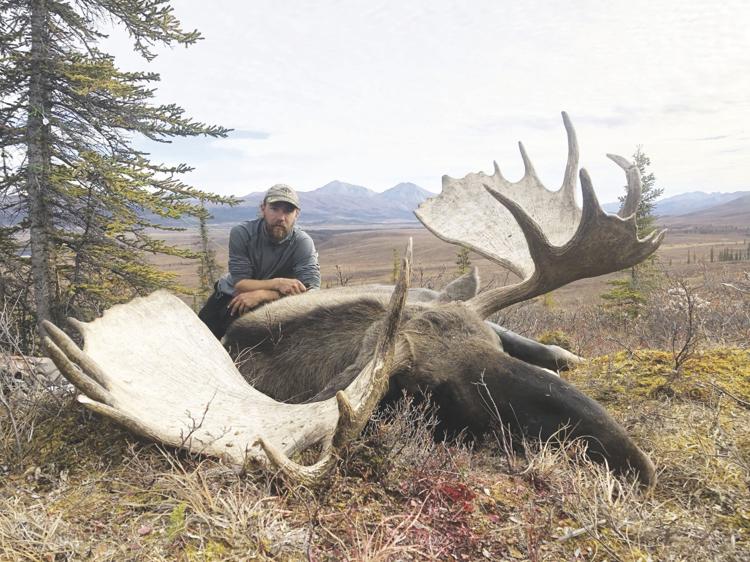 It was an eerie feeling watching the bush pilot fly away for good. They were 140 miles up river from their take out point and left to their own devices to find it, 300 miles north of Fairbanks in the Arctic Circle on the south slope of the Brooks Range.
The pilot said they should be able to see the take out point. They just needed to look for the orange flag hanging on a dead tree on a gravel bar that's around a bend.
They couldn't miss it.
The pilot's wife said she had seen groups call for search and rescue after 10 days or so because it was just too much for them. She seemed a little worried about these three guys from Wyoming.
Shawn Sullivan, Phil Atwell and Rich Hall had been on epic hunting adventures before. They had packed in some difficult places and done some hardcore elk hunting. But this was Alaska, a raft and a big river and a whole lot of unknowns.
"We were thrown right into the frying pan," Atwell said. "We'd never been whitewater rafting with all of our gear on a river that's going fast and not very wide. There was no warmup. It was just, here we go."
The trip had been two years in the works. Sullivan said he got a seed planted in his head about moose hunting in Alaska after a previous hunt for mountain goat. All that planning and preparing eventually turned into 23 days with everything they had crammed into a 35-inch wide raft.
"We had some real highs and some real lows," Sullivan said. "We dragged the boat. We carried the boat. We unloaded the boat and carried our stuff down river. The river would widen and get so shallow we couldn't float it. We weren't prepared to put forth that kind of effort getting down the river."
The trio had a caribou and moose tag to fill in 140 miles of river with no other human  in sight. After 20 miles of floating they started seeing a couple caribou, then a couple more, then a couple hundred. They didn't know it, but they were witnessing the largest migration of any land animal on Earth. Over 200,000 caribou make the trek to their winter grounds in the Arctic.
Atwell ended up getting his caribou and, after living off the barest essentials for days, the meat was a blessing.
"We were really set for gear, but we got hungry," Sullivan said. "We caught some grayling and some pike along the way, but we were only getting maybe 800 to 1,000 calories per day. We were burning 3,000 to 4,000 calories per day with all the work."
The Rock Garden
Every day posed a new challenge the group hadn't anticipated. Through experience and a little ingenuity, they managed to make it work.
"There was one point where we struggled with a 7-mile stretch of river called the Rock Garden," Sullivan said. "There wasn't enough water to float it, so we figured out a way to portage all of our gear in small trips."
They had a small pack raft they used to load the gear and carry down river one trip at a time, for 7 miles in brutal terrain. This was after class two and three rapids that launched Atwell out of the boat at one point and forced the group to land the raft and quickly get him warmed up before hypothermia set in.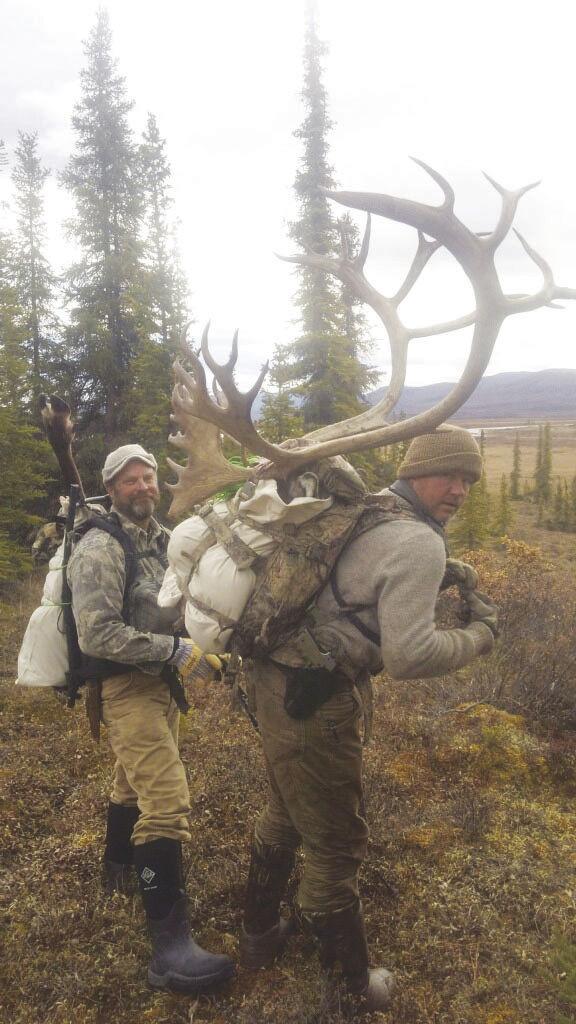 The moose
There was a rule they tried to stick by if they were going to harvest a moose. They wanted to stay within a mile of the river to make packing it back to the boat a little easier. People had told them they might not even see a moose big enough to harvest where they were – Alaska has rules against taking small bulls. A bull has to be at least 50 inches wide or have at least four brow tines.
Scouting for moose one day, the rule about staying within a mile changed when they saw what would become yet another challenge. Looking at it through the spotting scope from over 4 miles away, it looked like a moose with elephant ears for antlers. It was a few miles further than they wanted to pack it, but it was too good to pass up.
It took the three men five days to pack the moose back to the raft. It was five days of putting one foot in front of the other in marshy, spongy terrain.
"It took us four hours to walk 4 miles," Sullivan said. "Everywhere you walk up there is a struggle. Everything is work."
They managed to get the raft to within about a mile and a half of the moose, through some channels and ponds.
The men carried between 100 and 120 pounds of meat with each pack back to the boat. It took 11 trips in all to get the massive animal back to the raft.
"The cape of the moose was over 100 pounds," Atwell said. "We couldn't carry a whole hind quarter. We had to cut about 50 pounds off to make it possible to carry."
They still had a long way to go down river with thousands of pounds of gear and meat and some big water ahead. The weather was also changing. The ice was following them and getting closer every morning.
The raft filled with water every day. Some days they could only float for two to three hours before the boat would fill up. Then it was a familiar routine of stopping, unloading everything, taking the meat out of the bags, building a fire, setting up camp and patching the raft. There were still 15 days to make it to the take out point.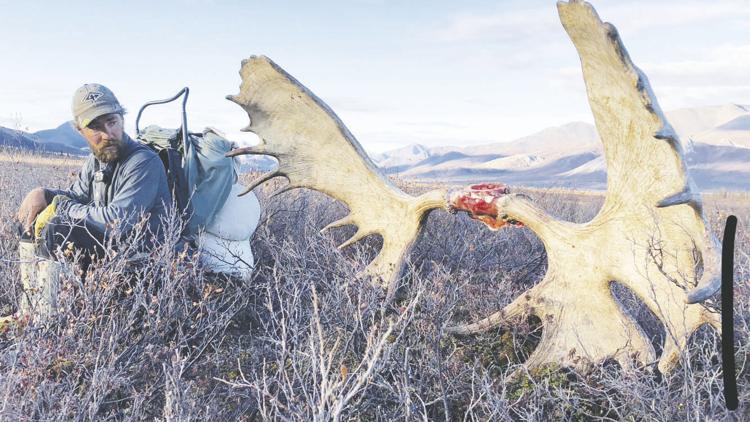 In a way, the adventure was just beginning.
"Every time the Northern Lights flared, the wolves would let out an echoing howl," Atwell said. "The lights would flare down and they would stop."
Every kind of animal imaginable made an appearance along the river. Even one human greeted the group along the banks at one point. They ran into a pair of hunters who had been floating that particular river for 20 years and had never seen another person in all that time, much less three guys that were as far from home as these three.
By day 18 they knew they weren't going to make their scheduled take out in time. Even if they could, the weather was socked in. The pilot couldn't fly. They used a GPS unit to text Atwell's wife to tell her they wouldn't make it and to cancel the flight out. They would hopefully make the take out point by October. Maybe.
As the days wore on they became more efficient. They stopped setting up camp and just slept under the stars. It got to the point where they were doing the least amount of work possible that was still effective enough to get them down the river. They were making it work, and work well.
They fought every inch of the river. There were no easy days.
They eventually ended up at the mouth of the big river they were looking for and struggled to get the raft into it.
It was a six-hour float from there to the take out point and they were losing light quickly. They didn't want to camp another night. It was time to get off the river.
"We had a goal," Sullivan said. "We were going to make it there that night. We did not stop rowing. Rapids blew over the front of the raft and into our faces. It was 2,000 pounds of boat sailing into the air."
They made the float in two and a half hours, exhausted, wet, cracked, bloody nubs where fingers used to be.
They never found the orange flag. But they found what looked like a runway, and a group of other hunters who had been there for four or five days. These hunters wanted out. They wanted out as soon as possible. Their pilot couldn't get there fast enough. They didn't even fill their moose tag. They had taken a couple of caribou and wanted gone.
"They said we looked tired," Sullivan said. "They had been to Alaska a couple of times before. We told them what we did and they were dumbfounded that three guys did that on their first trip to Alaska."
The pilot's wife said she always worried about the last guys coming out. They were not only the last ones out, but the first one's in. She told them people just don't do what they did.
"We wanted to do it again," Sullivan said. "We had been learning skills our whole lives, and they all came in handy. Everything became a tool. It's in our blood. We loved every minute of it."
They missed their families, their dogs and the creature comforts they were used to at home after a few days on the river. But they didn't want to go back home to them. They wanted their families up there with them, sharing in the adventure and soaking up this wild place where humans weren't meant to survive, much less thrive.
Sullivan got the taste for flying as they made the plane trips back and forth to get their gear back to civilization. The pilot handed over the controls and showed him how they shoot from the plane. He's now taking flying lessons.
What they didn't need to bring back they burned on the bank of the river with a tear in their eye and a little salute.
"There was a moment when we were stalking this moose when we saw a white wolf," Sullivan said. "We took a minute as we crossed paths with him and just got a chance to appreciate the fact that he was just doing the same thing we were. He was the one that really belonged there, and we knew it was about much more than hunting. It was about the wild and the adventure."
Atwell lost 22 pounds. Sullivan lost about 15 pounds. The egg McMuffins the pilot brought as he picked them up were gobbled down in record time.
The antlers were scored on the moose and caribou when they got home. Both trophies went Boone and Crockett.
After all of it, they wouldn't change a thing.
"We did a poor boy's hunt on a shoestring budget," Sullivan said. "We did it hard and did it with the only guys we knew could do something like that. It was amazing."