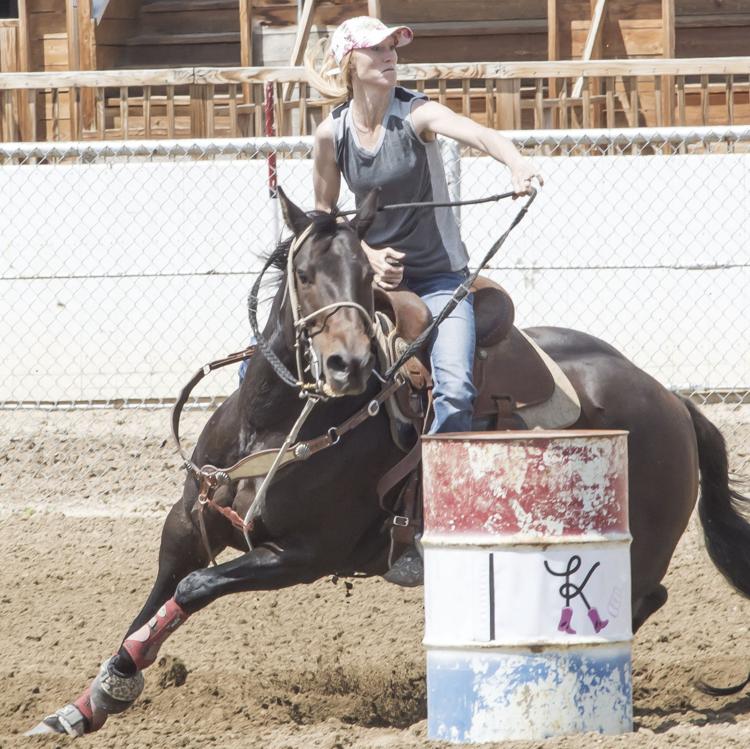 After 14 years of Kick Em Up Cans barrel races in Buffalo and Thermopolis, the contest shows no signs of letting up.
Riders from as far as Alaska showed up to the Johnson County Fairgrounds over the weekend to compete for prizes and work their way toward winning the Battle of the Bighorns.
"Well, it didn't rain, which was a plus," event producer Collette Fenster said after the weather forced two local rodeos to cancel last week. "Sunday we had two runs finish in 17.5 seconds which, if you know anything about barrel racing, are really fast times. It goes to show there is good competition and the fairgrounds is doing a fabulous job with the upkeep."
Barrel racers competed in peewee, open and senior divisions as usual, and this year featured a rancher division for horses that can't compete against the faster horses.
The open division featured about 90 runs Saturday and Sunday from 60 to 70 competitors. Johnson County cowgirls represented about 20 of the entrees.
The number of competitors is not only a testament to quality of the facilities, but the immense effort Fenster and numerous volunteers put into making the event a success.
"It is hard work putting those barrel races on," Buffalo barrel racer Kendel Hepp said. "My mom did that for many years. It is extremely hard work. You do it because you have a passion for it and want to put on an event at home. You definitely don't do it to make millions of dollars."
Since moving to Buffalo to ranch with her husband, Dennis Hepp, Kendel has been competing in Kick Em Up Cans and the Tuesday night Johnson County Cowgirls rodeos.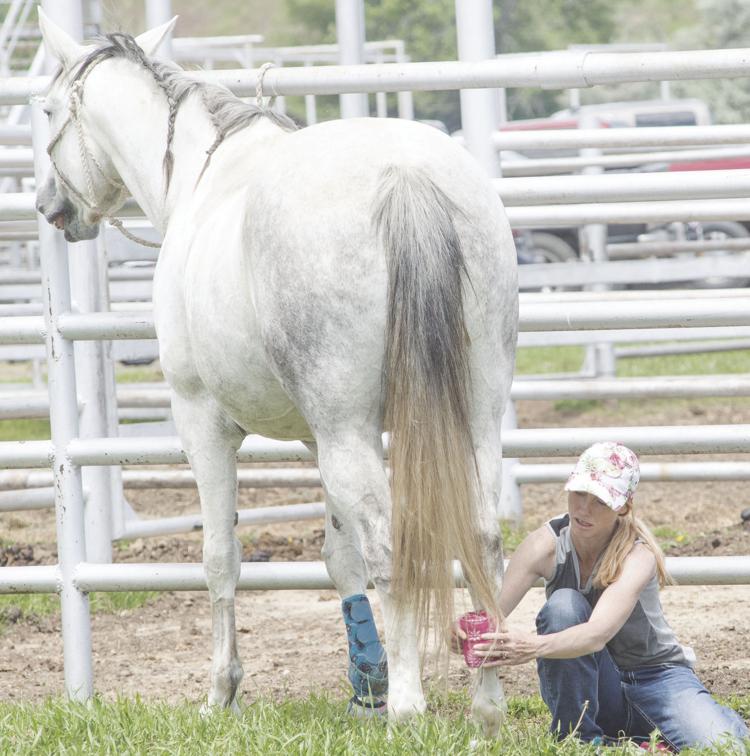 She has competed in the Buffalo event for six years and, for the first time this year, will head to Thermopolis next month to complete the pair of Battle of the Bighorns races.
"We've been staying local while I complete nursing school, but we're freeing up some time this year to go to Thermopolis. Collette has a pretty dedicated crew of people that come to these two races every year and compete. It's a good little thing she has going on here."
Fenster said she has a pair of girls who have not missed a competition in 14 years. They and the rest of the barrel racing community most likely won't want to miss next year's 15th anniversary.
"Next year we are going to add more money and we're going to have a lot of special prizes," Fenster said.
But it's not only the money and the prizes that keep racers coming back to Buffalo and Thermopolis for Kick Em Up Cans and the Battle of the Bighorns. The atmosphere of the sport in general is a major draw for competitors like Kendel and Fenster.
"Of course I love the adrenaline part of barrel racing," Kendel said. "But it's more about being around this close knit barrel racing family who are willing to do anything for you. We are competing against each other, but most of us would give the shirts off our backs to our fellow competitors."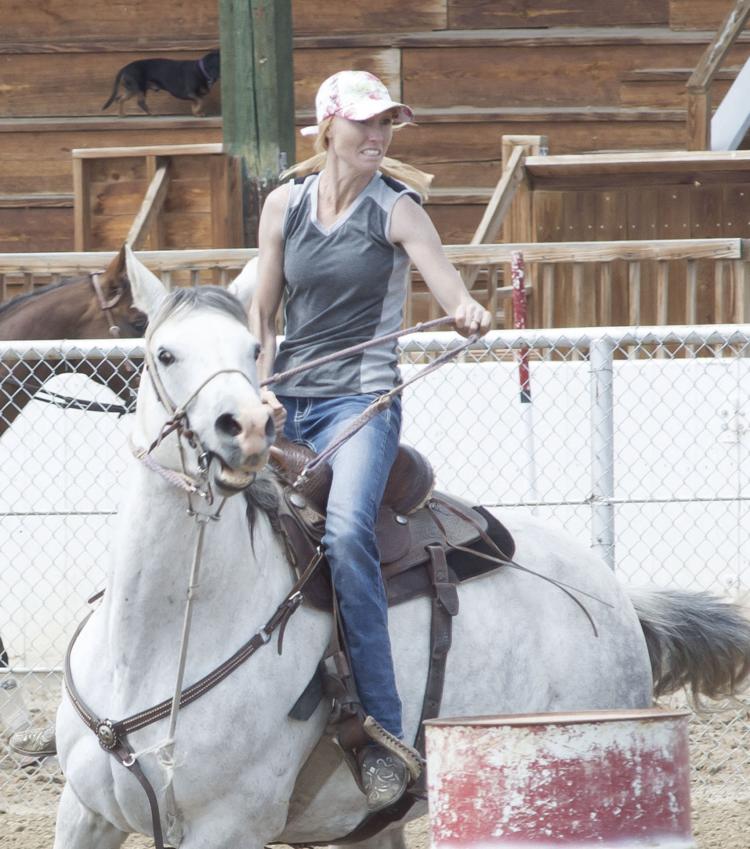 Kendel Hepp and other barrel racers are also passing on the tradition to the next generation. Dallas Hepp, 4, and Strauss Hepp, 3, are already competing at the Johnson County Cowgirls summer rodeos.
"I started when I was 2 and that's kind of what we are doing with our kids," Kendel said. "I may be going a little slower than my mom did with me. I'm kind of a chicken."
Saddles that small may be hard to come by, but starting young paid off for Kendel and is paying off for her two youngsters.
"Horses are a huge part of our lives and our kids' lives," Kendel said. "There is always something to learn and we love it. But they are already starting to go around the barrels on their own at home and helping move cows on their own. We lead them at the rodeos, but they feel more comfortable at home."
All of the cowgirls will look to feel at home in Thermopolis to wrap up the Battle of the Bighorns July 12-14.
"I have no doubt Collette will have that arena in tip-top shape for us," Kendel said. "We are looking forward to it. It's like getting to see a welcoming family you just can't find anywhere else."