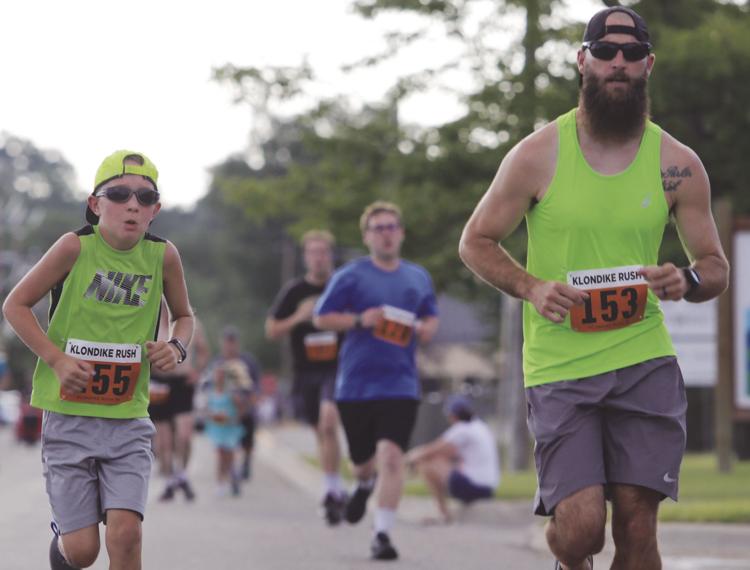 For future Clear Creek Middle School cross-country runner Amelia Berglund, there may not have been a better way to prepare for her inaugural season of racing than a 5K dash through the hills and valleys of Buffalo.
For dad Scott Berglund, there couldn't have been a better way to spend time with his three daughters.
"I just didn't want to embarrass myself," Scott said. "I wanted to have fun and not be embarrassed at the end. It turned out to be a nice way to spend time with my kids."
The 41st edition of the Klondike Rush attracted well over 100 competitors on a perfect Saturday morning at the Johnson County Family YMCA. It showed why the competition has endured for so long as it continues to attract new racers and keep numerous runners returning year after year.
Runners could enter the 5K or 10K race, and for the third year could participate in the Volksmarch walk that started an hour before the Klondike Rush. The Volksmarch this year attracted a record 24 participants.
For Amelia, it was a chance to get a jump on the competition for the upcoming cross-country season, and an opportunity to get one up on Scott.
"I beat my dad," Amelia said. "I left him in the dust."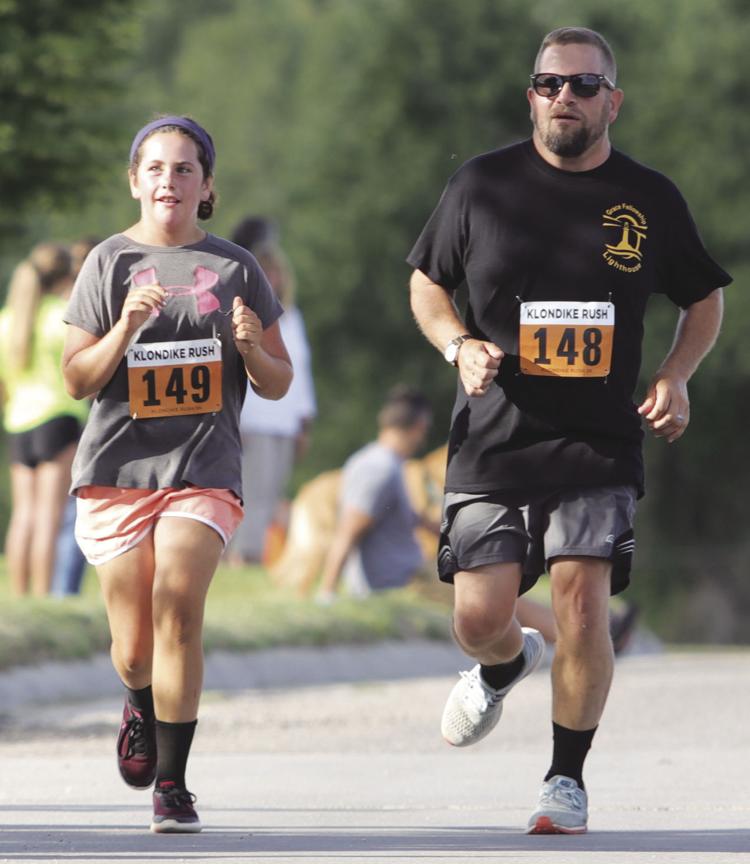 While it will be Amelia's first year running cross-country competitively as a sixth grader, ninth grader Sophie Berglund will make her return to the Bandits cross-country team after taking a year off to focus on gymnastics.
After finishing seventh overall in the women's division, it appears she will be welcomed back with plenty of enthusiasm once the season gets under way.
"Mike Scarlett does such a fantastic job coaching the middle school cross-country team," Scott said. "He is really inspirational for those kids and really knows how to connect with them. I mostly ran with Amelia, but I couldn't keep up with Sophie. She was way ahead of me."
Fourth grader Allison Berglund took a little different tactic than most, sprinting ahead of dad and Amelia and then walking with a friend as dad and sister caught up. It's still a couple of years before she gets the chance to run for the Bandits, but the Klondike Rush is there to help build some inspiration.
"It was a fun run," Scott said. "It was a nice course and there were great people. I'm glad I did it and I'm definitely going to do it again."
Amelia said she is ready for the cross-country season to start. But it's more than just the race itself that is important when it comes to running.
"It's nice getting the exercise and just being out there," Sophie said. "The hardest part was splitting away from my dad at the end. I told him I was going to beat him."
And she did.
"We were running up the hill together at the end and she started sprinting," Scott said. "And I said, 'Go ahead.'"